Airport Security Lines See Hour-Long Wait Times Amid Government Shutdown
by Jessica Montevago /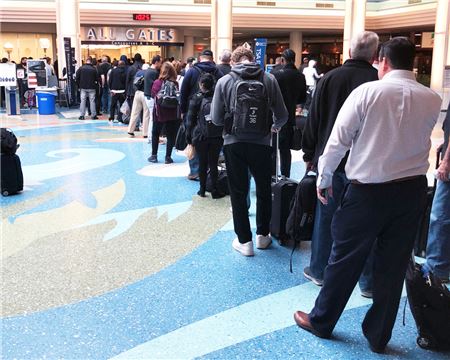 The first business day after security screeners missed paychecks for the first time due to partial government shutdown, reports emerged Monday from one of the nation's busiest airports of domestic checkpoints with more than an hour wait time.
Hartsfield-Jackson Atlanta International Airport, early Monday morning, reported more than an hour wait for all three domestic terminal checkpoints. By 11:30 a.m., wait times had decreased to 30-to-45 minutes at the North and South checkpoints. Wait times at the Main checkpoint remained at more than one hour.
#ATL is experiencing longer than usual wait times during peak travel. Please plan ahead and give yourself 3 hours to clear security. ??

— Atlanta Airport (@ATLairport) January 14, 2019
It comes as the number of no-shows among TSA screeners soared across the country, when the Transportation Security Administration reported a national absence rate of 7.6 percent, compared with 3.2 percent on the same day a year ago.
The agency said it is working with airports and airlines nationwide to consolidate operations and get the most out of resources. Hartsfield-Jackson Atlanta International Airport is exercising contingency plans due to callouts related to a snow event and anticipated high-volume, TSA's Assistant Administrator for Public Affairs Michael Bilello tweeted.
George Bush Intercontinental Airport will also consolidate checkpoints through Wednesday, "for more efficient screening operations," according to Bilello. Terminal B checkpoint and baggage screening will now move to Terminals C and E.
Washington-Dulles International Airport and Miami International Airport ended contingency plans and have normalized operations.
Bilello also said theTSA will reallocate screening officers on a national basis to meet staffing shortages that cannot be addressed locally.
TSA Federal Security Directors (FSD) continually meet with airport authorities and airlines nationwide to ensure resources are optimized, efforts to consolidate operations are actively managed, and that the screening and security of the traveling public are never compromised.

— Michael Bilello (@TSA_Bilello) January 14, 2019
The TSA said it screened 1.97 million passengers on Sunday, Jan. 13; of those, 99.1 percent of passengers waited less than 30 minutes and 93.1 percent of passengers waited less than 15 minutes. Precheck lines for people who pay a fee for expedited screening averaged less than five minutes, the agency said.
Airports are making changes to deal with the shortage of screeners. As the government shutdown entered its fourth week over the weekend, security checkpoints at Houston's George Bush Intercontinental Airport, Dulles, and Miami International Airport closed due to staff shortages.