American Dreams: How to See Washington D.C. History through Tours
by David Cogswell /

There's no better way to immerse yourself in American history than through a guided tour of Washington, D.C.
Now that the winter holidays are over and business has gotten serious again, the holidays of Martin Luther King Day and President's Day are reminders that it's never too late to dive into the treasure trove of American history, and to try to discover what once made America "the light of the world."
And there is no better way to splash into full immersion in American history than to take a guided tour of Washington, D.C., the city built to embody the ideals upon which the American republic was based.
A tour of D.C. is a great way to kickstart anyone's personal exploration of American history. The Capitol Building, the White House, the Washington Monument, the Lincoln Memorial and other monumental features of the Washington landscape resonate powerfully with all the great historical moments that are tied to them.
It's a 360-degree, full-color, surround-sound experience that will infuse you with enthusiasm and plant vivid memories to inspire further inquiries when the tour is over. In Washington, the greatest elements of American history loom over you in giant monuments at practically every turn. It's hard not to be awed.
A tour of Washington is also an international travel experience, because Washington is a special place where people converge from all over the world to visit the city that, more than any other, embodies the American Dream. When you tour Washington's historical sites, you brush shoulders with people of many nationalities. The events and ideals that underlie the founding of the American republic have inspired and continue to inspire people all over the world.
Washington reminds us of a great legacy that all Americans are heir to, and a few things that virtually all Americans can still agree on. Washington, named for "The Essential Man" himself, is an essential travel destination and should be on everyone's bucket list.
Penetrating the surface
You can book yourself a room in Washington and go wandering around with a guidebook. But the best way to make the most of your time and get to the heart of the matter is to book a tour with a professional company whose business it is to sort the wheat from the chaff and give the most awe-inspiring presentation possible within the limits of time and money.
Without a guide, you will miss the significance of many amazing things that you may be walking by, because there is no one to tell you. You can see the surface of things, but to penetrate the surface, you need the guidance of locals to show you what's what. That's what you get with a tour.
With such a cornucopia of delights, there are a million possible ways to slice and dice it. Each tour operator makes its own selection of high points, and crafts its own individual version of the Washington experience. So, which operator you choose to travel with is a very big decision that will color and shape your entire experience.

A visit to Ford's Theater is part of Collette's Spotlight on Washington D.C. Tour. Photo: Shutterstock.com.
Collette
The Pawtucket, Rhode Island-based tour operator offers a variety of tours that stop in Washington, D.C., but for those who want to dig deep into Washington, Lesley Glass, Collette's regional destination manager for the Southeast U.S., recommends "Spotlight on Washington D.C. -- Exploring America's Capital." It spends six days and five nights in the capital city.
One of the essential features of the Spotlight brand is that the tour is guided by someone who lives in the destination. You are being taken around by one of the locals.
"There's a ton to do in D.C.," Glass told Travel Market Report. "That's why it's important to spend so much time there."
The tour includes many of the most essential sites, such as the White House and Ford's Theater, where President Lincoln was killed. The itinerary devotes one day to travel outside of the city to visit George Washington's home at Mount Vernon and Old Alexandria. Free time is set aside for guests to pick their own favorite museums and memorials.
"The brand standard for Collette's Spotlight series is to provide a lot of individual choice on tour," said Glass. "So instead of forcing everyone into the Smithsonian, we talk about all the museums and help them decide which ones to go to themselves, whether they are interested in modern art, American history, gemstones or dinosaurs. It's easy to personalize the experience if they tell us their interests."
Though visitors are turned loose to see their chosen museum on their own, Collette provides an Uber credit for transportation.
Tours of Washington attract a great variety of people who come from many differing perspectives, but come together at certain shared experiences.
"D.C. is for everybody," said Glass. "It doesn't matter your political affiliation. When they come, they see it's a city attached to government, not just government. And they see this vibrant city with its own beautiful personality and a beautiful mix of people.
"The tour always sold really well. The government situation doesn't affect this tour, doesn't change the demographic. Politics don't come up. It is a city for everybody and people see that. When we talk about the buildings and the monuments, that's how the group is able to come together. When everyone from across the whole range of our diverse political landscape is standing in front of the monument in awe, any division is erased."
As with most tours today, a lot of attention has been paid by trip designers to culinary matters. The welcome dinner on opening night is at a German restaurant. "D.C. doesn't have a distinct culinary culture," said Glass. "It has foods from all over the world."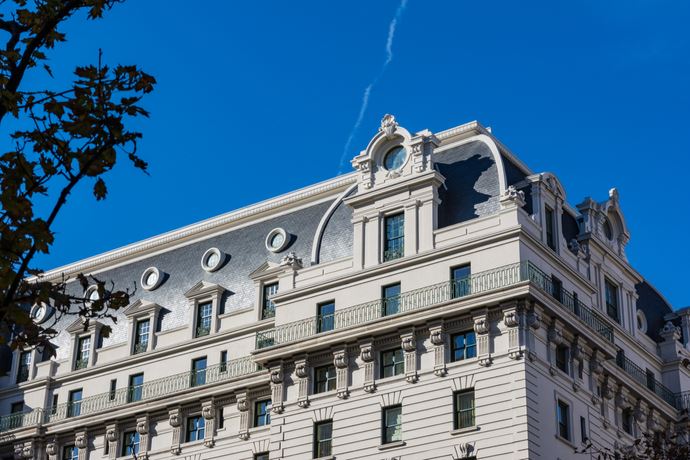 Tauck hosts its IN Freedom's Footsteps tour from the Willard Hotel in D.C. Photo: Shutterstock.com.
Tauck
The classic tour operator based in Norwalk, Connecticut, includes Washington, D.C., in a trip called "In Freedom's Footsteps: Philadelphia to Washington, D.C." The trip focuses on American history with a touring itinerary that includes Philadelphia, Gettysburg, Harpers Ferry, Jefferson's home Monticello, Richmond, Colonial Williamsburg and Mt. Vernon, and concludes with three nights at the Willard Hotel in Washington, D.C.
Tauck chose the Willard Hotel as its base of operations in D.C. because the hotel is not only a provider of luxurious accommodations, it is a historical site on its own. Staying at the Willard effectively extends your history tour of Washington through the nights because the hotel resonates with so much history.
Old Honest Abe stayed in the hotel when he was president-elect, before he was inaugurated and moved into the White House in 1861. That same year, when the War of Secession broke out, abolitionist Julia Ward Howe wrote the lyrics to "The Battle Hymn of the Republic" at the hotel. General Ulysses S. Grant headquartered at The Willard when he was summoned to Washington to accept command of all Union forces in early 1864; and later when Grant was president, he often chose the Willard as a place to gather with friends and followers. A century later, Martin Luther King, Jr. stayed at the Willard, and it was there that he put the finishing touches on his now-legendary "I Have A Dream" speech at the March on Washington.
The trip also includes a Tauck-exclusive, pre-opening visit to the National Archives to view the Declaration of Independence, the Constitution, and the Bill of Rights, with a presentation by an archival researcher there.

Fredericksburg is included in Globus' America's Historic East tour. Photo: Shutterstock.com.
Globus
The popular tour operator, based in Littleton, Colorado, offers a nine-day/eight-night tour called "America's Historic East" that is built around a trip from Philadelphia to Washington, D.C., with stops at Fredericksburg, Williamsburg, Jamestown, Harper's Ferry, Gettysburg, Valley Forge and Shenandoah National Park.
In Richmond, Virginia, the tour visits St. John's Church, where Patrick Henry said, "Give me liberty or give me death." It also includes visits to Jefferson's home at Monticello and Washington's home at Mount Vernon.
At Gettysburg, the accommodations are at the Hotel Gettysburg, which was established in 1797 and is only a short walk from the David Wills House, where Lincoln prepared to give his Gettysburg Address.

The National Mall is included in Trafalgar's Historic Highlights tour. Photo: Shutterstock.com.
Trafalgar
Trafalgar's eight-day/seven-night "Historic Highlights" tour starts in Philadelphia and winds up in Washington, D.C., with stops at many historic sites along the route in Virginia, Maryland and Pennsylvania.
The tour visits Williamsburg, Mount Vernon, Jamestown, Charlottesville, Richmond, Luray, Gettysburg and Philadelphia.
In the D.C. area, the itinerary includes the homes of George Washington and Thomas Jefferson, the Gettysburg battlefield, the White House, the Lincoln Memorial, the National Mall, the Jefferson Memorial, St. John's Church, the Washington Monument, the U.S. Capitol Building and the White House.
In Philadelphia, the tour visits some of the most important sites relating to the foundation of the republic before the founding of Washington D.C., including the Liberty Bell and Independence National Historic Park, where both the Declaration of Independence and the U.S. Constitution were debated and signed.
Whichever tour you choose of Washington, D.C., the place has something very special to offer that no other destination can match. And no matter how many times you visit, that magic remains potent. Even professionals are still awed by it after many return trips.
It's certainly true for Jeremy Palmer, senior vice president, Tauck Land Journeys, who said: "I remember very clearly being at the National Archives in Washington, D.C., with Tauck guests, and enjoying our private viewing of America's founding documents: The Declaration of Independence, the Constitution, the Bill of Rights. There was a hush in the room, a true sense of awe, that I don't think any of us were prepared for.
"In a larger sense, I think that's also the overall experience our guests have when they visit Washington, D.C., with us. They know exactly what they're going to be seeing – the White House, the Capitol Building, the monuments and memorials – but they're still not prepared for the emotional impact it's going to have on them. There's something about visiting Washington that's impactful and uplifting."