An Inside Look at The Rose Parade in Pasadena on New Year's Day
by Suzanne Stavert /

Each New Year's Day, people from around the world tune in to Pasadena, California, home of the Tournament of Roses Parade (The Rose Parade) and Rose Bowl Game. It is a tradition that is more than a century old, and a festival of flowers, music and sports unequaled anywhere else in the world. It's America's New Year Celebration, a greeting to the world on the first day of the year and a salute to the community spirit and love of pageantry that have thrived in Pasadena for more than 100 years.
On a typical New Year's Day morning, with a steaming cup of coffee, I am settled in and ready to watch the parade that begins at 8 a.m. PST. Pasadena and all of the festivities are located only a couple of miles away from where I grew up. As a young teen, I even spent the night on the parade route once and waited all night, in the freezing cold, for the sun to rise and the glorious parade to begin.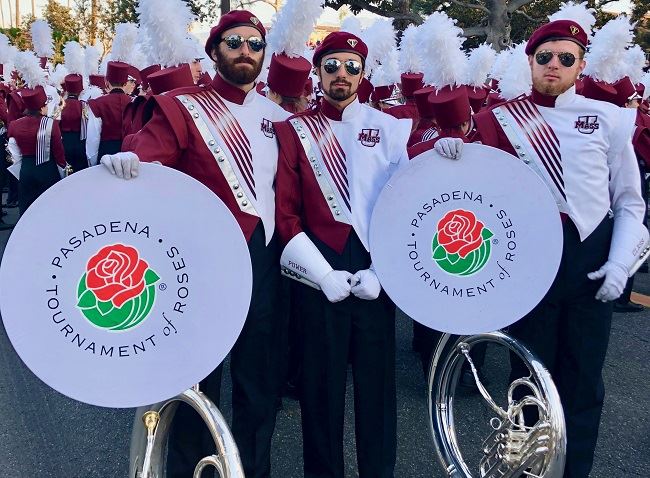 Have you been to The Rose Parade? Have you ever considered sleeping on the icy cold sidewalk overnight in order to save your place to watch The Parade? The parade route is quite festive on New Year's Eve, because people are camped out in their sleeping bags right there on the curb in order to get a front-row spot for the parade. Over one million people watch the event from the sidewalks and grandstand seating each year.
However, there are plenty of fantastic accommodations in the area where you can stay in a nice, cozy hotel room. No need to sleep outside! Additionally, a rental car is a must and will allow you the freedom and flexibility to get around this widespread, suburban Southern California area.
More about the floats
The colorful floats in the parade have evolved through the years into a big business. Heavy-hitter sponsors and large corporations spend hundreds of thousands of dollars to have floats built. There are still plenty of small private groups, too, that enter a float in the parade, and the variety of ornamentation and design make the happenings quite exciting.
The entire floats are required to be covered in living materials. It can be anything from seeds and bark to multicolored varieties of flowers, grasses, vines and leaves. These motorized works of art are enormous, and their grand size and flowery scent is far more magnificent in person than on television. Given the opportunity to see it up close, everyone should jump at the chance. Tickets to grandstand seating are available, but buy them quickly, because they sell out fast.

They must attach the flowers about 24-48 hours prior to the parade.
Come to Pasadena
Pasadena is a historically interesting, bedroom community about ten minutes from downtown Los Angeles. In addition to experiencing the most beautiful, sweet-smelling holiday spectacle, there are plenty of other activities to keep your clients busy during their getaway.
Make sure to plan for them to arrive a few days earlier than Jan. 1 and stay a couple of days later. Disneyland is only 60 miles from Pasadena and Universal Studios is only about 25 minutes away. An entire itinerary can be created around a visit to The Parade, and this holiday vacation is perfect for families and singles, as well as couples. There is something for everyone in Pasadena for New Year's Day.
The sun shines almost year-round, and this makes traveling to So Cal in the winter a snap. No gloves, hat and scarf are necessarily needed here, but wearing a jacket in the evening and early morning is helpful.
Prior to Dec. 31, for a small fee, visitors can take a walking tour past the floats being decorated at the Rose Pavilion located near the Rose Bowl. Planning for the next Rose Parade starts just a few weeks after the parade is over. The creation and design execution takes nearly an entire year to complete. But the actual flower-trimming of the floats starts only 24-48 hours prior to New Year's Day. The flowers need to be their most vibrant and stay fresh, not wilted, so they are applied at the last minute. In those final days, most of the volunteers work nearly round-the-clock to prepare the floats.
Rose Parade travel tips
When presenting clients with a vacation that centers around The Rose Parade, keep these tips in mind.
Travelers can fly into Los Angeles, Burbank, Orange County or Ontario airports. LAX is under construction, so if another airport is a possibility, consider booking that. Burbank Airport would be the closest.
A rental car is a must. Tourist spots are spread out around Los Angeles. Using only public transportation would be challenging.
Grandstand seats are available for the parade, but be sure to buy them as soon as the trip is planned.
Super insider tip: Get up early on New Year's Day and go to Orange Grove Boulevard to see the floats line up for the parade. You can see them up close before the parade begins.
Visit other attractions, such as: Disneyland, Universal Studios, The Huntington Library, Norton Simon Museum, The Getty Museum, Hollywood, Downtown Los Angeles, The Broad Museum, Olvera Street, Los Angeles County Museum of Art, and The Levitating Rock.