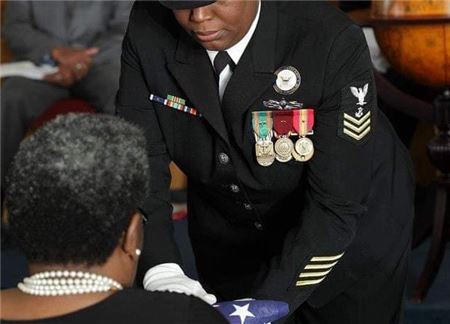 Members of the military and their families are finding that pursuing a career as a professional advisor holds great potential for a traditionally underemployed community.
Ashley Metesh-McCoy, owner of Kinship Vacations, Williamsburg, Virginia, and a Washington National Guard veteran, launched a travel advisor training program earlier this year to encourage military spouses and veterans who are in transition to civilian life.
She is motivated by her own personal experience, and the fact that while the national U.S. unemployment rate has dropped below 4 percent, for most military families the rate is closer to 25 percent.
"You have these talented, highly educated people, with portable careers, who cannot find work," Metesh-McCoy said. "I think it very much makes sense for military spouses to work in this industry."
Built around her Virtual Travel Summit for Military Spouses and Veterans, Metesh-McCoy promoted her 12-month, 3-stage program and provided her students with instruction on a career as a professional travel advisor. (The full program costs $2,499, with discounts offered for summit attendees.)
More than 60 people have signed up for Metesh-McCoy's program, and she has already added five of those individuals as new independent contractors to her Kinship Vacations business, including three veterans and two military spouses.
"I feel like this is what I was always meant to do, and everything in my travel advisor career has been leading up to this," said Metesh-McCoy, who has her own family, including a 4 ½-year-old daughter and an active duty husband in the Army. "It feels very rewarding."
The program has been such a success that Metesh-McCoy expects to host another series of Facebook Live Summit sessions in late November, and plans to extend her outreach into 2019.
Similarly, more than 100 veterans applied for host agency Nexion LLC's Nexion Veterans in Travel scholarship program, launched this past May. Thirty students were enrolled in the first class (of the 35 who have been accepted into the program). The program waives membership fees for up to 24 months for students enrolling in the Travel Leaders of Tomorrow Virtual Campus training program.
Travel Leaders of Tomorrow normally costs $1,800, and includes a 17-week, four-module online course, weekly live instruction in a small study group, and business plan guidance. Activation and monthly fees waived under the program amount to more than $400.
"We're very pleased with how the program is going," said Nexion President Jackie Friedman, CTC, CTIE. "It's a real feel-good story, especially for some of the applicants who have physical challenges, because a career in travel allows them to work from home."
Jim Mason, a retired Navy veteran and co-owner of The Cruise & Travel Planner, calls the Nexion Veterans in Travel program "a great opportunity for our veterans who have their own passion for travel and want to assist people who have the desire to travel and experience different cultures and environments." Mason is a travel industry veteran, and not a student in the Nexion program.
Dream Vacations also offers special packages for military veterans and Gold Star families, a program that has been recognized by the Military Times, Forbes and Entrepreneur Magazine. Participants receive a variety of benefits, including a waived training fee, veteran-themed marketing assets, and the ability to hire active-duty military spouses and veterans as associates at a discount, among other business operations and management benefits.
Ideal career for veterans and military spouses
Retired military veterans agree with Friedman and others, that both transitioning veterans and their family members could find travel as a perfect fit for a vocation.
"If another member of the military was to ask me about becoming a travel agent, I would definitely say yes," said Nikki Dickerson-McGregory, owner of Nik of Time Travel, Chesapeake, Virginia, and a retired Navy veteran.
Dickerson-McGregory spent 20 years in the Navy, re-enlisting twice before she retired in 2011. She believes a life in the military helps prepare a person to become a travel agent. "When you're in the military, you always have to keep your head on a swivel, to be constantly aware of what is going on around you, to assess and adapt to change," she said.
Navy veteran Mason recalled his last five years spent in the Pentagon as reinforcing certain skill sets, like interpersonal communications. "The everyday personal interactions with people of all ranks throughout all the military services was priceless," he said.
Dennis McClelland, of McClelland Travel, a Navy veteran who is part of the Nexion Travel Group host agency, feels that military training instills character traits like "respect for others, respect for authority, appreciation, skill in listening, and attention to detail.?This is all relevant in the travel industry and critical when avoiding errors," he said.

"I always recommend to my friends, and sometimes family, to either join us in the travel business or at least start traveling and see if it piques their interest," said McClelland.
Travel careers could help reduce military spouse unemployment
Dickerson-McGregory also likes the concept of a portable career for military spouses. "You don't have to restart your career every time your spouse or partner is transferred or receives a new post," she said.
One of Metesh-McCoy's sub-contractors is Krystal Eicher, an Army spouse whose eldest daughter has special needs. Eicher holds a degree in Journalism and Strategic Communications from the University of Kansas.
"As a military spouse, making the decision to enter into a new career is a tough one. There are so many factors that come into play," said Eicher, who has moved seven times in the last 11 years. "Every move, I have had to reinvent myself in a new job or a new career field," she said.
"I loved the idea that travel is a portable career and that I could work from home. We were stationed for six years overseas and I have been planning and booking vacations for visiting friends and family for years. Being a travel advisor was already second nature. I just needed to know how to turn it into a business. I have learned so much with Ashley, and am now well on my way to a great career in the travel industry."
Challenges remain
While the synergies are clear to many involved in these programs, there also are challenges that need to be overcome.
"One of the things we are seeing is that a lot of veterans don't have the necessary credit history for setting up a business like this," Nexion's Friedman said. "We have to modify some of our requirements to make the program more accessible to more veterans."
She added that a travel professional career requires a significant personal and financial investment, so the vetting process for approving applicants for Nexion's program is also being adapted.
Mason feels that veterans in transition "should take some time for themselves and explore the experience of travel itself. Do some traveling and gain the firsthand knowledge of the process and the experiences. It is kind of hard to tell someone how to build a house if you haven't built one yourself," he said.
Dina Farmer was the first IC to join Metesh-McCoy's Kinship Vacations through the Virtual Summit program. An Air Force veteran and spouse of an active duty Air Force member, she already had experience working with the Department of Defense's in-house travel agency, and feels that new-to-travel agents from the military will need to be patient.
"I didn't get much in the way of clients in the beginning, but very slowly I'm starting to find more clients that are just the right fit.?With the tools, support and gentle guidance from Ashley, I feel beyond confident that I can work intelligently with clients designing the most memorable vacations for them," she said.
Other issues are less manageable, Metesh-McCoy said, like military base rules that often prevent a military member from starting a home-based business.
Mason said he is hopeful that the travel industry can and will "enlist the expertise our service members have, and bring some pride and professionalism to the industry. I feel there are some veterans out there that can stand up to the challenge and make this a rewarding career."