Charleston Remains at Top of Travel + Leisure's Best U.S. Destinations
by Kailey Cotter /

While traveling abroad is alluring and adventurous, there is something to be said about the explorations right here at home. From the east coast to the west coast, there are many travel gems that are just a road trip or a quick flight away. Travel + Leisure readers voted on their favorite American destinations, with something for everyone.
The pinnacle of southern charm, Charleston, South Carolina, tops Travel+Leisure's list for Best American Cities for the 7th year in a row.
What makes Charleston so special, you may ask? The real question is, where to begin? The southern port city is as dynamic as they come — full of history, tourist attractions, natural beauty, and authentic southern cuisine.
As soon as you set foot on the brick sidewalks, you will be transported to a different time: A time where classic architecture was of the utmost importance. Most notably, Rainbow Row is a cluster of Georgian-style homes dating back to 1740. Legend has it that the pastel hues helped drunken sailors find their way home.

Folly Beach. Photo:Shutterstock
Foodies can dive into restaurants like 143 Raw, a pillbox eatery serving fresh seafood from the surrounding inlets and harbors. If visitors come for the home-cooked fare, there is no shortage of options to get their fix. Husk is one of the Southeast's most critically acclaimed restaurants, tucked into a quiet stretch of Queen Street downtown just a few blocks from the waterfront. From brunch to lunch, dinner and dessert, travelers will find that they really can't make a poor selection. Menus change twice daily according to what is in season or available locally.
For people wishing to relax, there are several white-sand beaches nearby that are perfect for a stroll or sunbathing — not to mention more patio restaurants and bars than you can imagine, which are just right for taking in the scenic view.
History lovers will be pleased to walk the streets lined with antebellum houses dating back to the 1700s. Visitors will want to check out Middleton Place House Museum. Built in 1755, the House Museum collection interprets generations of the Middleton family, rice planters who helped shape the U.S. from its founding through the Civil War. Civil War buffs might also enjoy the daily tours offered at Fort Sumter.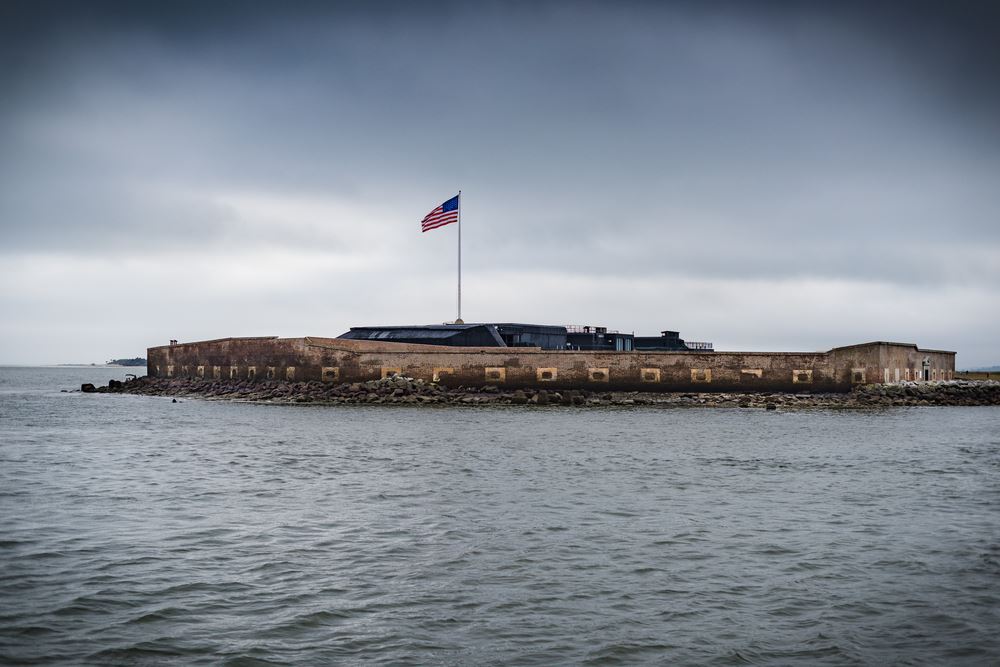 Fort Sumter. Photo:Shutterstock
It's no surprise that Charleston has remained at the top of the list for so long. The atmosphere there attracts and satisfies many types of travelers.
According to Travel + Leisure, here are the top city destinations in the U.S. for 2019:
1. Charleston, South Carolina
2. Santa Fe, New Mexico
3. New Orleans, Louisiana
4. Savannah, Georgia
5. New York, New York
6. Chicago, Illinois
7. Nashville, Tennessee
8. Asheville, North Carolina
9. Austin, Texas
10. Honolulu, Hawaii
11. San Antonio, Texas
12. Taos, New Mexico
13. Williamsburg, Virginia
14. San Francisco, California
15. Washington, D.C.