Crystal Cruises Announces Vaccine Requirement for All Cruise Guests
by Daniel McCarthy /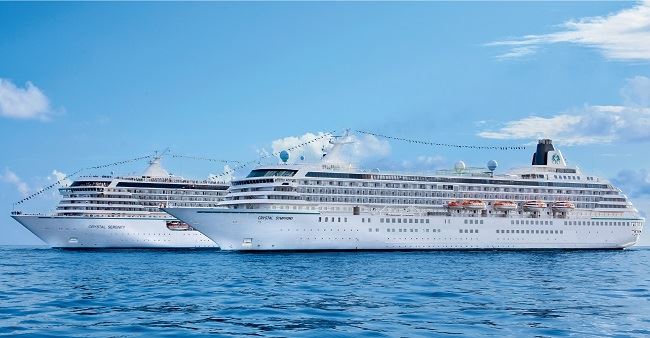 Crystal Cruises will require all guests to be fully inoculated with a COVID-19 vaccine at least 14-days prior to their sailing, the cruise line announced this week.
Crystal, a luxury cruise line, said that the vaccination requirement is part of its new protocols called Crystal Clean+ 4.0. Aside from the vaccinations, that protocol includes, "temperature checks at the terminal prior to boarding, a nimble mask policy, social distancing guidelines, enhanced cleaning and disinfection measures, reduced capacity and more."
"We are encouraged by the progress being made with the COVID-19 vaccines and what this means for our Crystal Family and the travel industry as a whole as we eagerly look forward to exploring the world again," said Crystal's interim president and CEO Jack Anderson.
"We know that peace of mind is the greatest luxury; and the vaccine requirement is simply the best way to ensure the safest possible Crystal Experience for all on board," he added.
The requirement will also be in place for crew members once vaccines become more widely available worldwide.
"Crew members will be tested for COVID-19 prior to leaving their home location to join the ship and must receive a negative result. They also will take a COVID-19 test at embarkation; quarantine for seven days upon arrival; be tested again at the end of that seven-day period and must receive a negative result before beginning their duties," Anderson said.
"When vaccines are widely available, they will be a requirement of employment for crew which must be completed at least 14 days prior to service."
Crystal said it recognizes that different guests living in different parts of the world are having vastly different experiences trying to get vaccinated. However, it said it believes that its timeline to return to sailing right now gives people enough time—as of today, Crystal has paused operations through May 2021 for its river fleet, into June for its ocean ships, through August 1 for Crystal Esprit, and through August for Crystal Endeavor.
Crystal also said that all guests, in addition to showing proof of vaccination at the time of boarding, will have to also complete an online form acknowledging this requirement before their cruise tickets will be issued.
The news comes as questions surrounding the future of the cruise experience continue to linger around the industry ahead of its North American restart.
British Cruise Line Saga Cruises became the first to make vaccinations a requirement for all guests last month—Saga said that it believes the latest U.K. government guidance makes it so guests over 50-years-old will reasonably be likely to have access to COVID-19 vaccines prior to May (it is also offering guests the ability to change their sailing date or get a full refund if they are unable to).
Royal Caribbean Group for its part, has committed to require the COVID-19 vaccines for crew members before sailings resume.
"The health of our crew and guests remains our number one priority. At this point in our planning, based on science and the guidance of our experts, we are shifting from a strategy based primarily on protocols to one that is based on vaccines, supported by protocols," a spokesperson told Travel Market Report at the time.