Delta Air Lines Previews New LaGuardia Airport Terminal
by Daine Taylor /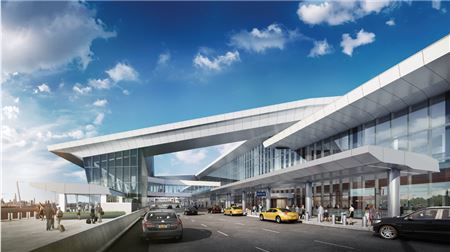 Delta Air lines is preparing to launch the first of four concourses that will comprise Delta's new state-of-the-art terminal at New York's LaGuardia Airport. The landmark project is scheduled to open this fall, and will include a spacious 105,000-square-foot concourse that will feature floor-to-ceiling views of Citi Field and Flushing Bay, gates that can accommodate a wide range of aircraft types, and dining options from a variety of favorite New York eateries.
"This new milestone in LaGuardia's transformation brings us another step closer in converting the airport into a superb flight hub in line with New York standards," said New York Governor Andrew Cuomo.
"Our collaboration with Delta in the development of this concourse and their new LaGuardia terminal is another demonstration of the effectives of public-private partnerships at work to modernize our state's infrastructure."
Delta has been working on the $3.9 billion replacements for Terminals C and D since 2017, further expanding on the airline's extensive investment in New York airports over the past decade. The airline has added thousands more flights on new aircraft in the market, offering more seatback entertainment and first-class seats than any other airline operating out of New York City.
"The historic infrastructure project underway at LaGuardia is a significant component of the more than $12 billion Delta is currently investing in airport redevelopment efforts around the country," said Delta CEO Ed Bastian.
When complete, the new terminal will feature 37 gates across the four airport concourses, connected by a centralized check-in lobby, security checkpoint, and baggage claim; dual taxiways that will help reduce hold outs and taxi times; a new, larger Delta Sky Club with a Sky Deck; larger gate areas and more concessions space; and more efficient airport roadways.
"Our customers and employees are excited to see the LaGuardia of the future more fully come into view. Many thanks to everyone who has been working hard to launch an exciting new era for Delta in New York," said Bastian.

The new LaGuardia will feature better pick up and drop off protocol, with more efficient airport roadways. Photo: Delta.
New dining options
Delta is partnering with OTG, an airport hospitality group, to bring additional dining options with authentic New York flavors to the new concourse. Venders will include Rossi Pizzeria, a Neapolitan-style pizza and calzone concept; Flatiron Tavern & Provisions, a contemporary tavern that will feature chops, burgers and fresh fish; as well as several other New York favorites, like Birch Coffee, H&H Bagels, and Juice Press.
Each of the full-service concepts will place power outlets and USB ports at every seat; along with tablets allowing customers to track their flight, browse the web, play games, and order food, drinks and amenities.
"OTG is thrilled to have partnered on such an important project for Delta, its customers and employees, and really the city of New York," said Rick Blatstein, CEO of OTG. "The dining options we're introducing at these dynamic concepts reflect the best of what's available in our city, offering Delta's LaGuardia customers the flavors we love and appreciate as New Yorkers."
Meanwhile, Stellar Partners, Inc., a wholly-owned subsidiary of HMSHost, will design retail options for the new facility that provide a wide selection of travel essentials.
"We are very pleased to be part of Delta's elevated and differentiated concessions program at LaGuardia Airport," said Padraig Drennan, president and CEO of Stellar. "This is truly a visionary program that will change the airport experience for New Yorkers and visitors to the city, and we could not be more excited to partner with Delta in making this vision a reality."

New York favorites, like Birch Coffee, H&H Bagels, and Juice Press, will be available at the new LGA. Photo: Delta.
Looking to the future
As LaGuardia undergoes final preparations for the opening of the new concourse, Delta teams have installed passenger boarding bridges at the gates, paved aircraft ramp areas, and constructed the temporary pedestrian walkway that will connect the new concourse to Delta's existing Terminal D. The security checkpoint in Terminal D will expand to support both concourses until a proposed centralized check-in lobby opens in late 2021.
The opening of Delta's first new gates represents another huge step forward in the comprehensive $8 billion redevelopment of LaGuardia Airport announced by Governor Cuomo in 2015. To date, Delta's construction features 2,000 tons of steel; more than 50,000 cubic yards of concrete; and more than 40 miles of piping, cabling and other infrastructure. Under the governor's plan, old facilities are being demolished only as new facilities are completed, enabling the airport – which services 30 million passengers each year – to remain fully operational as the multi-phased construction project continues.

Delta has invested more than $7 billion in airport projects since 2006; and along with its airport partners, the company will be involved in an additional $12 billion worth of facilities infrastructure projects in coming years, including improvements in Atlanta, Los Angeles, Salt Lake City, and Seattle.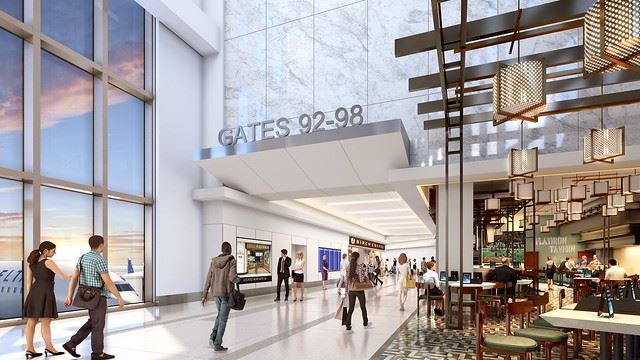 The opening of Delta's first new gates represents another huge step forward in the comprehensive $8 billion redevelopment of LaGuardia Airport. Photo: Delta.