Federal Mask Mandate for Planes, Airports, and Trains in U.S. Signed into Law
by Jessica Montevago /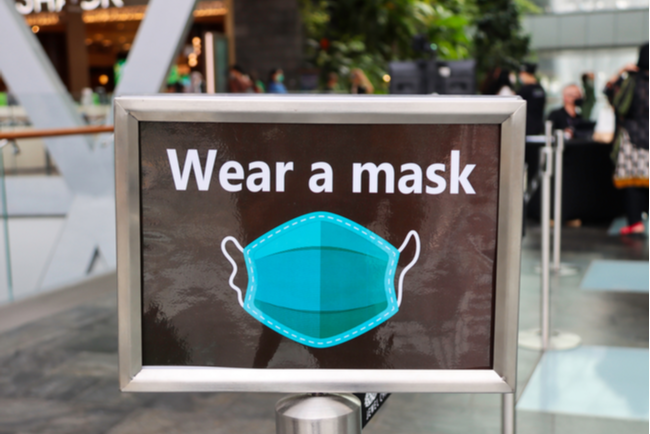 An executive order, signed by President Joe Biden on Thursday, will mandate all passengers in the U.S. wear face masks when traveling through airports and on planes, trains, intercity buses, and ships.
While U.S. airlines and train lines such as Amtrak have made mask-wearing a requirement on an individual basis, there has not been a federal mandate from Washington until now.
The order, called "Executive Order on Promoting COVID-19 Safety in Domestic and International Travel," says that the "Centers for Disease Control and Prevention (CDC), the Surgeon General, and the National Institutes of Health have concluded that mask-wearing, physical distancing, appropriate ventilation, and timely testing can mitigate the risk of travelers spreading COVID-19."
The order is vague in how it will be implemented and then enforced throughout the country—the order calls for the "relevant regulatory authority" to immediately "take action, to the extent appropriate and consistent with applicable law" to enforce the order.
It will rely on agency leaders to implement the mandate, such as the Secretary of Homeland Security (including through the TSA Administrator), and gives them one week to update the White House's coronavirus response team on their progress, though it doesn't guide them on how exactly to enforce the mandate, including on consequences for passengers who are noncompliant.
The order is consistent with the Centers for Disease Control and Prevention (CDC), which previously issued a "strong recommendation" for wearing masks during traveling, whether it be domestic or international.
It also falls in line with the stricter policies from airlines, including Alaska Airlines, which had a "yellow card" system for its face mask enforcement, and Delta Airlines, which last summer said that it is enforcing its mask policy, including taking people who don't comply with the policy off of flights.
The American Society of Travel Advisors (ASTA), as well as airline industry executives and unions, have been pushing for a federal mask mandate on commercial planes in order to increase traveler confidence and further drive recovery.
In July, ASTA president and CEO Zane Kerby issued a statement saying that while it was prudent for airlines to issue their own individual mask policies, it's up to the Federal Aviation Administration to enforce it.
"Most airline carriers have required a mask for all employees and passengers," he wrote. "But, their authority to enforce mask compliance rests with the Federal Aviation Administration (FAA). Is it high time for the FAA to require these masks for all flights? In our view, yes."
International travel orders
Also this week, President Biden signed another executive order that will require anyone coming into the U.S. to produce proof of a negative COVID-19 test prior to entry.
The order reinforces the recent CDC issuance that says, starting Jan. 26 onward, the U.S. government will require all inbound international passengers to test negative for COVID-19, and present proof, before boarding flights into the United States, including Americans returning from abroad.
The order also calls on inbound travelers to be "required to comply with other applicable CDC guidelines concerning international travel, including recommended periods of self-quarantine or self-isolation after entry into the United States."
The CDC currently has guidelines issued that recommends international travelers quarantine for seven days after arriving in the U.S.