First Look: Luxurious Suites Aboard the Regent Seven Seas Splendor
by Jessica Montevago /

When Regent Seven Seas Cruises debuts the Seven Seas Splendor in February 2020, it will boast 15 luxurious suite categories. The cruise line revealed more details on Wednesday.
True to Regent's signature ultra-luxury accommodations, there will be more than 46,000 square feet of Italian marble, including the marble-detailed bathrooms in each of her 375 guest suites; and 500 crystal chandeliers illuminating the ship's interior. Each balcony space per suite will average 138 square feet.
Norwegian Cruise Line Holdings already revealed the uber-lavish $10,000-per-night Regent Suite, calling it "the largest suite ever built on a luxury cruise ship." Perched on the 14th deck of the Seven Seas Splendor, above the bridge and overlooking the ship's bow, the Regent Suite boasts more than 4,443 square feet of space, including the 1,300-square-foot wraparound veranda. Other luxe amenities include an in-suite spa retreat featuring a personal sauna, steam room and treatment area; glass-enclosed solarium sitting area; and hand-crafted, $200,000 Vividus bed from the renowned Hästens brand.
Distinictive-class Suites
The 32 Distinctive Suites include Master, Grand, Splendor and Seven Seas suite categories. Guests in these suites have access to a personalized butler service, guaranteed dining reservations, and customized pillows and bath products.
The two-bedroom Master Suite is styled after the ritzy Park Avenue. Located at the aft of the ship on decks eight and nine, and allowing for unobstructed views, the four Master Suites measure between 1,895 and 2,108 square feet. They each have an expansive living area; bar area; spacious balconies up to 994 square feet; and two full, ornate marble-and-stone bathrooms.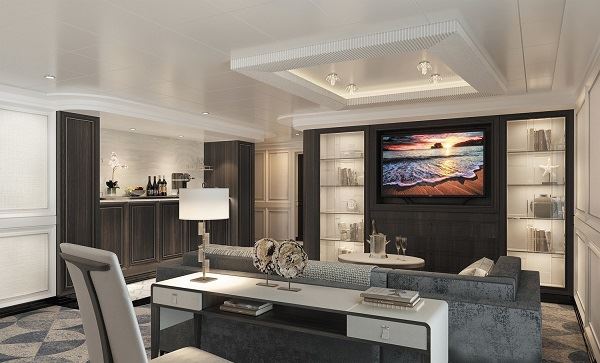 Master Suite
The Grand Suite, ranging from 1,277 to 1,836 square feet, features an expansive private balcony, two baths, and living areas with stone mosaics and pops of emerald. The living room has a wrapped-leather, floor-to-ceiling bar; and an upholstered leather wall in an intricate stitch pattern that serves as the backdrop for the bedroom.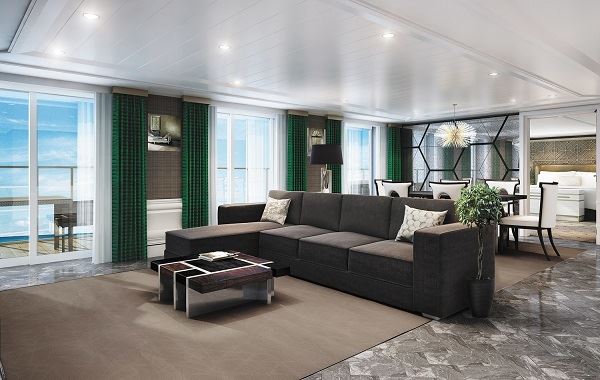 Grand Suite
The one bedroom, one-and-a-half-bathroom Splendor Suite ranges in size from 821 to 918 square feet. It features a dining table for in-room service, spacious closet, and an elegant marble and stone-detailed bath.
The Seven Seas Suite offers more than 800 square feet, with a living room, dining area and bedroom. Sliding glass doorways lead to a spacious private balcony, and a marble bathroom sits adjacent to the oversized bedroom and large walk-in closet.
Spacious Suites
The Penthouse, Concierge, Superior, Deluxe Veranda and Veranda suite categories are designed to maximize ocean views from the large private balcony. Along with Elite Slumber beds, guests enjoy spacious closets, plush bathrobes and slippers, and an included mini-bar that is stocked daily. Guests who stay in a Concierge Suite or a higher category suite enjoy a free, one-night pre-cruise hotel package.
Complete with personalized butler service, the 55 sapphire-inspired Penthouse Suites come in three categories that range up to 642 square-feet, with an entertainment center that separates the living room and bedroom. Sliding glass doorways in both the bedroom and living room lead to an oversized balcony with comfortable outdoor furnishings. Larger, expansive walk-in closets are designed with two entries from the bathroom and living room. In addition, bathrooms have been designed for additional storage and counter space.
Both the Concierge Suites and Superior Suites come in two categories, measuring at 464 square feet. The Superior Suite features a grand balcony, spacious sitting area, and residential-like walk-in closet.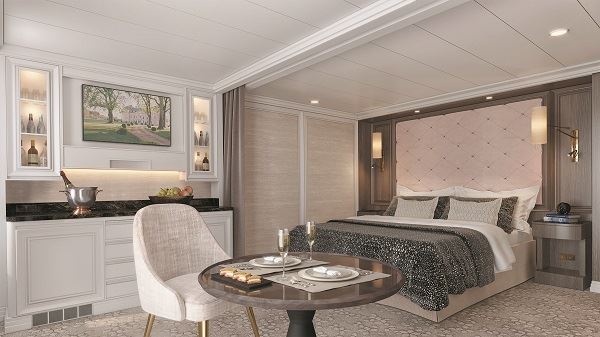 Concierge Suites and Superior Suites
The two-category Deluxe Veranda and Veranda suites are up to 361 and 307 square feet respectively. Curtains separate the bedroom; and the vanity and sitting area outfitted with a plush sofa, a coffee table large enough for in-suite dining, and a large desk space.

Deluxe & Veranda Suites
English-garden observation area
In addition to the suite designs, Regent also announced the interior design of the Observation Lounge. Inspired by an English garden, the space incorporates a light and airy color palette. A chandelier comprised of hand-painted porcelain flowers, peonies and roses is the centerpiece. Specially commissioned art by Gorman Studios incorporates hand-painted English roses and flowers on glass screens to reflect the look of porcelain chandeliers.