Former Norwegian Cruise Line President Andy Stuart Joins Global Ports Holding
by Daniel McCarthy /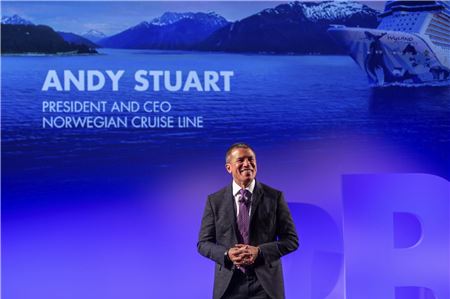 Andy Stuart, the former president and CEO of Norwegian Cruise Line who stepped down last year, has joined the board of Global Ports Holding, the organization announced on Wednesday.
Global Ports Holding, which bills itself as the world's largest independent cruise port operator, runs commercial ports in the Caribbean, Mediterranean, Asia, and more. Its portfolio includes 21 ports in 13 countries serving 14 million passengers.
Stuart will join the board as other members stepped down earlier this month.
"I am delighted to welcome Andy Stuart to the Board. His vast experience of the cruise industry over a period of more than 30 years, makes him a valuable addition to the team. We look forward to benefiting from his insights as we continue the expansion of our cruise port business," Mehmet Kutman, chairman and co-founder of Global Ports Holding, said in a statement.
Stuart stepped down as CEO and president of Norwegian Cruise Line at the end of 2019 and is currently serving as a senior advisor through Mar. 31, 2020 to ensure a smooth transition to his successor, Harry Sommer.
Stuart has served in a variety of roles since joining Norwegian in 1988, including president and chief operating officer; executive vice president, global sales and passenger services; executive vice president and chief product officer; and executive vice president of marketing, sales and passenger services. He got his start at NCL's small office in the UK, two years after he finished his degree at Bournemouth University in Dorset, England.
Stuart is largely credited with helping NCL to create Freestyle Cruising in 2001, something that has helped to develop the cruise industry into what it is today. Freestyle Cruising allowed Norwegian to lead the movement to let cruisers dine when they want, where they want, and with whom they want. Before that, cruising followed the schedule of coupling early dinners or late dinners with an early show or late show in the ship's theater.
He also helped to create NCL's travel advisor outreach program, Partners First, in 2015.