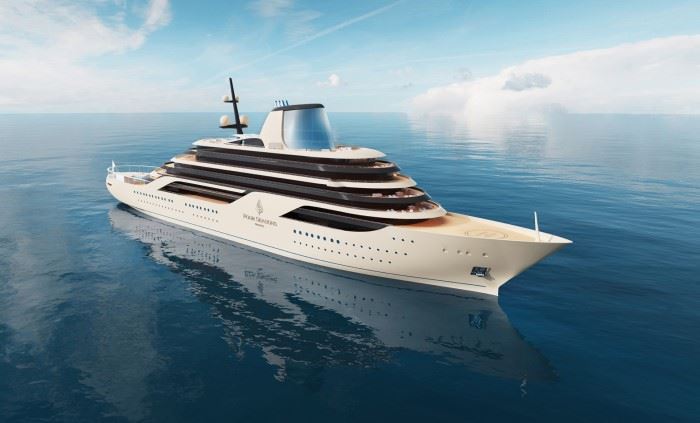 Four Seasons is the latest luxury hotel chain to enter the cruise business. The company is launching Four Seasons Yachts, with its first super yacht scheduled to hit the high seas in 2025. Industry veteran Larry Pimentel, past president of Azamara, SeaDream Yacht Club and others, will lead the new line.
"In partnership with Four Seasons, we are creating a new category of luxury lifestyle travel that appeals to discerning guests," Pimentel said. "We are bringing together the very best across industries to create the pinnacle yachting offering through world-class design, curated experiences, and truly exceptional service. When we launch in 2025, there will be nothing else like it on the open seas."
The three-yacht fleet is being created in partnership with luxury shipping experts Marc-Henry Cruise Holdings Ltd. and Italian shipbuilder Fincantieri. Design partners include Tillberg Design of Sweden and Martin Brudnizki Design Studio.
"Four Seasons Yachts represents the next chapter of our long history of industry leading innovation, and a milestone moment for our company as we continue to capitalize on new opportunities to extend the world of Four Seasons," said Christian Clerc, president of Four Seasons Hotels and Resorts. "Together with our partners at Marc-Henry Cruise Holdings Ltd., we are creating something extraordinary that combines their expertise with what Four Seasons does best – delivering unmatched quality and excellence, surrounded by beautiful acts of service and love for our guests."
Yacht Details
The first Four Seasons yacht will be 679 feet long, feature 95 suites and have 14 decks.
The network of suites will feature several joining suite combinations to create villa-like residences. Each suite will offer floor-to-ceiling windows (as tall as 7.9 feet) and expansive terrace decks.
Suites will start at an average of 581 square feet of indoor/outdoor living space, but 60% of the vessel's inventory will be in excess of 818 square feet.
The largest suite on the yacht – and at sea! – will be the "Funnel Suite." It will be four levels, offering more than a whopping 9,601 square feet of combined indoor/outdoor space, including a private wading pool and dedicated private spa area.
Dining will mimic what Four Seasons guests can find on land: "A perfect cappuccino in the lobby, a Mediterranean-inspired lunch, a dinner tasting at the sushi bar or a glass of Champagne on the breathtaking terrace."
The Four Seasons Yacht will also offer a full-service spa, salon and wellness programming. The "canoe-shaped" aft will be home to an expansive pool deck that can transform into an outdoor movie theater or space for an array of private events.
The marina will also be open to guests to enjoy the open water, sunbathe or explore the array of specially-designed aqua leisure toys and accessories.
In addition to the first yacht, due for delivery in late 2025, Four Seasons holds the option for two additional vessels.
Reservations are expected to open in mid-2023.