Les Chalets du Mont d'Arbois, Megève, A Four Seasons Hotel, will open its doors on Dec. 13, 2019 after undergoing more than €10 million of renovations.
Located at the foot of the ski slopes of Mont d'Arbois in the upper region of Megève, it will be the sister property to existing Four Seasons Hotel Megève, just a little more than one mile away. Both are in partnership with Edmond de Rothschild Heritage.
Baroness Ariane de Rothschild commissioned the renovation from Thierry Curty, under the artistic direction of Pierre-Yves Rochon, who was also the designer in each of the Four Seasons hotels in France.
With the addition of Les Chalets du Mont d'Arbois, guests at the brand's first European ski destination will now have access to luxurious chalets as well as a Michelin-starred dining experience at Prima.
Chalet options
Each chalet features its own personality, Four Seasons said: "Chalet Eve has kept its traditional style, Chalet Noémie features classic luxury décor and refined elegance, and Chalet Alice offers a bohemian chic atmosphere." The 41 rooms still maintain distinctive touches of alpine chalets, with wood-framed windows, exposed ancient beams, aged pine wood, and rough stone.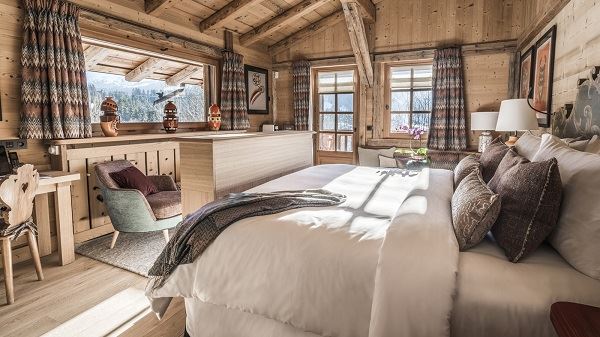 Chalet Eve houses 25 rooms and suites, a spa with an indoor/outdoor pool, as well as the recently awarded 1 Michelin Star Prima Restaurant by Chef Nicolas Hensinger.
Combining the charm of an old farmhouse with a modern twist, Chalet Noémie was built in 1927 for Baroness Noémie de Rothschild by French architect Henry Jacques Le Même, and was initially the family's private chalet.
Chalet Alice, built in 2005 as an extension to Chalet Noémie, is the most recent of the three chalets. Both Chalet Noémie and Chalet Alice can be privately reserved for guests looking for more exclusivity during their stay, and are the perfect option for those traveling with a larger group of friends or family.
Les Chalets du Mont d'Arbois will also offer Suite Idéal, a mountain "refuge" suite situated above the L'Idéal 1850 restaurant at the very top of the Mont d'Arbois ski area. Sitting at 6,000 feet, the expansive 1,507-square-foot suite has a master bedroom and en-suite bathroom equipped with a chromo-therapy Turkish shower and bath, and with views over the majestic Mont Blanc. With its private hotel services, the Suite Idéal can accommodate up to eight people. Guests can be transferred by a Polaris snow quad ride to the restaurants on-site at the hotel or to Megève village.