Four Seasons Looks to Redefine Modern Luxury Air Travel with New Jet
by Jessica Montevago /

Four Seasons Hotels and Resorts unveiled plans for an all-new private jet that will draw inspiration from "the glamour and prestige of air travel in times past."
Set to take flight in early 2021, the new A321LR aircraft is part of the new Airbus NEO family. It is being fully customized by Four Seasons and will replace the current aircraft.
Offering "the widest and tallest cabin in its class," key features include a new spacious lounge area that encourages guests to mingle. There, they will have the opportunity to meet Four Seasons' master chefs and mixologists, wellness experts and other Four Seasons masters. A wellness therapist will accompany travelers from Sydney to Bali, for example, providing rejuvenating and customized spa treatments. On journeys from St. Petersburg to Paris, a sommelier will provide samples of rare and exceptional vintage wines.

The lounge area will host Four Seasons artisans in interactive workshops.
The interior will be spacious, thanks to only 48 custom-handcrafted seats designed by Optimares, with leather from Italian producer, Poltrona Frau. Each chair offers 6.5 feet of personal space, extends to lie fully flat and is paired with a plush ottoman, providing extended leg room or, allow passengers to enjoy comfortable, face-to-face conversations.
Bathrooms are also being expanded for added comfort and flexibility, reflecting a more residential style. It will also be outfitted with amenities such as a full-length mirror, a leather bench seat and toiletries.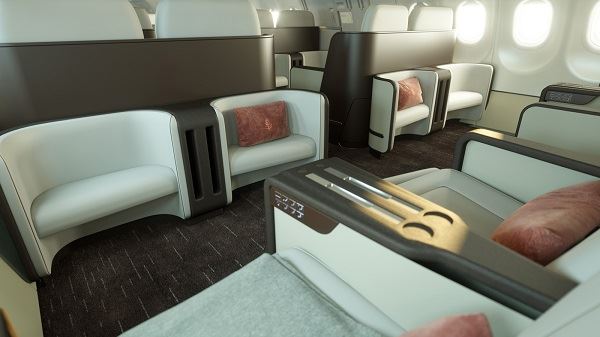 The spacious interior will allow guests to socialise more easily while seated.
The onboard Four Seasons executive chef will have an expanded galley area in which to prepare menus that are inspired by the journey itself. The executive chef will be joined by a full complement of Four Seasons' staff, including a Four Seasons concierge, director of guest experience, physician, and Four Seasons' trained in-flight crew.
Since launching the branded private jet in 2015, Four Seasons Private Jet has seen "consistent sell outs, waitlists, and near-perfect guest satisfaction rates," according to the company.
New itineraries aboard the new Four Seasons jet are currently in development and will be introduced sometime this year.