Headquarter Happenings: Travel Leaders Network Is Optimistic Amid Surging Demand, Tight Labor Market, Supply Issues
by Marilee Crocker /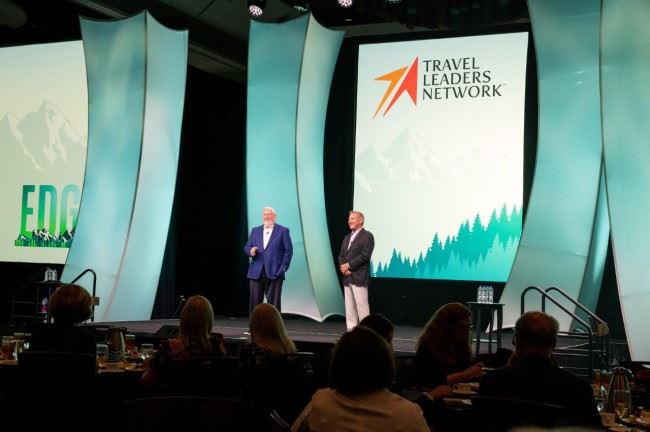 Amid a mood of high energy and excitement that is characteristic of post-pandemic travel industry gatherings, Travel Leaders Network delivered a confident, upbeat message at its 2022 EDGE conference, held June 12-15 at the Gaylord Rockies Resort & Convention Center in Aurora, CO.
The network's message for advisors was, "First and foremost, we are back," John Lovell, president of Travel Leaders Group, told Travel Market Report. "We are doing well organizationally. We continue to invest in their programs, education, technology.
"The big takeaways are: We're here, the past is the past. We've all learned from it; we've all been through it together. It's been challenging, but better days are ahead."
Good timing
The upbeat mood was boosted by the announcement on the eve of the conference that the CDC was dropping its requirement for COVID-19 testing for inbound international travelers. That was followed by cruise line announcements that they too were relaxing testing requirements.
"These barriers to travel were just dropping right in front of us," Lovell said. "It was that sense of relief and optimism, and brighter days are here, and they're only going to get brighter."
New best practices groups
Travel Leaders announced expansions of several existing advisor programs during the conference, which was attended by 1,500 advisors and suppliers.
Among the expanded programs was Leaders Alliance, a still-young networking and best practices program for advisors with shared interests. Travel Leaders Network rolled out the program in 2021, launching with two groups, one for luxury-focused advisors and another for host agencies.
Now it has added three more groups – one for the honeymoon and destination weddings segment, another focused on agency technology needs and a third called Building Better, a business strategy group for mid-size agencies.
Prospective advisor members are selected through an application process, and Alliance groups are facilitated by subject matter experts from Travel Leaders Network.
Lead generation for 'Super Agents'
Travel Leaders also announced the addition of a "Super Agent" category to Agent Profiler, its consumer-facing lead generation tool. Advisors who qualify as Super Agents will show up higher in search engine results on TravelLeaders.com. To become a Super Agent, advisors must meet performance criteria, including engaging in certain network programs and tools.
Currently, some 9,000 Travel Leaders Network advisors are active on Agent Profiler. In 2019, a record year, participating advisors received more than 170,000 customer leads through Agent Profiler, Lovell said. "This year we're on pace to exceed that by 8% to 10%."
That's a good sign for advisors, he commented. "People want to buy travel with that third-party affirmation or confirmation. To see that leap [in customer leads] speaks to what a travel advisor provides."
Training for new entrant advisors
To help agency owners and managers address staffing needs amid a surge in demand and an extremely tight labor market, Travel Leaders Network is launching a training program for new entrants on July 1.
"Coming out of the pandemic, there's human resources challenges across every sector. Within the travel advisor community, everybody's trying to replace agents that left the industry. Sometimes the best salesperson might not have been a travel advisor. So how do you get somebody up to speed?" Lovell said.
The training program is meant to supplement, not replace, training provided by agency owners, he emphasized. "We want to support them the best we can, and we understand that finding new talent is extremely important for the future growth of the advisor community."
Internova booking platform
Asked about news that Internova Travel Group, Travel Leaders' parent company, is developing a single booking platform for use by all its travel advisors, Lovell noted that "roughly 40%" of travel advisors in North America belong to an Internova Group company.
"We have, from an aggregator level, a lot of power, a lot of strength. We want to consolidate the booking transaction into one platform. It just makes sense for us organizationally." A single booking platform would allow Internova to see data in real time from all its companies.
"It's important to us, and I think it's important to our agencies as well," Lovell said. "We want to give advisors within any Internova Travel Group company the best product, the best promotions, the best pricing for their client at the right time. The way you do that is with the right technology that brings it all together in one spot."
Currently still in the RFI stage, Internova expects to roll out a platform for air, car and hotel bookings first, followed by cruise, tour, insurance and other ancillary products.
Looking ahead: sales & services
Despite the many challenges posed by a scarce labor market, related service issues, surging demand, tight supply, rising prices and recession fears, Lovell said that Travel Leaders anticipates exponential growth for the remainder of 2022 and into 2023, largely because of post-pandemic pent-up demand.
"We have never entered a bear market, a recession, with people not having traveled for the prior two years. So we're entering unprecedented times," he said. "We're in a very good position to have 2023 be that standout year. It's really how do we fulfill the demand that's out there?"
To support advisors struggling to serve customers during a period of extensive air service disruptions and long supplier hold times, Travel Leaders hopes to expand use of its air service desk by making the program "more simplistic and easier for advisors to adopt," according to Lovell.
Travel advisors can't afford to spend hours of each day dealing with cancellations and re-bookings, Lovell said. "It'd be much easier if you didn't have to call an air desk, if we provided service on air bookings, hotels when people get walked, that sort of thing. We're looking at creating programs and services that will alleviate that need, because in a tight labor market everybody is going to be stretched thin."
Travel Leaders' 2023 EDGE conference will be held in Nashville, May 8-11.