How Advisor Vicki Winters Juggles Travel Sales and Acting Jobs
by David Cogswell /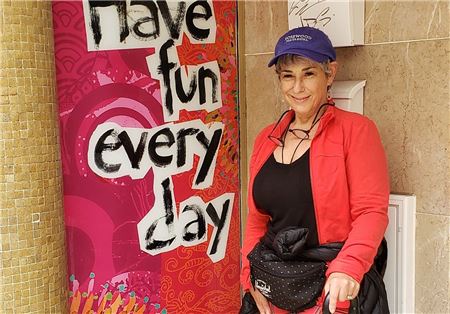 Vicki Winters describes herself as "all over the place." She works as a travel agent and, on the side, she takes jobs as an extra in the movies. She maintains two websites and runs two flashy Facebook pages, a YouTube page, and an Instagram page, all by herself. On her Facebook page, she identifies herself as "Travel Agent/Story Teller/Blogger/Actor/Original voice of Coco Bandicoot."
Her profile can be summed up in two words: dynamism and resourcefulness. In Vicki Winters, these traits are not subtle.
How she got to such an odd juncture of careers is a long story, but one key moment leading to her present situation was her encounter with the "D" word. We know necessity is the mother of invention, and sometimes it is presented in the form of a divorce.
When the bottom falls out
"At the age of 60, I split with my ex-husband and I had to totally do everything for myself," said Winters. "There was nobody who was going to bail me out, and I threw every bit of spaghetti up against the wall to try to pay the bills and keep my apartment. I had to go on food stamps and Medicaid just to get by. I hustled and I'm hustling every second."
Under pressure, she had to grab for every resource she could think of, so she decided to go into the movies. That's realistic right? For a 60-year-old divorcee to break into the movies?
In Winters' case, it wasn't quite such a long shot. She'd been there before. She drew on her earlier experience in Hollywood working as an extra, which itself was quite a leap for a young woman born and raised in New York.
It is a long, colorful story, and despite its share of turmoil, it brings to mind the phrase of "a life well-lived."
The greatest discovery
"I was a zillion things," she said. "I was an executive assistant to the publisher at Esquire magazine. I booked all the travel for bankers and publishers. Then when I married my soon-to-be ex-husband, we traveled all the time. Then I started a blog for fun. It started as a food blog, then it turned into a travel blog. Then I realized I wasn't making enough money as a travel blogger and I transitioned."
Vicki's attendance at the New York Times Travel Show a couple of years ago catalyzed a major turning point in her life. "I was at a presentation and the speaker said, 'How many are travel agents?' I looked around and thousands of people put their hands in the air and I said, 'This is a thing? What?'"
She did some research, and found out about Virtuoso. "I got myself to Virtuoso Week in Las Vegas," she said. "I went to a one-day session for people who are thinking about becoming travel advisors. When I got home from that, I started interviewing with Ovation, ProTravel, Valerie Wilson and MTravel. I was this close to signing with MTravel, then I signed with Ovation."
But Ovation wasn't a good fit. "I was with them for a year," she said. "They had a management switch-off and I wasn't feeling any love. I found TravelEdge, which I had heard about, and they have this cutting-edge technology, something that has taken the place of Sabre and Amadeus. It's beyond mind-boggling what you can do with ADX."
Learning the business
TravelEdge, for Winters, is the bomb. "They make it easy to maximize what a travel agent should be doing with their time," she said, "which is talking to clients. There's no wasting time, trying to figure things out or learn things on your own. Today I had a webinar from the Edge ship; Oceania had a webinar; a limousine company had a webinar; and I think there was one more I didn't have time for, a jet company.
"I watched all those from home. I can watch from my phone, from my computer. I can be on a movie set and watch them. Three or four webinars in a day is normal at TravelEdge, because they want us to be able to garner the information. If you can't tune in at the exact time, it's in a drop box."
Now that she has discovered the retail travel industry, Ms. Winters has found her groove. "I wish I had done it 30 years before," she said. But taking on a sales position on commission, it can be tough getting started. Winters had bills that would not wait while she learned the business. "You know you don't make money right away," she said, "so I'm subsidizing myself by doing everything I can. When I'm not making new clients or learning new platforms or going to events, I work as an extra in the movies also."
Dreams of the Silver Screen
Vicki Winters grew up in Long Island, moved to Miami for high school, and then went to Los Angeles.
"I moved to L.A. after a little bit of college," she said, "where I studied Spanish and disco dancing. I went to L.A. because my parents moved out there. Everyone who moves to L.A. thinks they can be movie star, so I figured, okay, I'll do that."
She got married and got a job in retail. Then she drifted into the fringes of the film industry. "It wasn't really an intention, but it was there," she said. "I was in the union [the Screen Actors Guild] in the late '80s. I worked as an extra on "Cheers," "St. Elsewhere," "St. Elmo's Fire" and "Newhart," stuff like that. I dropped that when I got married."
She moved with her husband to New York City and got into fashion, then executive assisting and marketing.
"I gave up my SAG card, not realizing that in 2017, I would want to do it again. It was a whole big mishigas with SAG to get my card back."
All at once
For now, she juggles all of it, travel study and sales, websites and acting jobs. She works alternately at the TravelEdge office at 420 Lexington Avenue in Manhattan, or at her stand-up desk in her home office in the Wall Street neighborhood.
"Tomorrow morning, I have to go to the office because of an Oceania cruise that I'm going to be the host on," she said. "I want to talk to my manager about how I can best strategize to help sell it. I have a meeting with her at 11, and then I have fitting for a costume for another extra job for Thursday and Friday."
In the mornings, she does a Daybreaker. "From 6 to 7, we do yoga," she said, and "from 7 to 9, we dance like there's no tomorrow — people of all ages, shapes, sizes, mostly younger people. They all come up to me and say, 'You're amazing!' I own that. I know that I bring a joy and a light and a spirit and something to look up to, even though I'm not rich. But I do because I've done all those things that nourish my soul, including the Daybreaker."
It's a good way to pass the morning when you have some time on your hands.