How Are U.S. Airlines Adapting with COVID-19 and Social Distancing
by Daine Taylor /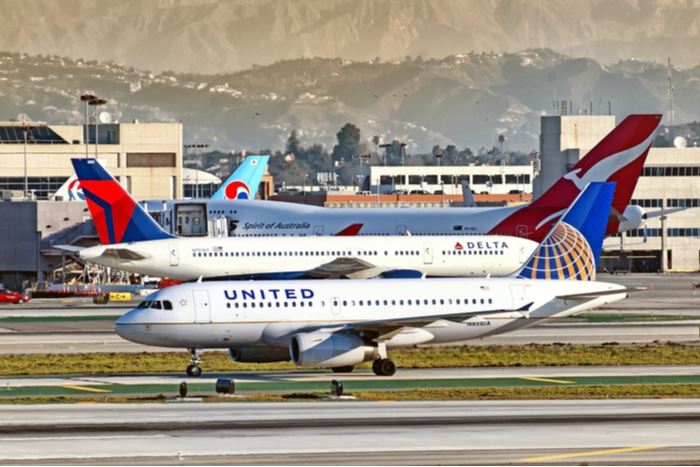 As the U.S. is escalating its steps to prevent the further spread of the COVID-19 virus, U.S. airlines have been adjusting to the ever-changing environment to accommodate customers and preserve funds.
Alaska Airlines
Alaska Airlines announced plans to reduce its flight schedule for April and May by approximately 70%, due to the unprecedented falloff in demand related to the COVID-19 outbreak.
"Alaska's goal, since the onset of this outbreak, has been to keep our employees and guests safe and healthy, and to ensure that our airline is here to support and serve them in the future," said Alaska CEO Brad Tilden. "But we also know that given the lack of demand for air travel and profound impact on the financial management of our business, hard work and aggressive control of costs and cash are required, even with additional support."
The airline is adopting several cash preserving measures, including encouraging employee to take a voluntary leave of absence, suspending annual pay increases, and releasing contractors and temporary workers.
"We are ultimately optimistic about the future of our great airline," said Tilden. "But it is clear that we are and will be under severe financial pressure for the foreseeable future and that is why these actions are essential."
American Airlines
American will be instituting several new major service and seating changes to ensure the health, safety and comfort of their customers and crew. "Changes include updates to our seating policies, food service, Admiral's Club Lounges and pets service to help our customers and team members practice the CDC's social distancing guidelines as much as possible," said Kurt Stache, Senior Vice President of Customer Experience for American, in a video update.
Gate agents will be able to reassign seating at the gate to makes sure there's enough distance between travelers, and the airline will be blocking the use of half of the standard middle seats available to help encourage social distancing.
The carrier will also start offering more limited food and beverage options from March 27 to April 30. Beverages will only be available on request, and snacks and food won't be available for purchase, except for international flights.
"We'll continue to make changes as necessary as we monitor government policies and CDC guidelines," said Stache.
Delta Air Lines
Delta announced it would waive all change fees for U.S. domestic and international travel through May 2020 along with any bookings made during March 2020.
The carrier is also extending its upgrade certificates and travel vouchers for SkyMiles Medallion Members—members will now have until the end of 2020 to use them (originally, set to expire on June 30).
"As the situation evolves, your flexibility when traveling remains our focus," said Ed Bastian, CEO of Delta in an announcement."Rest assured that the value of your ticket won't be lost if you decide to make adjustments.
In addition to it updated waiver policies, Delta announced it would be expanding new health and safety practices to all flights starting April 1, including fogging on domestic aircraft and sanitization of high-touch areas like tray tables, entertainment screens and armrests.
Hawaiian Airlines
In response to the recently announced 14-day quarantine measures for all visitors to the Hawaiian islands, Hawaiian Airlines is reducing its April flight schedule while maintaining essential service within Hawaii and between Hawai'i and California and the U.S. territory of American Samoa.
"As Hawai'i's airline, we understand that our operation is essential to the state. We serve both guests who rely on us for important travel and the transportation of critical cargo," said Hawaiian Airlines President and CEO Peter Ingram. "This has been the hallmark of our mission for 90 years and our dedication to our guests remains unchanged as we look to overcome this global crisis together."
Additionally, Hawaiian's long-haul transpacific network will consist of one daily nonstop flight between Honolulu (HNL) and Los Angeles (LAX) and San Francisco (SFO), and one weekly flight connecting Hawai'i to its Pacific island neighbor of Pago Pago, American Samoa (PPG).
"This schedule is designed to maintain a minimum level of connectivity for residents' important needs," said Ingram. "We will be ready to resume our schedule when the quarantine has been lifted."
Southwest Airlines
Southwest will cancel approximately 1,500 of their almost 4,000 daily, in response to significantly decreased customer demand. This news comes after Southwest previously announced it would implement a plan to reduce capacity by at least 20 percent for the time period from April 14 through June 5, 2020.
"During this unprecedented time, we will continually assess the real-time, market demand for Southwest's service with the goal of cancelling flights that have alternate flight or route options and that affect the fewest number of Customers," Southwest said in a statement. "Additionally, we'll implement the cancellations on a rolling, multiple-day basis to provide Customers with advance notice of changes and alternate flight options."
United Airlines
United Airlines will institute a number of measures to help ensure customers health and safety, while still accommodating traveling customers. The airline will temporarily adjust its inflight service and will be moving to primarily pre-packaged foods and sealed beverages. Additionally. United will be suspending all PetSafe and military pet transportation until further notice.
The airline has also adopted a flexible rebooking and cancellation policy for travelers amid all this uncertainty regarding the outbreak, including waiving change fees for all travel through May 31.
"The safety of our customers and employees is and always will be our top priority. The dynamic nature of this outbreak requires us to be flexible in how we respond, provide service and protect our customers and employees," said Untied in a statement.
Also, in accordance with the Centers for Disease Control and Prevention (CDC) recommendation to practice social distancing, United is offering customers the opportunity to do so on when seating allows.