How are Tour Operators Preparing for a Return to Travel?
by Daine Taylor /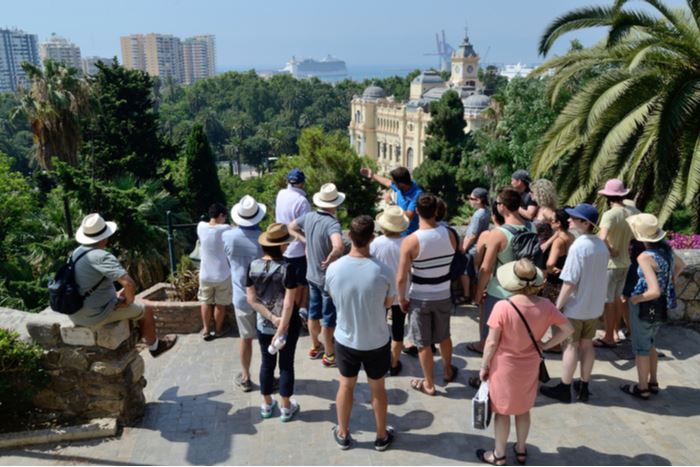 While most travel tour operators have suspended their travel itineraries through May due to the ongoing impact of COVID-19, many are using this period of downtime to prepare for when travel does resume and they can return to business.
With the global travel industry still stalled, tour companies have begun taking steps to help address traveler health and safety concerns. But more than that, companies have had to keep up-to-date on the constantly changing situation, while protecting clients' bookings, and helping them feel comfortable about traveling when the time comes.
Collette Tours
"We've been having a lot of proactive communication with the vendors that are still open right now, and everybody down the line is taking extreme measures to ensure the health and safety of the customer," said Jeff Roy, Executive Vice President of Revenue Management and Pricing for Collette.
The company has taken steps such as introducing door-to-door vendors, maintaining regularly scheduled cleaning for all vehicles, removing any handouts or pamphlets, and offering masks and hand sanitizer on tours, to reduce chances of contamination.
"On tour we're preparing to make some pretty significant logistical adjustments." Among these adjustments, Collette will facilitate social distancing guideline wherever possible, and is considering additional modifications to ensure customers safety, including limiting large group gatherings, staggering times and limiting occupancy in restaurants and other public meeting spaces, and providing more personalized services.
Roy believes Collette is well-placed to recover early as they've been constantly monitoring and adapting to the changing market. The good news is, in some ways we're set up pretty well for this. "We have a small group exploration product line that averages 19 passengers per departure. I think that's going to be great for people who don't want to go in larger groups."
And beginning May 15th for their larger signature group tours, Collette will begin capping the number of passengers per departure on certain dates. "They'll be a lot of empty seats on the coaches to allow people to spread out and travel with smaller groups of people…and we're looking to have wellness checks with our customers before they come on tour, and giving our tour managers some strong influence on being able to address any health or sickness issues that could emerge, to protect the entirety of the group."
"Overall, we truly believe that the world is going to be a far more sanitary place for travel than it's ever been…I think travel is going to come back, and people are going to be having a much cleaner experience when they travel in the future."
G Adventures
G Adventures is providing clients with peace of mind by offering a limited time "Book with Confidence" policy for customers with tours departing before Dec. 31, 2020, allowing them to cancel and rebooked up to 14 days prior to departure. And those departing between Jan. 1st 2021 and May 31, 2021 can cancel and rebooked up to 30 days prior to departure.
The tour company is also using the current travel hiatus to inspire future bookings by hosting a new virtual tour series, featuring live small group tours, weekly virtual walking tours and even virtual backdrops for Zoom meetings.
"Wanderlust, curiosity, and connection are in our DNA here at G Adventures," said Lauren Michell, Vice President of Marketing and Customer Experience. "We hope that our new Virtual Travel Experiences will continue to fuel travelers' curiosity and desire to see the world when the time is right."
Intrepid Travel
For Intrepid Travel, a return to business means reaffirming their customers' trust and comfort. "In a post-coronavirus reset of the touring sector, small group travel will become the new norm. More importantly, I think it will be the global brands that are most connected with their local communities who will be best placed [to be] able to provide real reassurance, when travel returns." said James Thornton, CEO of Intrepid Travel.
"As travel restrictions were rapidly changing, Intrepid's tour leaders and local operations teams had the knowledge to quickly adapt plans and the connections with governments when further support was needed to get travelers home safely. Transparency and good governance will be more important than ever in establishing consumer trust."
Thornton also believes Intrepid is well-placed to provide the service and assurance that travelers need going forward due to the company's relationship with their local tour leaders.
"For 31 years, Intrepid Travel has focused on small group tours, with local leaders. Anyone who has traveled with a tour leader knows that they can turn a great-looking itinerary into a truly amazing travel experience," said Thornton. "But it's when things go wrong that they really can make all the difference."
Kensington Tours
"Consumer sentiment in situations like these really move through four phases; fear, understanding, action, and recovery. And we can help them feel more at ease obviously by staying informed, protecting [clients'] travel investments, and communicating frequently," said Alison Hickey, President of Kensington Tours
"We've adjusted our terms and conditions to help protect our clients' travel investments, so on existing bookings our new offer protects 100% of the trip's investment, and we're holding rates flat into 2021. And on new bookings, we offer customers a 'cancel for any reason' insurance. 100% of your trip's value is good for anytime within 30 days prior to travel."
"We're also working very closely with our local teams to ensure they have appropriate health and safety standards, and that extends to the private guides, transportation, and any properties [on their itinerary]."
She emphasized that after this period of lockdown, clients will initially focus on spending time with friends, family or loved ones in small groups and private guided tours.
"We currently offer private guided travel in 95 countries, and the very notion of our business model being privately guided I think is a great thing to leverage as we look forward…These private guided tours provide personalized attention for your group, your own local guide, and transportation to and from the airport in a private car… and because our guides are local, they can customize your day tour to adapt to crowds and logistics."
Perillo Tours
While there is still much that isn't definitively known about the outbreak, companies like Perillo Tours say they are fully committed to ensuring traveler's wellbeing, and are investing in new protocols to ensure their guests safety. "With so much uncertainty, it is hard to imagine in this moment what group tours will specifically look like post COVID-19," said Steve Perillo, president and owner of Perillo Tours.
"What I can say with great confidence is that Perillo Tours will make sure each of our guests are prepared and guided through any new protocols or restrictions implemented by suppliers, whether it's temperature checks at airports and train stations, or filling out required wellbeing forms from hotels," said Perillo. "At this point, I've even considered creating Perillo branded face masks for our guests and guides. Only time will tell if that happens."
Perillo is also counting on its local suppliers to help maintain its health and safety standards throughout the destinations they offer, especially in Italy, which was so heavily impacted by the outbreak.
"An escorted tour is a complicated, well-orchestrated travel product with many moving pieces. Perillo Tours has been bringing American travelers to Italy for 75 years, fostering deeply rooted relationships with many Italian suppliers," said Perillo.
"We're looking to these partners as a first step in addressing some of the health and safety concerns of future guests."
Tauck
For Tauck, preparing for travel's return is all about staying in contact. "Because the environment is changing so rapidly, our main focus now is staying close to each of our supplier partners to understand their operational status and plans," said Jennifer Tombaugh, President of Tauck. Constant communication is essential, and this ongoing dialogue helps us gauge where and when we can begin welcoming our guests once again."
"When travel does restart, there is no doubt guests will have high expectations for health and safety. Just as we saw after 9/11, there will be new procedures and protocols to protect the safety and health of each and every traveler," said Tombaugh. "We are actively working with our partners to establish these."
Tauck is offering guests who cancel their bookings for travel through July to receive travel credit to be used on any 2020 or 2021 Tauck journey.