Disney's new type of immersive theme park experience, Star Wars: Galaxy's Edge, is leaving no detail untouched. When the new land opens later this year, guests will be able to do everything from build their own droids and lightsabers to riding in the cockpit of the Millennium Falcon.
The park expansion at Disney's Hollywood Studios in Orlando, Florida, and Disneyland Resort in Anaheim, California, drops guests off at the remote world of Batuu, home of Black Spire Outpost, teaming with smugglers and traders. The two rides – Star Wars: Rise of the Resistance, placing riders in the middle of a battle between the Resistance and the First Order, and Millennium Falcon: Smugglers Run, which allows the flight crew to take the controls of the fastest ship in the galaxy on a special mission – are joined by a cantina serving alcoholic drinks, multiple shops, and eateries.
Ahead of the grand openings, Disney is sharing more details about the new land.
Otherworldly flavors at food and beverage outposts
Docking Bay 7 Food and Cargo, a fast-casual restaurant, will be the main spot for a meal. It will serve up dishes like the Ithorian Garden Loaf, a plant-based "meatloaf" that comes served with roasted vegetable mash, seasonal vegetables, and mushroom sauce; and Smoked Kaadu Ribs, sticky pork ribs that come with a unique blueberry corn muffin and cabbage slaw. Disney storytellers say it will be led by the former chef at Maz Kanata's castle, Chef Strono "Cookie" Tuggs, traveling from across the galaxy.

Dishes at Docking Bay 7 Food and Cargo. Photos: Disney
Try blue or green milk, a frozen drink similar to a smoothie or milkshake, at Milk Stand, or sample exotic meats cooked on a spit at Ronto Roasters. Another market stall will offer Outpost Mix, sweet and salty popcorn with a hint of spice.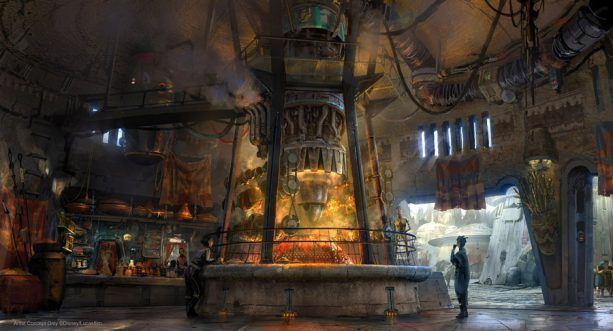 Exotic meats are cooked on a spit at Ronto Roasters. Photo: Disney
At Oga's Cantina, cocktails will be served while R-3X, formerly the Starspeeder pilot on the original Star Tours, DJ's a collection of new music. It will mark the first time alcohol will be served to the general public at the Disneyland theme park. There will be some light bar snacks and non-alcoholic drinks.
Shops at the Black Spire marketplace
From building your own custom lightsaber at Savi's Workshop to customizing a astromech droid at the Droid Depot, guests can take home a personalized souvenir.

Savi's Workshop sells handbuilt lightsabers. Photo: Disney
At a makeshift stall overseen by the Resistance, find uniforms, pins, badges, hats, helmets, jackets, maps, tools, and other training supplies. There will also be a spaceport hangar bay run by the First Order, where officers have brought in of gear, uniforms and other supplies.
The main marketplace, Toydarian Toymaker, will sell a variety of merchandise such as plush toys. Other specialty stalls include a Creature Stall with critters that you can take home, Black Spire Outfitters selling clothing, and The Jewels of Bith offering accessories and other trinkets.
The resort promises "a multiday Stars Wars adventure"
Since announcing the new luxury resort, which will be connected to Star Wars: Galaxy's Edge at Disney's Hollywood Studios, Disney has released limited details, including the opening date.
It's described as a "multiday adventure," where everyone departs together by boarding a starship with characters and stories that unfold during a voyage through the galaxy. At the resort, guests can dress up in the proper attire, and every window will also have a view into space.

Guests will be immersed into an authentic Star Wars story. Photo: Disney