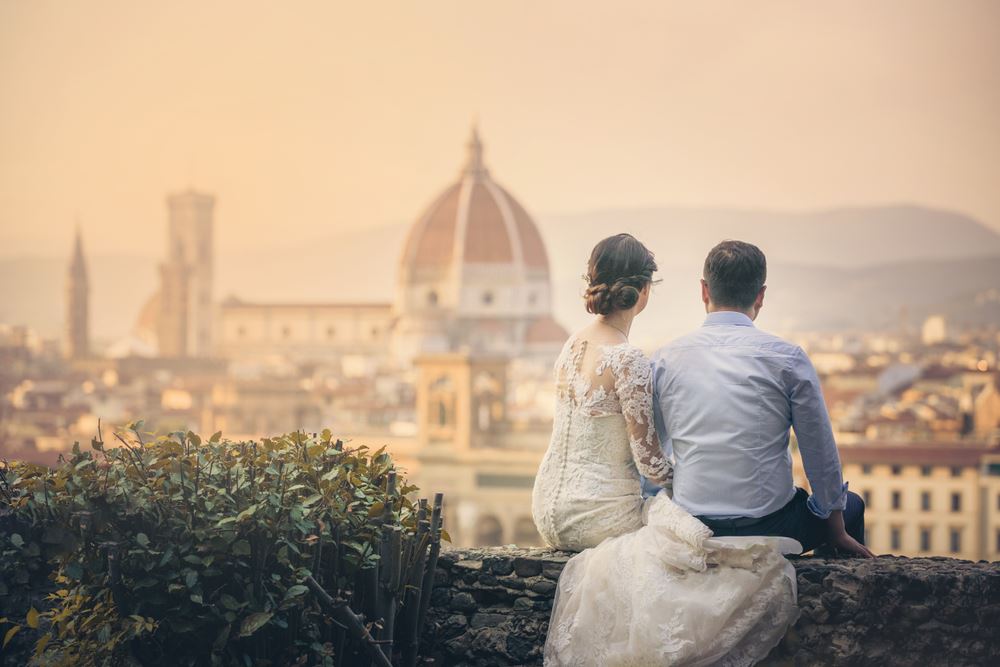 Like so many other categories of the leisure travel industry, destination weddings are feeling the pressure of overtourism. Instagram newsfeeds are filled with photos of barefoot couples, standing under beachside arbors, with rows of adoring friends and family looking out over the blue ocean.
For many couples, especially those who seek to be different from their peers and do something everyone else will be talking about, this means turning towards destinations like Europe.
"So many of my clients have attended several weddings in the Caribbean and Mexico, some of the couples are asking for something different," said Lisa Sheldon, CTC, CTIE, and president of the Destination Wedding and Honeymoon Specialists Association.
Pamela Strauss-Goldman, co-founder and COO, of Wedaways, Inc., a Virtuoso affiliate based in Beverly Hills, California, said she has seen a 33% increase in clients choosing Europe for their weddings, with more clients moving "beyond the main cities we all think of when we imagine Europe."
Italy is the No. 1 destination, Strauss-Goldman said. "The magic exists for people that are dreaming of it and have never been, to those that have visited and revisited again and again. After all, two thirds of the world's art and treasure are in Italy, and everyone loves Italian food," Strauss-Goldman said.
Business has been so good lately that tour company See Italy is launching a turnkey destination wedding program for travel advisors. Under the program, an agent can contact See Italy directly to execute everything from sourcing a location, planning all of the details (e.g. photography, permits, etc.) to on-site assistance. Agent commissions are 12%. If an agent wants to be more hands off, they can still receive an 8% referral fee.
"We always did a few weddings as part of our regular travel planning, but more and more American couples are looking to Italy now," said Laura Massoni, See Italy founder. "Agents and destination wedding specialists have their contacts in the Caribbean and Mexico, and they are totally comfortable taking care of couples there. But they're terrified about doing the same thing in Italy."
The why and how of Europe
"Europe has everything: cities, countryside, beaches, cuisine, language, art, culture, infrastructure, accessible airports, ATMs, really everything," said Strauss-Goldman, who added that France, Greece, Portugal, and Ireland are also very popular.
While Strauss-Goldman advises couples to secure their venue at least a year in advance, "you won't start the planning process until six months out. That's just the way Europeans work," she said.
Sheldon has had three destination wedding requests so far this year, for Italy (Tuscany), Scotland (a castle in the highlands), and Greece (Santorini).
But, despite all of the beauty and history that might attract a couple to book a European destination wedding, choosing Europe does come with its challenges. "Distance, language barriers, and cost are the three big obstacles that couples must understand," Sheldon said. "The couple must also anticipate that because of the distance, and most often price, some of their invited guests will not attend.
"The couple needs to understand that, first and foremost, it's their wedding. It's not their mom's, not their grandmother's. If having a wedding in a castle in Scotland is their dream, that's what they need to do.
"Conversely, if having certain family and friends alongside them on their big day is imperative, and for example, your clients' grandparents can't travel, then I would suggest having a traditional wedding at home and possibly a small, symbolic wedding in their dream destination and combining it with their honeymoon."
Wedaways' website and planning platform features more than 175 international hotels in more than 80 destinations in 24 countries. On the website, advisors can plan everything, from room blocks, to transfers, to excursions, and properties often show whether or not they employ an on-site wedding planner.
Strauss-Goldman operates the company with her mother, Renée Strauss, who designed all the wedding wardrobe for the Disney film, "Father of the Bride"; and had a starring role in the TLC reality hit show, "Brides of Beverly Hills."
'Different' comes at a price
But while Europe is growing increasingly popular, it comes with its challenges (not the least of which is cost), both for couples and for the travel advisors who work with them.
"The greatest challenge is that all the guests may not be able to afford the accommodations at the hosting property," Strauss-Goldman said. "Transfers to and from the host hotel/venue can get a bit costly, too."
Strauss-Goldman advises agents to not let cost deter them from researching and providing options for a client's dream European vacation. "One can plan a super-expensive destination wedding in the Caribbean and a relatively reasonable wedding in Europe. It really depends on the taste, style, and budget the couple is working with," she said.
Guests have the option of staying off-site property if they are on a budget. And depending on the property hosting the group, a couple may be able to direct room block credits back into lowering their guests' rate, Strauss-Goldman said.
Sheldon recommends her clients work with a tour operator or DMC when possible to arrange flights, ground transportation, and the accommodations. "For weddings with a few family and friends in attendance, I like to suggest a villa where they can all stay, and it often works to make the wedding more financially feasible," she said.
"We also suggest weekday weddings and shoulder season weddings" to defray cost pressures, Strauss-Goldman said. "There is money to be saved, and the properties are very pleased to book this time for a wedding or celebration. Also, think of the natural views. A gorgeous vineyard ceremony and reception require very little additional décor and all of the expense that can come with that."
Airfare can also be a problem, especially depending on the time of year. Sheldon always suggests to her clients that they book early to lock in better rates and flight availability – even more critical when you consider the lower frequency of flights for some European destinations.
"One of the advantages of working with a travel advisor to book a European destination wedding is our access to air consolidators and tour company flights to get lower fares," Sheldon said.
Choosing a European destination wedding also means transatlantic flights that are a minimum of six hours, and cross over many time zones. Still, travel time seems to be less and less of a deterrent for Wedaways clients, Strauss-Goldman said.
"It's all about the experience and the vision of the couple," she said. "We find our couples and their guests have a great sense of adventure. We always tell our couples, invite whom you really want to attend, because more often than not, whoever you invite, will come."
"If the bride is dreaming of a wedding in a field of sunflowers in Tuscany, I want to help her and her fiancé have that dream," Sheldon said. "Educating the couple about traveling to Europe, the time difference, how flights operate, and traveling around in the destination, for example by rail, flying, or driving, is important so they understand the logistics of it all."