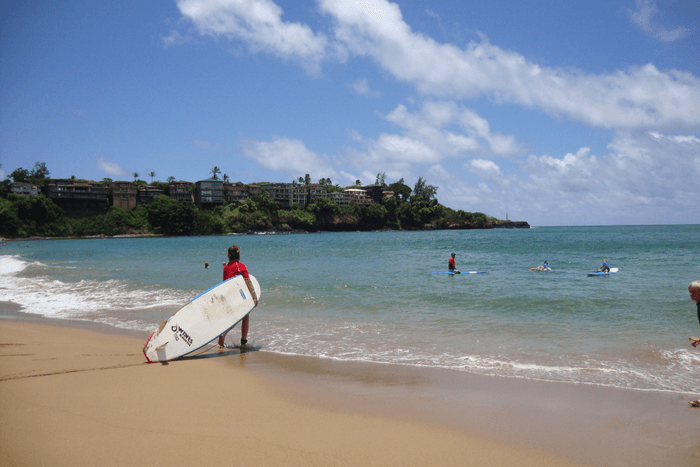 The island of Kauai is planning to reopen to tourists after a halt forced by a surge in the coronavirus.
Kauai was the only Hawaiian island to opt out of the state program that allows trans-Pacific visitors if they produce a negative test before arrival. Instead, the island had required all travelers to undergo a 10-day quarantine.
Kauai began a version of its own entry program on Tuesday. Inter-island travelers flying to Kauai can participate in the state's Safe Travels program to get out of quarantine with the pre-arrival testing program and wait at least three days before coming to Kauai.
Travelers from out of state now have the option of a shortened three-day quarantine by participating in the resort bubble post-travel testing program.
For travelers coming in from out-of-state, they now have the option to quarantine for three days instead of 10. The county says trans-Pacific travelers could be released from quarantine, with negative test results, if they take a pre-travel test, quarantine for 3 days on a 'resort bubble' property and then get a second test that comes back negative.
There are six resorts officially labeled Enhanced Movement Quarantine hotels, where visitors are allowed to leave their rooms if they remain on the property.
The approved hotels on Kaua'I include: The Cliffs at Princeville; Hilton Garden Inn Kaua'i Wailua Bay; Ko'a Kea Hotel & Resort at Po?ipu; The Club at Kukui'ula; Timbers Kaua'i Ocean Club & Residences at Hoku'ala; and Kaua'i Marriott Resort & Beach Club.
"We realize the Resort Bubble program is tailored to visitors and is not ideal for our residents," said Mayor Derek S. K. Kawakami. "Our residents continue to be our highest priority. Now that our community has been able to enjoy the holiday season without a major surge in cases, we feel we are in a good position to loosen inter-island travel restrictions and offer more convenient opportunities to travel between islands."
"Unfortunately, it is just not safe at this time to allow transpacific travel to Kaua'i without additional safeguards – we hope that will change soon. While O'ahu, Maui, and Hawai'I Island continue to have cases, the rate of infection is significantly lower than the mainland. With our low rates of disease and frontline healthcare workers and first responders beginning to be vaccinated, this is an appropriate time to allow inter-island travel with a pre-travel test, while continuing to require additional precautions for people who recently traveled out of state."
Participation in either the inter-island Safe Travels program or the "resort bubble" post-travel testing program is voluntary. Travelers may also stay in non-"resort bubble" hotels and motels, but they will be subject to the full 10-day traveler quarantine without a post-travel testing opportunity, and cannot leave their rooms until after the 10th day.