On Sunday nights, just a child sitting in front of her family's living room television in Mountain Brook, Alabama, Jody Cole was fascinated by the animals and birds on Mutual of Omaha's Wild Kingdom.
Growing up in a suburb of Birmingham, Cole fed her passion for the outdoors by caring for the animals on her mother's farm, about an hour away, and exploring her grandfather's plantation in Southern Georgia.
"I spent a ton of time outdoors by myself. I was fearless around animals," Cole says remembering her childhood.
But like many southern women in her day, as Cole grew up, she pursued a more genteel life, graduating from college with a degree in economics and accounting, and embarking on a career raising money for foundations – mostly around LGBT and human rights issues.
She rarely traveled abroad, going on a mission trip to the Yucatan with her Presbyterian church in her mid-teens, and visiting Europe following college, a graduation present from her parents.
In her early 30s, living in the San Francisco Bay area, Cole fell into a funk following the death of her father. "My best friend at the time told me, 'Quit your bellyaching. Your dad is dead. You need to live your life,'" she remembers.
Another friend, suffering from AIDS, asked Cole, "If you knew you would die in a month, what would you do with your remaining days?"
"It was like a slap in the face," Cole said. "The animals I watched on TV popped into my head, and I told him, I wanted to see Africa."
Cole contacted Wilderness Travel in Berkeley, California, and booked a six-week trip to South Africa, including Tanzania, the Serengeti and a climb up Mount Kilimanjaro.
"I saw how everything has a purpose, everything is connected, even the bugs," she said, remembering that 1998 trip. "I completely fell in love."
For several years, Cole returned twice a year, including visits to other countries and nature preserves, and a canoeing safari in Zimbabwe. She absorbed everything she was told and began to develop relationships with the guides and companies she booked with. Cole became such an expert that, in 2004, Alison Hawthorne, a travel agent and friend, asked her to put together a milestone birthday safari for her, a trip that would end up as a 20-person group.
Cole called Mark Nolting at the Africa Adventure Company, "because he is so wonderful to work with and is so knowledgeable. My agreement with Allison was, you be the birthday girl, and plan this how you want it. But, once the tires hit the tarmac in Africa, I want to be in charge."
A year later, Cole and Hawthorne planned a 14-person safari to Botswana that included two people from the previous milestone trip. "During the farewell dinner, I looked across the table at Allison, with tears of joy about what we had all experienced together. I told her, 'I want to do this for real, full-time,'" Cole remembers fondly.
In 2005, she founded the company that would eventually become Wild Rainbow African Safaris, (she rebranded in September 2017), with Hawthorne specializing in air bookings and travel insurance. They booked two groups a year, with Cole as the tour guide, further developing relationships with lodges, preserves, and certified local guides and trackers.

Cole (third from left) with guests.
Becoming a guide
Around 2007, "Scotch," a local Zimbabwe bush guide, was so impressed with Cole's knowledge and love for his country, that he told Cole she should take the Level 1 Field Guide to Association of Southern Africa (FGASA) course.
"Here I am, this white, blonde woman from the south. And this African male is telling me I should take the course and become a guide. That blew me away," she said. That night, Scotch came to Cole's tent and handed her a copy of the FGASA magazine.
"I want you to have this, to read this," he said.
"Zimbabwe has the strictest and longest guide training on the continent, so it spoke volumes to me that Scotch thought that not only could I pass the course, but that he felt I was that committed to the animals and people of his country," Cole said.
Today, Cole is based out of Asheville, North Carolina, and is one of a very few women who are Level 2 FGASA trails guides. She has advanced rifle handling certification as well, so that she can accompany guests on foot in the bush, in areas populated with "The Big 5" (buffalo, elephant, leopard, lion and rhinoceros), which is so popular with guests.
She is currently preparing for her Level 3 exam, the highest level in South Africa, while also becoming a guide trainer for others looking to join her profession.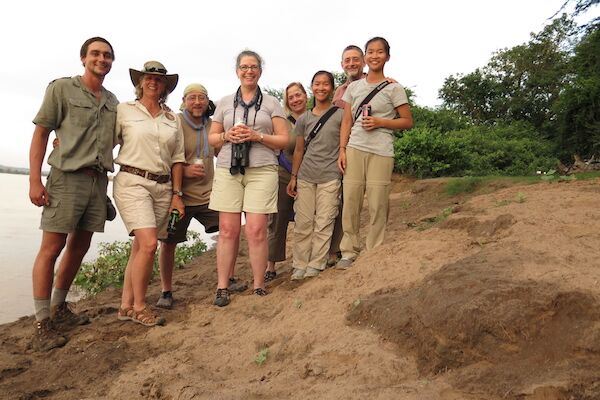 Cole with guests.
Knowledge and hospitality
Cole's commitment to both Africa and her guests can be seen in the comments of some of her clients.
Marilyn Cichowski, Bucks County, Pennsylvania, has taken two trips with Wild Rainbow in the last five years, covering Botswana, South Africa, Zambia and Zimbabwe. While Cichowski praised Cole's safari knowledge and skills, she also lauded her personal hospitality.
"When we returned home from our first safari, she mailed us a book about African [continent] animals that referenced something we had discussed in the bush," Cichowski said. "Later, she let us know she was traveling up east for an expo, and since we are in Philadelphia, asked if we could connect.
"Would that happen with a large tour company? I don't think so. She makes you a part of a family. She just has this calling. The people skills, the inquisitiveness to continue learning. She's infectious."
Peter Elting (retired) and Wes Freas (a realtor in San Francisco, California) took a 10-day expedition with Cole in 2014 to Kenya, Tanzania and South Africa.
"Going on safari is a life-changing experience and going with Jody is not only life-changing, it's inspirational," Elting said.
"Jody has a reverence for her work, the people, and the place," Elting said. "She cares about Africa in a very macro way. It is not just about the animals. It's contagious."
Freas said he was astonished at how someone with Cole's background can be so naturally a part of the landscape. "Here's this guide, with a sweet little southern accent, and yet she is so calm, walking around in a safari hat and Wellington boots. She's completely in her element, whether she is conversing with Masai villagers or showing you dung beetles."
Elting said he and Freas have recommended Cole a number of times to friends.
Cole often works with travel agents looking for something more customized and more personal for their clients. Group sizes typically average around eight, she said, but occasionally go up to as many as 20.
"What is important to me, and someone looking to entrust their clients with me, is that we have a mutual appreciation for the spiritual experience Africa is capable of delivering, without the guest even knowing they are having it," she says.
"I want people to go home changed by this incredible experience, to view the decisions they make about their life, and how to live, based on their connections to what happens to them in Africa."