'May Your Big Jib Draw': Seven Irresistible Reasons to Visit St. John's in Canada
by Steve Gillick /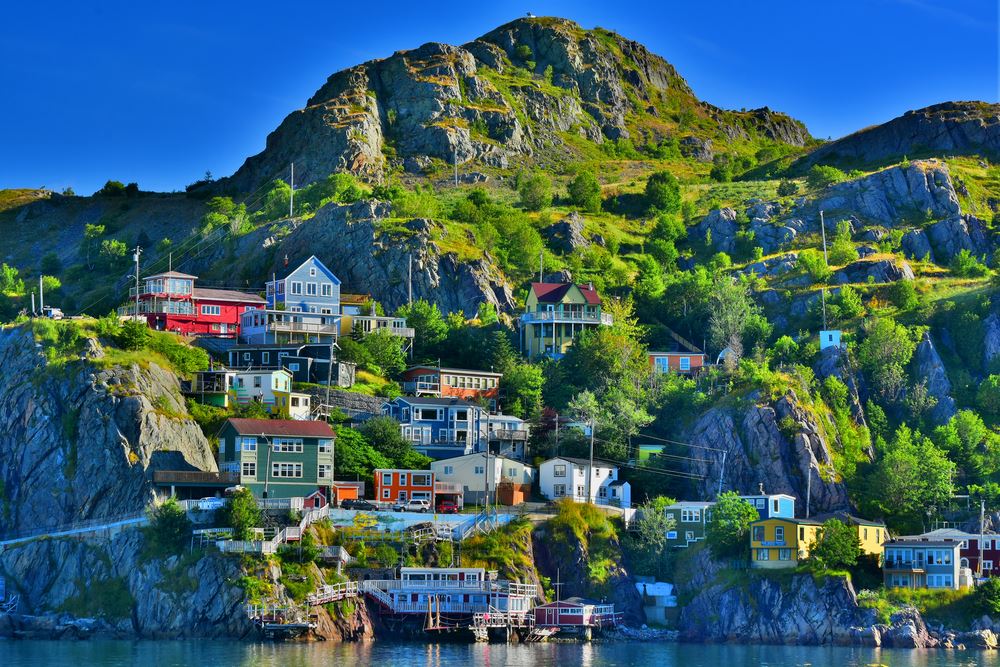 You know you're in a special place when you open the curtains of your hotel room and gasp at the postcard scenery. To my left was Signal Hill, rising 167 meters (548 feet) above sea level and crowned with the Cabot Tower, which was built in 1898 to commemorate both the Diamond Jubilee of Queen Victoria's reign and the 400th anniversary of John Cabot's discovery of Newfoundland. To my right were The Narrows, the channel joining the Atlantic Ocean with St. John's Harbour — and on this sunny day, the harbour was filled with a number of colorful ships.
Color seemed to be the order of the day, as I walked toward the shops and restaurants on Duckworth and Water Streets, passing by some of St. John's iconic "jelly-bean houses," with facades painted in every conceivable hue, tint, and tone.
While many travelers dream of a trip to St. John's as a stop on the way to exploring the attractions around this amazing Canadian province, here are seven irresistible reasons to move this dream a bit higher up on your clients' must-see lists.
1. Eat the cod.
The salt-and-vinegar cod bites at Mussels on the Corner, a small restaurant/bar on Water Street, set the tone for a mouth-watering foodie experience. Al, my taxi driver, told me that when fish is listed on a menu, it's implied that the fish is cod. I noted that it was surprising that cod had endured as the dominant fish in the region (historically, France, Portugal, Spain and England were attracted to the rich cod fisheries off The Grand Banks), when Al glared at me, and with a serious look and in his thick Newfoundland accent, he said, "Understand that in Newfoundland, cod is God."
I can attest that the cod is unbelievably tasty. At O'Brien's Sailor's Galley Restaurant in Bay Bulls (30 kilometers or 20 miles south of St. John's), the pre-historic portion of fish and chips that they serve has to be the savoriest, creamiest, crispiest cod anywhere.
For travelers with a sweet tooth (and wanting a great cup of coffee), St. John's Rocket Bakery in St. John's is the place to go. And, for those looking for 'the best,' both Raymond's and Mallard Cottage (in the neighborhood of Quidi Vidi) are listed in the 100 best restaurants in Canada.
2. Kiss the cod and be a Screecher!
The induction ceremony to become an honorary Newfoundlander is called a Screech-in. With a shot glass of dark, spiced rum (Screech) in your hand, you must first "kiss the cod," which literally means planting your lips on a real (dead) cod fish.
Then, when asked "Are ye a Screecher?" you reply "Indeed I is, me ol' cock and long may your big jib draw," which means, "Yes indeed, my old friend, and may your big sail draw wind" — which is a shipping analogy that really means, "May you have good fortune for a long time." Then, you drink the Screech, and proudly receive your official Screechers certificate. For those looking for more Screech, rest assured that it's in every bar (George Street alone has 32) and is usually drunk straight up, on the rocks, or with Coca-Cola.
3. 'Drink in' St. John's.
Newfoundland craft beers are also very popular. For dark beer lovers, nothing beats Yellowbelly St. John's stout; and for those who prefer a lager, it's Quidi Vidi Iceberg beer, made with 25,000-year-old water harvested from a Newfoundland iceberg (really!). There is also a delicious Iceberg Vodka with a similar historic ingredient.
4. Interact with the locals.
Al, my taxi driver, announced that he was taking a short cut and asked if I knew in which direction we were traveling. When I said east, he corrected me saying, "There are only three directions in St. John's, b'y" (buddy): This way, that way and t'other way."
On the way to Cape Spear (15 kilometers or 9 miles south and east of St. John's), our driver, Larry, mentioned that when Prince Charles and Lady Di visited the area, it didn't have proper washrooms, and so new facilities had to be built. The locals referred to this as "the Royal Flush." As in many destinations, it's the locals who provide the most memorable moments!
5. Pat a big dog.
When you visit Newfoundland and Labrador (the official name of the Province), you are in one the rare places where a dog breed shares each name. While many are familiar with Labradors, you can also often find the bear-like Newfoundland dogs walking with their owners on the streets. The American Kennel Club describes their temperament as "sweet, patient and devoted."
6. Watch a puffin.
Resembling a potato with wings when it flies, the Atlantic puffin (the provincial bird) is the main attraction on Puffin Island in Witless Bay, just outside of St. John's. The large colonies can be seen on the grassy slopes, standing outside their nesting burrows. Puffins share the island with murres, razorbills and gulls, accounting for 35 million seabirds in total throughout the season. As an added bonus, from May to October, humpback whales, along with nine other species of whales and dolphins, can be found in the St. John's area.
7. Take in the views.
The scenery from a harbour-view room is magnificent, but a city-view room is equally amazing, with scenes of jelly-bean houses, and The Rooms museum and the Cathedral overlooking the city.
The adventurous can follow the trails at Signal Hill and descend the steep stairs to the coast to spot ships, watch whales, and gawk at icebergs. At Cape Spear, you can hear the roar of the ocean from one of the oldest lighthouses in the province. At Petty Cove and Quidi Vidi, you can wander through photo-worthy, friendly fishing villages. And all this is in the St. John's area.
So, the question is, should St. John's be on your special-interest-travel-client's radar? The answer is, definitely!