Montreal's Luxury Hotel Renaissance Takes Shape
by Lynn Elmhirst /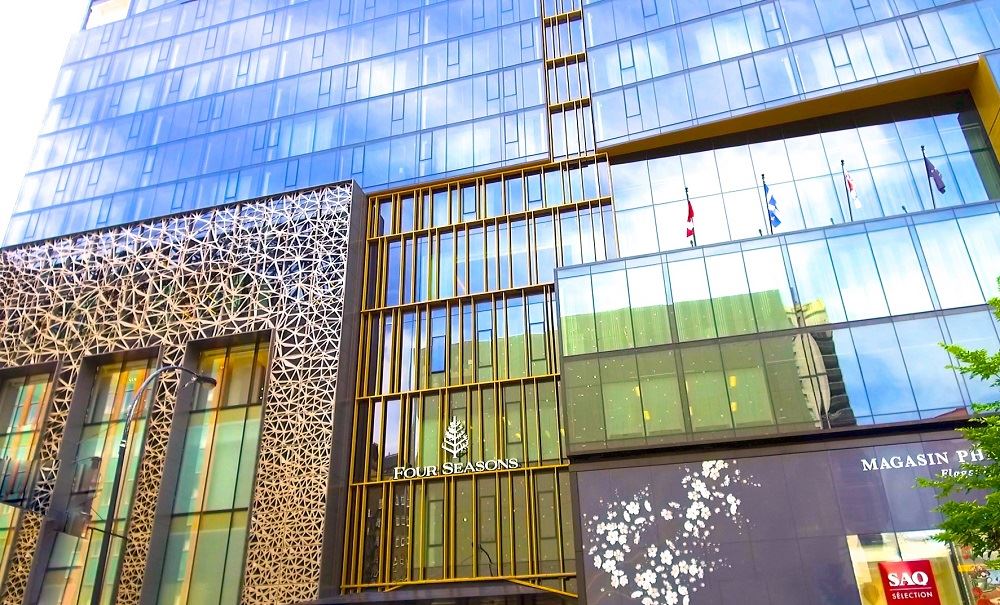 This summer's opening of the Four Seasons hotel Montreal has put a spotlight on a new era in luxury hospitality in the second-largest French-speaking city in the world (behind only Paris).
Montreal was once home to Canada's country builders and three-quarters of the country's wealth. The city gave birth to global brands like Cirque du Soleil; is a UNESCO City of Design, as well as Canada's fashion capital; has a full calendar of world-class festivities, including the Canadian Grand Prix and the Montreal International Jazz Festival (which holds a Guinness World Record); developed a renowned local culinary scene before the practice became a trend; and celebrates its French heritage with a distinctive European lifestyle.
Add to this a hotel scene taking shape that's powering Montreal to full-fledged global luxury destination status.
Eve Paré, CEO of the Greater Montreal Hotel Association, calls the city "Canada's birthplace of boutique hotels and No. 1 city for unique independent hotels," where even branded hotels have a uniquely Montreal flair.
That's the case for the new Montreal Four Seasons. The latest property of this Canada-born luxury hotel chain would be a landmark hotel in any major city in the world. At the same time, it's also firmly linked to Montreal's Golden Square Mile.
The 'Golden Square Mile'
This historic neighborhood has been compared to New York's Fifth Avenue. Formerly, it was an enclave of mansions of Canada's elite: Scottish-immigrant shipping and railroad tycoons, bank founders, and nation-builders. Remaining mansions have been incorporated into prestigious McGill University; and have become museums, cultural institutions, galleries, boutiques, and luxury hotels.

The entrance to the Four Seasons Montreal in the city's Golden Square Mile.
Four Seasons Montreal
In the heart of the Golden Square Mile, this new hotel is a striking, modern build. But it's connected by an interior entrance and dramatic shared façade to Montreal's historic, landmark Golden Square Mile luxury department store Ogilvy.
Gold features strongly in the hotel design, along with Millennial Pink, a recipe for instant Instagram fame. In addition to design, other uses of gold connect the Four Seasons to its opulent neighborhood: A Rose-Gold facial in the spa; and a cocktail featuring local ingredients and a massive, 'Golden Square' ice cube containing actual edible gold.

The Ritz-Carlton Montreal, the original Ritz-Carlton property. Photo: Ritz-Carlton.
The World's First Ritz-Carlton
The "grand dame" of Montreal's luxury hotel scene is the Ritz-Carlton. Built in grand style in the early 1900s when the Golden Square Mile was at its height, it was the first hotel to bear what is now a legendary name.
Over its hundred-plus years, the Ritz-Carlton Montreal has welcomed global luminaries, and following a $200-million restoration completed a few years ago, continues to set the standard for truly luxurious surroundings and service in its epic lobby and Oval Room (where the terrace leads to an urban courtyard garden with a storied duck pond, as well as a more recent restaurant by Michelin-starred Chef Daniel Boulud, and the world's only Dom Perignon champagne bar in the Palm Court that continues to serve the hotel's legendary afternoon tea). The hotel is repeatedly named the best in Canada, and one of the top 20 hotels in the world.

Le Mount Stephen Hotel, one of the newset boutique hotels in the city.
Le Mount Stephen Hotel
But one of Montreal's newest boutique hotels has an equally historic pedigree. Le Mount Stephen hotel occupies a national historic site: The former mansion of an immigrant who became the President of the Bank of Montreal, the first President of the Canadian Pacific Railway, and a founder of Canada's textile industry. George Stephen became Lord Mount Stephen — and his elegant, limestone mansion was considered the most opulent home in Canada, complete with elaborately carved exotic woods, onyx fireplaces, and gold hinges that make today's visitors gasp as they walk through the door.
The historic property has undergone a luxe, eye-catching repurposing that elevates the historic design. Its former main floor parlor and dining rooms have been transformed into one of Montreal's can't-miss bars, Bar George, with plush teal sofas, a life-size bronze pig acting as a lounge table top, and with curling stones and other classic Quebec winter sports equipment decorating the restaurant. The hotel lobby and guest rooms are in an attached ultra-modern tower that affirms the city's design credentials.

The tapestry at Sofitel's Montreal hotel.
Luxury hotel brand one-offs Sofitel and Le Meridien Versailles
Montreal's Golden Square Mile has attracted sole Canadian outposts of a number of luxury hotel brands. In two cases, it's a French connection.

Mid-century French luxury hotel brand Sofitel established itself in Montreal in a modern building erected where a Golden Square Mile mansion once stood at the foot of Montreal's vast, city-center green space, Mount Royal. French "art de vivre" is the essence of the hotel experience, and the staff is trained to take the initiative to personalize guest stays. The hotel maintains relationships with cultural institutions and events so it can offer exclusive VIP experiences in Montreal to their guests. The acclaimed, creative French restaurant at street level is named Renoir, after a painting by the French master loaned by a Sofitel executive to the Fine Art Museum down the street.

Le Meridien Versailles launched three years ago in a renovated, modernist property. The sole Le Meridien in Canada stays true to the brand's mid-century roots as Air France's hotel brand; and reflects its design and lifestyle priorities with art installations including an aerial map of the Golden Square Mile, and an art partner (the Canadian Center of Architecture) located in an historic mansion nearby.
Loews Hotel Vogue
The only Loews-branded property in Canada is right across the street from the Four Seasons new-build. This luxury American hotel brand took over the property and maintains the name of the well-known hotel that preceded it.
Loews doubles down on the 'Hotel Vogue' heritage, incorporating framed layouts from the fashion magazine in guest rooms, and grand entrances into its conference rooms that mimic the blue arched doors of iconic fashion house Chanel's atelier in Paris. The new hotel restaurant is a French bistro complete with hand-laid mosaic tile floors and French Belle Epoque design.
Fairmont The Queen Elizabeth
A number of circumstances and events converged to support luxury hospitality growth in Montreal. The year 2017 marked the 150th anniversary of Canada, the 375th anniversary of Montreal, and the 50th anniversary of the city's Expo '67 that transformed its landscape and skyline. This round of simultaneous anniversaries triggered a host of public and private events, investments and marketing of Montreal.

In anticipation of the anniversaries and the rush of visitors, the largest luxury hotel in the city closed for $140 million in renovations. The Queen Elizabeth, like other hotels in the Canadian-born Fairmont chain, was constructed as a grand railway hotel — and has hosted a who's who of global celebrities, royalty, and VIPs.
The massive, 1,000-room downtown Montreal landmark was uniquely built in mid-century modern style (distinct from other Canadian Fairmont hotels that resemble French chateaux). The hotel reopened in spectacular style in 2017, with on-trend mid-century flair, innovative meeting facilities, restaurants, bars, and an urban market, plus an interactive John Lennon and Yoko Ono suite to memorialize their 1969 history-making Bed-in for Peace.
Le Germain Montreal
Quebec Groupe Germain is the country's largest independent hotel chain, often said to have founded the concept of boutique hotels in Canada. Its Montreal flagship property has been an on-trend fixture of the luxury hotel scene in downtown Montreal. Surrounded by new, renewed, and rebranded luxury hotels in the city, Le Germain Montreal also closed for a transformation to elevate its signature mid-century style, and reopens this fall.
The removal of 1,000 rooms from Montreal's luxury hotel inventory for a year, the pull of visitors to the city for the trio of anniversaries, and legacy investments and new attractions, all combined to create winning conditions for the luxury hotel scene to blossom in the Golden Square Mile, downtown, Old Montreal, and the Old Port.
Add in the cruise impact
Megaships on increasingly popular Canada & New England itineraries cannot pass beyond Quebec City, but smaller ships can continue along the St. Lawrence to port in Montreal. That skews cruise ship arrivals in Montreal towards the luxury cruise sector, with top-end Silversea, Seabourn, Crystal and Regent all paying multiple calls to Montreal, along with others including Oceania, Holland America Line, Pearl Seas, Windstar, and Viking Cruises.
Montreal's position as the terminus of smaller-ship Canada & New England itineraries means that luxury hotels benefit disproportionately from pre- and post-cruise stays.
The perfect storm
Add to these scenarios the recent investment in the revitalization of Old Montreal and Old Port districts, including construction of an observation wheel at the water's edge, a high-tech sound-and-light walking tour of Old Montreal, and breathtaking sound-and-light music in the heavenly Notre-Dame Basilica.
It's a perfect storm to support the renaissance of Montreal's luxury hotel scene in Old Montreal and Old Port neighborhoods, as well as downtown and in the Golden Square Mile. In Old Montreal and the Old Port, new, boutique luxury hotels have transformed historic buildings and are contributing towards a critical mass of luxury properties throughout Montreal.
All of these factors combine for a new luxury travel lifestyle in Montreal. It's not a formula that other destinations can easily replicate. But it highlights how opportunities have developed for travel advisors to sell Montreal as a newly robust luxury destination to clients.
Opportunity for travel advisors
Montreal Tourism has recently introduced a Montreal Destination Specialist Program to help create business opportunities for travel advisors. The online training resource can be found at www.mtl.org/en/montrealspecialist. Once the program is completed, participants receive a two-year certification.