New South African Tourism President: Time to Tell the Story
by David Cogswell /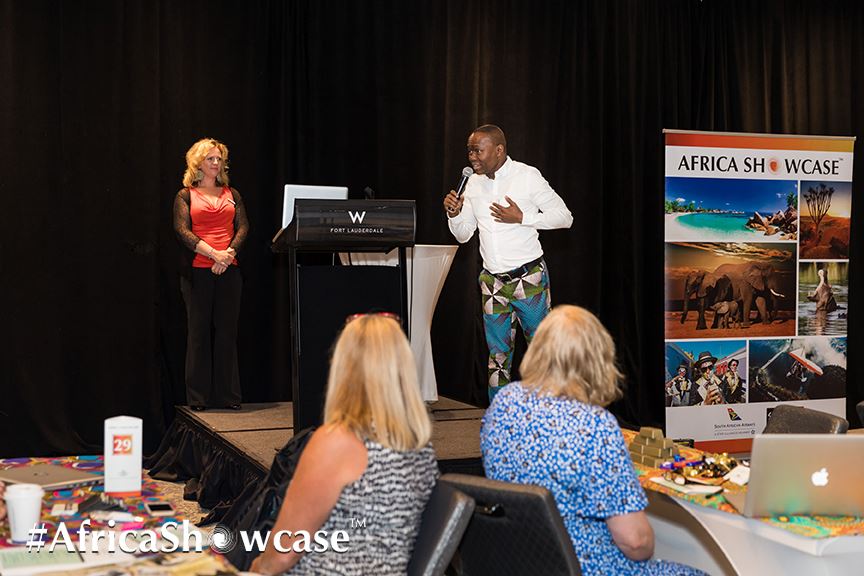 Jerry Mpufane, the new president of South African Tourism (SAT) North America, is on a six-city tour of key points in North America to strengthen SAT's connections with travel trade and media partners in its marketing efforts in the region.
The two-week tour began in San Francisco and continues to Los Angeles, Denver, Chicago, Toronto, and New York.
Mpufane was appointed last May. Considering the importance of tourism to South Africa's developing economy, leading SAT's North American operation is not a job. It's a mission.
The importance of the role can hardly be overemphasized for South Africa, where tourism is responsible for about 9% of the country's' GDP and contributed 1.5 million jobs in 2018, according to the World Travel and Tourism Council (WTTC).
Travel and tourism directly employs more people in South Africa than all its other sectors, including mining, communication services, automotive manufacturing, and chemicals manufacturing. And tourism is the industry that has the most power to provide employment to people who have previously had few economic opportunities.
That makes Mpufane a very important person for South Africa's national project of building the new democratic nation that was established in 1994 with the election of Nelson Mandela.
South Africa unchained
With 25% unemployment, South Africa is struggling to build a solid economic foundation for the majority of the population that was shut out from the benefits of the country's wealth prior to the peaceful revolution that installed Mandela.
Tourism is probably the most powerful engine for accomplishing that goal, and to say Mpufane is upbeat about the prospects is an understatement. He practically glows with optimism.
"We are only 25 years old as a democracy," Mpufane told Travel Market Report. "It's very early days, and if you put things into perspective, to the extent that we are still having to grapple with social and political issues, we look at those problems as everything to do with a nation that has to crawl before it runs and sprints.
"It's very early in our democracy, but in that time the people of South Africa have produced a world-class constitution that puts people first, and removes all forms of discrimination. I believe we were the first people to recognize marriage between the same sex in our constitution."
That's an important point as South Africa markets itself as an LGBTQ-friendly destination.
South Africa has come a long way since the days of apartheid, but the challenges are still great. Mpufane's optimism rests on a belief in miracles, based on his own rise from a township outside of South Africa's capital city of Pretoria to his current position.
"A person of my profile and upbringing almost never prospered," he said. "I had to work hard, but it's a miracle that a guy could come out of a township to be able to do what I do today."
One man's improbable rise
"Ga-Rankuwa is one of 10 historically black townships surrounding capital city," said Mpufane. "What happened in dark days was that the major cities were surrounded by the labor force. Typically a township was set up as source of labor, and the inhabitants would go in and out of the city on a daily basis."
The townships lacked the most basic services, and Ga-Rankuwa was one of the worst. There was no library. The school had just enough resources to teach students how to read and write in a system of education designed to keep people locked down in their social position at the bottom of society.
Mpufane was the second of five children. His mother was a domestic worker.
"She went in and out of the city every day to clean people's homes," he said. "Typically, if you lived in township and had job in city, you'd be leaving home about 4 or 5 a.m., and would come back in time for supper about 6-7 p.m."
As the second of five children, Jerry and his big brother took the responsibility for care of the three younger children while their mother was at work. He didn't see much beyond the township until he finished high school. But he had a couple of lucky breaks and he played them for all they were worth. Perhaps the best thing that ever happened to him came through a man who lived in the township.
"You hear people talk about a few people in your life that really made a difference," he said. "There was a man in the township who took a special interest in supporting, counseling, and encouraging the children of the township.
"He had his own life, his own kids, but he took it upon himself to set up community, to organize a bunch of young people in the township. Five grew into a group of 100. He started setting up little libraries and a sports club. He got us engaged in some truly meaningful stuff."
That one person expanded the horizons of the children of the community. "He was someone who was able to say to a group, 'You are bigger than this township where you see no life, no prospects and no hope,'" said Mpufane. "He was one of those types of people. Once we became aware that the world was bigger than the environment we grew up in, then our prospects were greater."
He gave Jerry new tools with which to break through the barriers of hopelessness.
"He gave us this guidance," said Mpufane. "He said, 'Don't just sit and let the holidays slip by. Write some letters.'"
Jerry took the advice to heart and followed through, sending out letters to seek employment opportunities. It led to an important breakthrough.
"One of my first high school vacations jobs was working for a film production company," he said. "That's where I got my first taste of this thing called advertising."
The second big break
Getting hands-on experience in advertising filmmaking gave him something to shoot for, so he was ready when his second big break came along.
By showing special promise, Mpufane was awarded a scholarship to Wits University through a program that originated in the U.S. through an African American activist minister, Reverend Leon Sullivan. Sullivan drew up a code of principles that promoted corporate social responsibility. The Sullivan Code was originally developed in 1977 to apply economic pressure on South Africa in protest of apartheid.
As part of international pressure against apartheid, The Ford Motor Company divested its interests in South Africa, and in the process, created a scholarship fund for promising students from the Black townships in South Africa. Mpufane qualified.
He studied marketing at Wits University, then stayed in Johannesburg to pursue his professional life in marketing until five months ago when he moved to New York.
Twenty-five years in marketing
In 25 years of branding experience, Mpufane worked with some of the top marketing and advertising agencies in South Africa. He was, at various times, chairman of the M&C SAATCHI Group, and CEO of the Jupiter Drawing Room. During three years from 2004 through 2006, he ran the global advertising portfolio for South African Tourism.
"That was the time of the design and rollout of the tourism brand as we currently know it," said Mpufane.
His experience across the corporate sector, as well as the government sector, prepared him well for his current position. He worked on branding for a number of industries, including automobile manufacture, hospitality, airlines, food, quick-service restaurants, hotel groups, and banks.
Telling the story
The key to SAT's plan for marketing South Africa is simple. South Africans know the story of their country is compelling, unique in Africa and in the world. All they need to do is tell the story, to get it out via any available platform.
The tourism board is currently targeting three market segments that offer growth potential: African Americans, adventure travelers, and LGBTQ travelers. Mpufane is confident that South Africa offers an abundance of all the things people travel for.
"Let's take a step back and ask the question," he said. "When people leave their home to visit a destination, what are they looking for? If you can answer that question, then you are able to position South Africa in terms of what they need and want."
South Africa Tourism knows through its own market research, as well as its interactions with other tourism boards, tour operators, and the industry at large, that the primary reason people visit another country is to engage with other people of different cultures.
"We can talk about product and hotel and beach and cocktail, etc.," said Mpufane, "but the No. 1 reason someone will pack their bag and go to another country is to engage and interact with another culture and learn something new."
South Africa offers pretty much everything to travelers: City pleasures of unique restaurants with local cuisine; shops with African-style goods; arts and entertainment; safari experiences unique to Africa; the Cape Winelands; outdoor adventure such as hiking, cycling, and shark cage diving. But in all of these attractions, it is the experience of the people at the center.
"South Africa sits uniquely because it offers so much," said Mpufane. "Our best export in South Africa is not the wildlife and the beach, etc. South Africa's best export and gift to the world is our people."
South Africa's historical racial turmoil grew out of the fact that the place was so well-endowed that it drew people from all over the world to share in its riches.
Unfortunately many of the native people were shut out from the wealth and became poor people in a rich country. But since the triumph of Nelson Mandela, everyone is allowed to participate. South Africa is nothing like the stereotypic image of Africa often shown in news broadcasts of a place of poverty, disease, and distress.
"If we go back to each South African who has historically participated in anything important in the world, South Africa's gift has been the life of Desmond Tutu; the life of Nelson Mandela; Chris Barnard, the surgeon who conducted the first heart transplant; the engineers who designed the first automatic teller machine that is now widely used."
Last March, South Africa made another monumental contribution to medical innovation when The Steve Biko Academic Hospital in Tshwane successfully completed the world's first middle ear transplant, using middle ear bones created through 3D-printing. The surgery made it possible for a 35-year-old man to hear again after his ear was destroyed in an automobile accident.
But it's not just the famous people. It's the rank-and-file, the "ordinary" people you meet in your travels.
"When you go on safari," Mpufane said, "you'll be meeting a ranger that, in all likelihood, is a second-, third-, or fourth-generation ranger, somebody who knows the environment, who knows the animals, the fauna and flora, can tell you the story of people as well as the story about the environment and the animals — and that's how you get to enjoy a safari."
South Africa is full of exceptional people, said Mpufane. "You don't come to South Africa to engage with people who are miserable. You come to see people who are energized, who want to do something with their own lives. South Africa's best gift has been the fine, talented people who, across industries all the way to the humanities, have been contributors to the world we live in.
"So, whenever we invite people to come to South Africa, and — as we say in our slogan, "Meet South Africa" — we are really inviting people to come meet the people of South Africa. And then, of course, to enjoy the natural beauty that we are endowed with.
"That's our story and that's a proposition that excites travelers."