On Location: In Panama, Where Even the Oceans Meet
by Cheryl Rosen /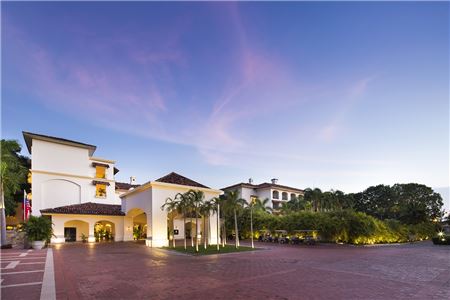 Before there was a Panama, there was nothing but ocean between North and South America. The volcanic activity that created the isthmus changed the weather and the tides, and the migration of animal and human populations around the globe.
Then thirty million years later, the Panama Canal revolutionized international trade, making it possible for goods to pass from Atlantic to Pacific in 10 hours rather than three weeks.
So, it's fair to say that Panama has been changing the world and connecting its peoples for tens of millions of years. (Meeting planners, take note of the conference themes here.)
Today, Panama is home to international headquarters of global corporations and not-for-profit organizations — a tax-free zone for meetings, as well as goods, that generates $15 million a day in local revenues.
So yes, there is rainforest there, indigenous peoples, wildlife, and opportunities for otherworldly experiences. But there also are elegant luxury properties — including the new Santa Maria Hotel & Golf Resort, the first Marriott Luxury Collection property in the country, plus hot nightlife, and talented chefs and mixologists.
As the country where east meets west and north meets south celebrates its 500th birthday in 2019, it has been named to Lonely Planet's Top 10 Countries to Visit. Under construction are a new convention center, a new wing in the airport, and a new highway to the beach. Even the Pope will be stopping by.
In short, Panama is a destination worth considering.
On a November press trip, we split our visit between two independently owned by Marriott-affiliated properties, The Buenaventura Golf & Beach Resort, an Autograph Collection property on the Pacific shore; and The Santa Maria in Panama City.
Buenaventura Golf & Beach Resort
The Buenaventura shines in the activities it offers, many of them involving food and beverage. An amazing "architecto de bebido," Master Mixologist Miguel Diaz mixed and matched and set fire to things in our drinks, and even decorated the glasses to evoke the feeling of this unique place.
Beyond the pools and the three miles of private beach on the ocean, this expansive property (which also includes million-dollar private beachfront homes and villas), has an 18-hole Jack Nicklaus-designed golf course, a gym and spa, stables, a Sports Club with pools and tennis courts, a ropes course, and a zoo. There are nine restaurants and 10 meeting rooms, and a beauty salon. A marina will open in 2019, allowing guests to skip the traffic and come by boat. A beer and coffee bar opened in November, offering 48 craft beers, including 19 Panamanian varieties; and a nightclub will open in December.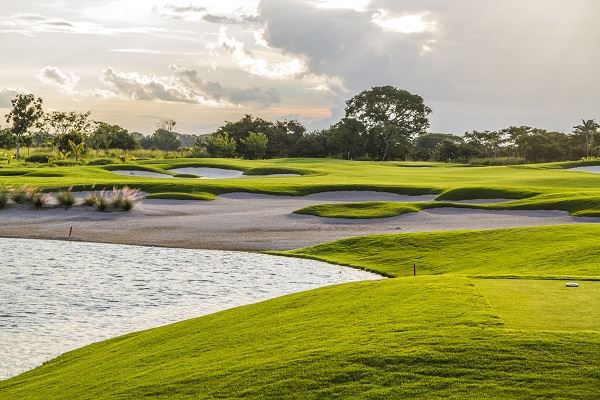 Our group participated in a tapas and beer tasting; a seviche and cocktails class; and a golf lesson with the pro.
The hotel's U.S. customer base is largely corporate incentive groups, most of whom split their stay between the beach and the city, as we did. For leisure travelers, there is the option of an all-inclusive Luxury Meal Plan for $185 per person, commissionable, which includes premium liquor and all food at all restaurants.
Reaching out to agents with fams
Both hotels offer fam trips for travel agents through tour operators and consortia; a group from Virtuoso is going there next week. The Buenaventura also is part of the Signature Amenities program, offering benefits to guests of member agents. While the average rate is in the $300-400 range, the hotel is interested in building its destination weddings business, and will offer more affordable wedding packages for 2019.
But, of course, the side trips are what makes the visit — and Panama has plenty of those. We started at El Valle de Anton, a town inside one of the volcanoes that created Panama, the only inhabited volcano crater in the world. We hiked to the Chorro Macho Waterfall and the Butterfly House, and had lunch at the beautiful Canopy Lodge. We took a ride on Gaton Lake and saw the Panama Canal from the water — along with the rainforest, and many of its residents (toucans, sloths, monkeys and crocodiles) came out to play. We ended with a tour on the cobbled streets of Casco Viejo, the 16th-century walled city.
Our tour leader, Fabio Trujillo of EcoCircuitos and Sublime Journeys DMC, was the best guide I have ever had. He was knowledgeable about science and history and esoterica; and charming, entertaining and unflappable in the face of a 90-minute traffic jam.
Back in Panama City, we visited the boutique Hotel Bristol, home to $3.5 million worth of art and host to many local $100,000 weddings. Named the Best Hotel in Panama by Conde Nast, it has a U.S. customer base of mainly cruise groups and incentives.
Santa Maria Hotel & Golf Resort
Then, it was on to the beautiful new Santa Maria Hotel & Golf Resort, which opened in February. The property is an oasis of calm and elegance on the edge of the city's bustle, with an elegantly appointed spa and meeting rooms.
Here, too, there is an 18-hole, 72-par Nicklaus-designed golf course; and a beautiful pool area, on a hill overlooking the city; along with three lively restaurants; and more than 16,000 square feet of meeting and event space.
This is Panama's first Luxury Collection property, but it was just the right brand, said Glenn Simon, COO of VerdeAzul Hotels, parent company of the three hotels hosting our trip.
"This hotel has the body and spirit of the Luxury Collection," Simon said. "Among the 30 or so Marriott brands, we see the soft brands like Autograph and Luxury Collection coming up. They allow us to be more expressive and accessible," than a JW Marriott, for example, and "to incorporate more of Panama."
A destination with everything
Panama offers an international experience that is in the same time zone for U.S.-based travelers, uses the dollar, and is warm year-round, Simon notes. There are no earthquakes, no hurricanes, and crime is low. There is the contrast of the old city and the modern, great food, virgin islands, and native culture.
With the added combination of the convention center opening, the Pope planning a visit, and just the right touch of relatively safe adventure for leisure and group travelers, Panama is likely to see growing inbound business in 2019.
As they say here, after all, even the oceans meet in Panama.