The flagship Raffles Singapore has fully reopened following the iconic hotel's three-phased restoration, which began in February 2017, while maintaining its distinctive architecture, heritage and legendary service.
First opened in 1887, Raffles Singapore was declared a National Monument a century later by the Singapore Government. The last restoration was conducted from 1989 to 1991 where the hotel closed for two and a half years.
The most recent restoration was led by interior designer Alexandra Champalimaud and was supported by Aedas, an architecture and design firm.
The revitalized Raffles Singapore added three new room categories to its luxurious all-suite accommodations, now offering nine distinct suite categories: State Room Suites, Courtyard Suites, Palm Court Suites, Personality Suites, Residence Suites, Promenade Suites, Studio Suites, Grand Hotel Suites, and Presidential Suites. Residence, Promenade and Studio suites are the three latest additions to the hotel's existing line-up. The total suite count increased from 103 suites to 115 suites, each with polished teak verandahs and white marble colonnades, and clustered around lush tropical gardens. Each is serviced by the legendary Raffles butlers.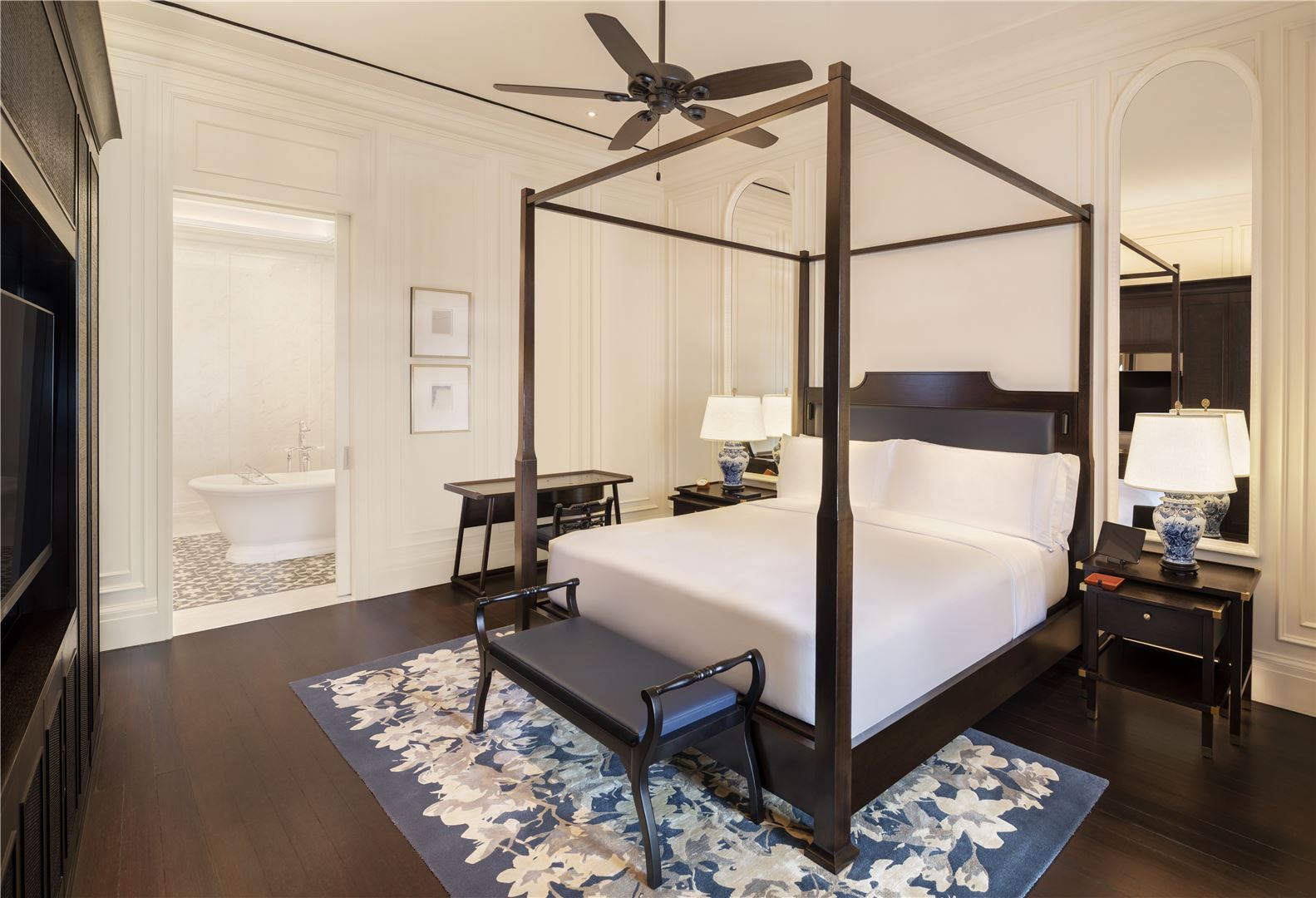 The bedroom in the hotel's Couryard Suites. Photo: RS.
Restaurants and bars include collaborations with Chef Anne-Sophie Pic, of the three-Michelin star Maison Pic in Valence, France; venerable French Master Chef Alain Ducasse; and Chef Jereme Leung, known for his innovative Chinese cooking. At the refreshed Long Bar, travelers will continue to enjoy the hotel's signature cocktail, the original Singapore Sling.
The Raffles Arcade has been newly outfitted with a Raffles Boutique and various bespoke retail brands.
Parent group Accor, which acquired the luxury brand in 2016, recently announced plans to almost double Raffles portfolio by "growing the brand through curated additions."
"Luxury travelers are increasingly seeking bespoke service, rich storytelling, and a blend of history and modernity, all of which are epitomized by the Raffles brand," said Michael Issenberg, chairman & CEO of Accor Asia Pacific.

The hotel's restaurant, Tiffin Room. Photo: RS.
Expanding by at least 50% in Asia, Raffles saw recent openings, including Raffles Maldives Meradhoo and Raffles Shenzhen; as well as upcoming projects, including Raffles Udaipur and Raffles Jaipur. Other projects in the pipeline are Raffles Bali (set to open in 2020) and Raffles Sentosa Resort & Spa Singapore (planned for 2022).
Flagship properties in the Middle East, the U.S. and Europe include Raffles London in the former War Office, Raffles Palm360 Resort Hotel & Residences in Dubai, and Raffles Boston Back Bay Hotel & Residences (the brand's first Raffles property in North America).
"The Raffles brand belongs to only the best projects and locations, so it will always remain a curated collection, but we definitely see scope for careful and considerate growth," Issenberg said. "Importantly, the brand's expansion signals an evolution of Accor's network and supports our growth strategy to elevate our position in luxury hotels in key strategic locations worldwide."
Raffles has become an iconic collection of 14 timeless properties worldwide, which should reach 20 hotels by 2025.