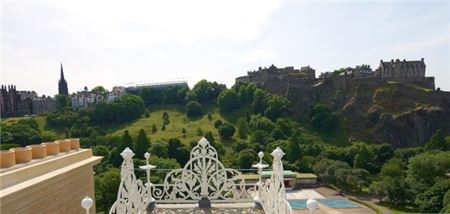 Red Carnation Hotel Collection had set its sights on opening a property in Scotland, awaiting the right opportunity. That will finally come to fruition, with the renovation of Edinburgh's 100 Princes Street.
"It has been a dream of ours to open a hotel in Edinburgh for some time," said Managing Director Jonathan Raggett. "With the best address in the city, it was well worth the wait."
The prime location on the city's most famous street was home to the Royal Over-Seas League, a private members club until 2017.
With sweeping views of Edinburgh Castle, the seven-story property will be transformed by Red Carnation into a "highly exclusive retreat" through a multimillion-dollar renovation, including individually designed interiors and signature dishes on the restaurant menu.
The luxury hospitality group, founded by President Beatrice Tollman, will look to replicate the boutique atmosphere of Forbes five-star rated sister property Hotel 41, located on Buckingham Palace Road in London.
The new hotel is due to open next year, marking the group's 19th property worldwide. Red Carnation's portfolio also includes Ireland's Ashford Castle and The Twelve Apostles in Cape Town.