Resorts Reopening in the British Virgin Islands in Time for 2020 Peak Season
by Jessica Montevago /

Following two years of rebuilding since Hurricanes Irma and Maria brought widespread devastation, the British Virgin Islands has rebuilt to become stronger and better than ever, with luxury properties Bitter End, Rosewood Little Dix Bay, and more set to reopen for peak season in 2020.
"The BVI has already had an incredible year, with 55% of our hotel inventory currently open for business, and we expect close to 60% to be back online by the end of 2019," said Sharon Flax-Brutus, director of tourism for the British Virgin Islands Tourism Board & Film Commission.
"Maintaining their unique histories while updating amenities for the modern traveler, our hotels and resorts have used this time after the storms to renovate and rebuild with sustainability and resilience in mind," she added.
The territory will welcome guests back to Bitter End, Rosewood Little Dix Bay, and several other resorts in 2020. Here's a rundown of the properties.
Rosewood Little Dix Bay
One of the more highly anticipated reopenings, Rosewood Little Dix Bay will open its doors in January 2020, following a four-year closure. Inspired by its natural setting with structures positioned to follow the lines of the landscape, the resort has been reimagined for today's ultra-luxury traveler by New York-based design team Meyer Davis. The 80 new guestrooms, suites and villas will offer a level of refinement unrivaled in the Caribbean. Spanning 500 acres on half a mile of beach, the resort will include: four distinct dining venues, two pools, a state-of-the-art fitness center; and Sense, A Rosewood Spa, set high on a bluff at the cliff's edge.

Arrival rendering. Photo: Rosewood Little Dix Bay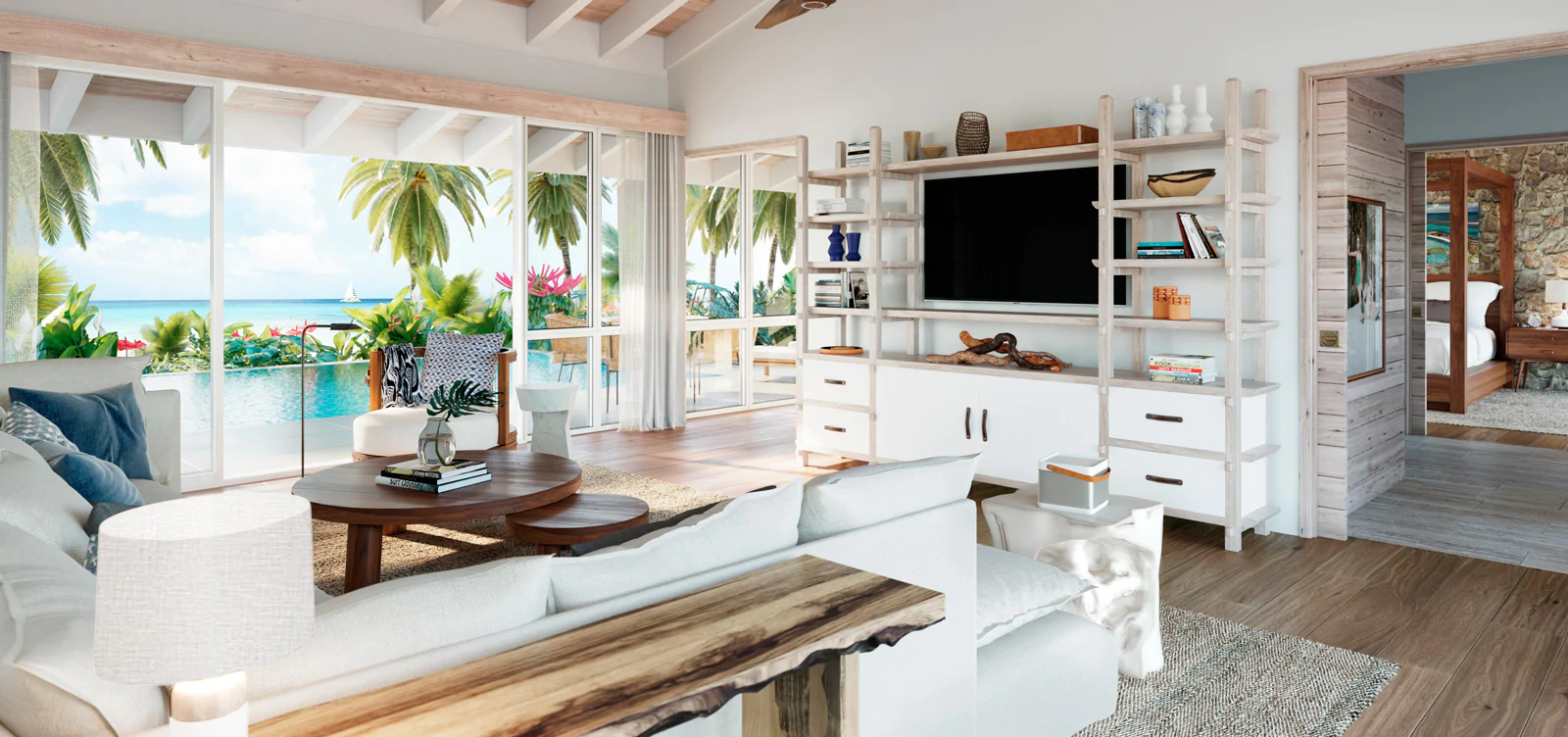 One bedroom pool suite. Photo: Rosewood Little Dix Bay
Bitter End Yacht Club
In the 2020 winter season, Bitter End will debut all-new, world-class marina facilities complete with a two-story, open-air marina complex and a lounge with expansive views of the North Sound and the setting sun. Later in 2020, the club will introduce enhancements to the nautical village, including yacht management programs, a casual beachfront restaurant and bar, private event space, and an epicurean market for provisioning. Following on the heels of the marina and waterfront rebuild, the resort development will include a variety of unique accommodations and hospitality amenities. Bitter End has partnered with architecture and design firm, Simplemente Madera, an eco-friendly organization that aligns with Bitter End's sustainability initiatives.
South Sound Villa
Reopening on Jan. 17, 2020, South Sound Villa has expanded by roughly 50%, incorporating seven new bedrooms and eight bathrooms accommodating up to 16 guests. The luxury villa located on Virgin Gorda features a swimming pool with a large deck, a dock for swimming, and complimentary kayaks.
Necker Island
Sir Richard Branson's private island paradise is highly committed to sustainability, introducing three new wind turbines this year allowing the island to run off 80% renewable energy. In 2020, new sustainable initiatives will include: locally sourcing, composting, collecting rain water, removing disposable toiletries, and new employee uniforms made from recycled plastics from the ocean. Necker continues to rebuild, and construction is set to be completed by summer 2020.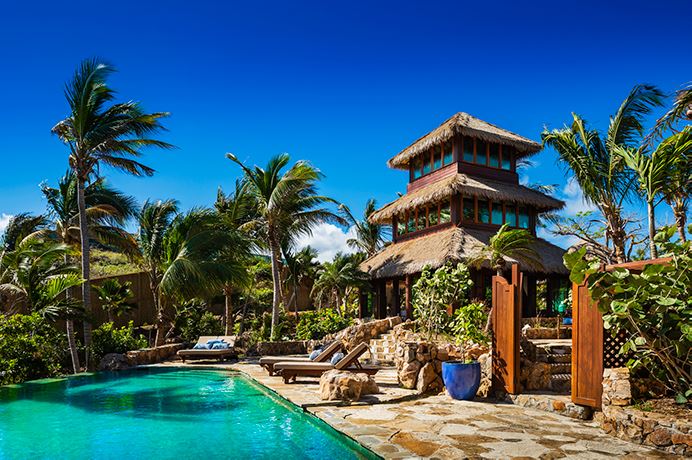 The Bali Lo complex on Necker Island. Photo: Virgin Limited Edition
Valley Trunk Estate
Valley Trunk has reopened its doors this December with completely renovated interiors including new furnishings and fittings. Situated within the exclusive and very private tropical landscaped beachfront estate, eight individual bedroom suites are housed within several villas. The estate is rented on an exclusive basis only.
Wyndham Lambert Beach Resort
Formerly known as Lambert Beach Resort, the resort reopened as a Wyndham-branded property on Nov. 1, 2019. Located on over 14 acres with 38 guest rooms in eight villa-style buildings, Lambert includes a lavish swim-up pool bar, an outdoor verandah with breathtaking sea views for private dining, and intimate happy hours.
Oil Nut Bay
New this year on property, Nova Restaurant showcases global cuisine with a menu using high-quality ingredients that are locally grown. The overwater restaurant and bar are accented by a suspended pool and luxurious lounging spaces, including a series of overwater hammocks and daybeds. As a part of the new marina complex, the property offers day passes for marina guests to enjoy the hotel's exclusive amenities.

One Bedroom Bay Suites. Photo: Oil Nut Bay
Anegada Beach Club
Famed in the British Virgin Islands for its glamping accommodation options, Anegada Beach Club will add five premium beachfront palapas in 2020 to its portfolio. The property has also opened a brand-new spa, Touch of the Caribbean Day Spa, which is the only spa on the island. Also, an enhanced farm-to-table experience, utilizing its new organic garden, will be available at the poolside restaurant.
Mango Bay Resort
On Virgin Gorda, Mango Bay Resort welcomed guests again on Nov. 1, 2019. Mango Bay's six private villas reside along a long, sandy beach nestled between pristine waters and tropical surroundings.