SAA's Jarana Says Airline is on Track for Profitability
by David Cogswell /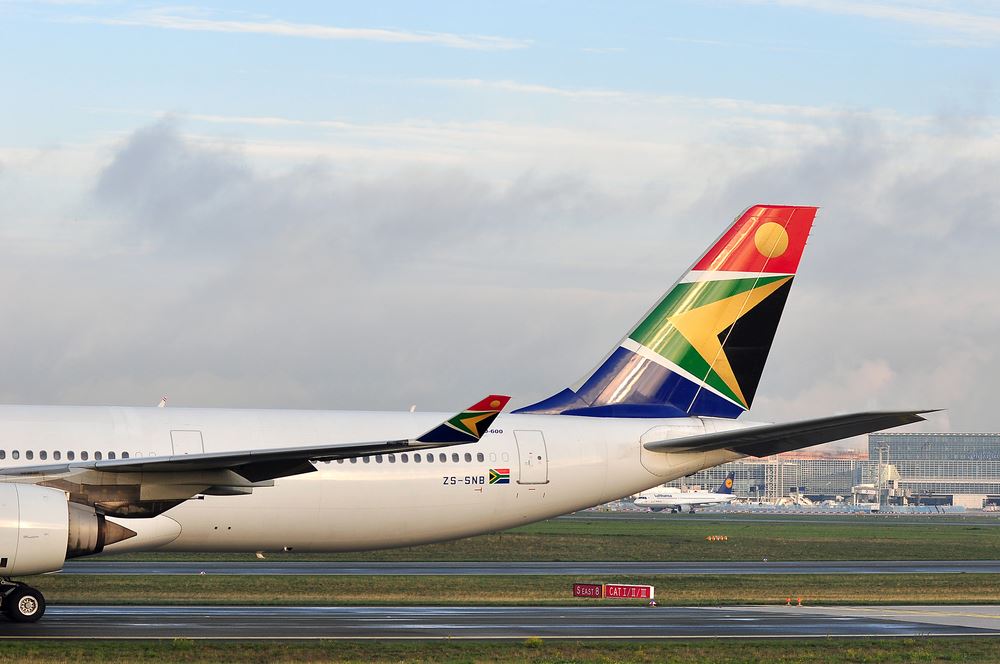 South African Airways' (SAA) CEO Vuyani Jarana, speaking at a press briefing in New York City on Thursday, said he is "comfortable with where we are today, that we are on the path. Our plan is on track toward profitability in 2021."


The airline has been struggling with issues of funding, but Jarana has put in place a plan to cut costs and tighten operations, and progress is being made.


"We have a plan that's clear," he said, "a clear path to profitability. We are working constantly to transform the airline. It is not an easy task. It is a massive transformation. But what is important, in the early assessment, is that SAA remains a very good airline in terms of operations, safety and business processes. But, obviously what we need to face is the commercial logic to bring the airline to profitability."


A dual mission
As the national carrier of South Africa, South African Airways has a dual mission. Profitability is not its first priority. It is charged with the responsibility of providing the transportation that can enable the economic activity that is necessary for the country.


"We have a very important role not only in South Africa, but on the African continent in terms of business development, economic growth and employment, and certainly the tourism sector," said Todd M. Neuman, executive vice president, North America at South African Airways.


Though profit is not the essential core of the airline's mission, it is still important, as South Africa, like all governments, struggles with fiscal issues. If SAA is to achieve profitability, it must be in addition to fulfilling its core mission. Jarana was brought in last November as CEO to put plans in place to achieve profitability without losing sight of the airline's primary objectives.


Applying commercial logic
Jarana comes from outside the airline industry. He made his reputation through a 22-year career within the mobile phone sector, working for Vodacom, where he held a variety of positions, rising to the role of chief officer of the business division.


In the mobile phone industry, he became known for his leadership abilities, his knack for putting together strong teams, along with a canny insight into technological and business processes and a stern standard of discipline and accountability.


After joining Vodacom in 2000, he came to prominence when he led a team that uncovered a defect in the Motorola radio system, for which he was given a CEO's award for achievement.


Working in the mobile phone sector, Jarana said, he learned to be highly focused on customer service, and he is now applying that perspective to the airline industry.


Though he came from outside the airline industry, Jarana has used his team-building abilities to put together teams of highly skilled specialists with the experience to achieve the goals of his turnaround plan. He works hand-in-hand with Peter Davies, the chief restructuring officer, who joined SAA at the same time as Jarana, and is an airline whiz who earned his stripes as chief executive officer of Air Malta and also chief executive officer for Brussels Airlines.


Cost-cutting
Jarana's plan includes a variety of components, such as focusing on South Africa's domestic market to make it profitable; promoting the West African countries to the U.S. market; and overhauling the onboard experience based on the close monitoring of feedback from customers.


But, the essential underlying principle of the turnaround plan is to cut costs and improve the company's balance sheet, which will provide the economic muscle to invest in growing the business.


Cost-cutting can be applied to all levels of the business. For example, the airline was previously running two nonstop flights to London every day, and losing money on both flights. Under Jarana, it has dropped down to one daily nonstop to London.


Jarana is also applying problem-solving skills to the supply chain to ensure that parts the airline needs are all purchased at the lowest possible price.


"A lot of the progress we are making is around revenue management and asset optimization," he said. "Where we are focusing now is taking out costs inside the organization, in the supply chain. We are bringing in top-notch specialists to extract value in every transaction we make at the sourcing level.


"We're working on how the benefits of better sourcing will translate to efficiency, because if we can't source parts at the best price possible, then we become less efficient. Then it costs more to repair the airline and we become not competitive. So, we're going back to basic building blocks. The biggest thing is simple: sourcing parts at the best price possible."


Cost-cutting will not require layoffs, said Jarana. The experience of the staff is essential to the success of the airline. But, so is accountability.


"If you don't invest in skills," said Jarana, "you will not achieve the turnaround."


Customer focus
Jarana brings a new market focus and commercial discipline to SAA. The company is also looking for ways to incorporate private investment into the airline while it continues to be a government-owned business.


"Some of the things we're working on as we transform the business," he said, "is that we are becoming a more customer-focused organization as we are transforming how we operate from a traditional state-owned enterprise. We are still owned by the state, but we have business practices and commercial models that will help us achieve our goals."


The airline is looking closely at the U.S. market, which provides some of its best opportunities for growth. "We want to be part of that growth," he said, "working closely with South African Tourism and other partners in the U.S. In our plan, the U.S. is critical. We are working on how best to service the U.S. market. We believe that direct routes are always going to be important to that market, especially to South and West Africa."


"Whatever we do has to be informed by the market, what the customers want, the level of competition in all the markets where we operate. We are driven by that and that informs how we respond to it. That is the concept that is driving SAA today."