Holiday season is just around the corner. And year after year, these towns across the U.S. bring to life the spirit of Christmas. Each is worth visiting in its own right, or any of these destinations can be added onto a nearby, scheduled family holiday visit.
1. Leavenworth, Washington

Photo: Checubus/Shutterstock.com
This quaint Bavarian village celebrates tradition with a German-style Christmas market on Thanksgiving weekend. Christkindlmarkt features stalls with authentic Bavarian foods, handmade arts and crafts, and other gifts, as well as holiday and traditional Bavarian music.
During the lantern parade, children carry their handcrafted lanterns as they follow Mr. and Mrs. Santa Claus to the Gazebo where the Christkindl or "Golden Angel," which is the symbol of Christmas in German-speaking countries, welcomes everyone.
The celebration is followed by Leavenworth's grand Christmas Lighting Festival, a dazzling array of over 500,000 Christmas lights with live music, and a special visit from Santa Claus.
2. North Pole, Alaska

Photo: Shutterstock.com
With the motto "Holiday cheer year-round!" this small Alaskan city is extra magical during Christmastime. Visitors are greeted by the world's largest Santa statue (standing tall at 50 feet) and candy canes painted on city streets.
The Santa Claus House, a frontier general store and post office turned holiday shop, receives hundreds of thousands of letters from children around the world every Christmas. In a tradition that's been around since 1952, Letters from Santa are postmarked from the North Pole and stamped with an official Santa seal. Visitors can send a letter to their child or grandchild, which includes a note on stationery (unchanged since the 1960s), a Santa Claus dollar, a photo of Santa, and a sticker reading "I'm on Santa's Good List."
3. Nantucket, Massachusetts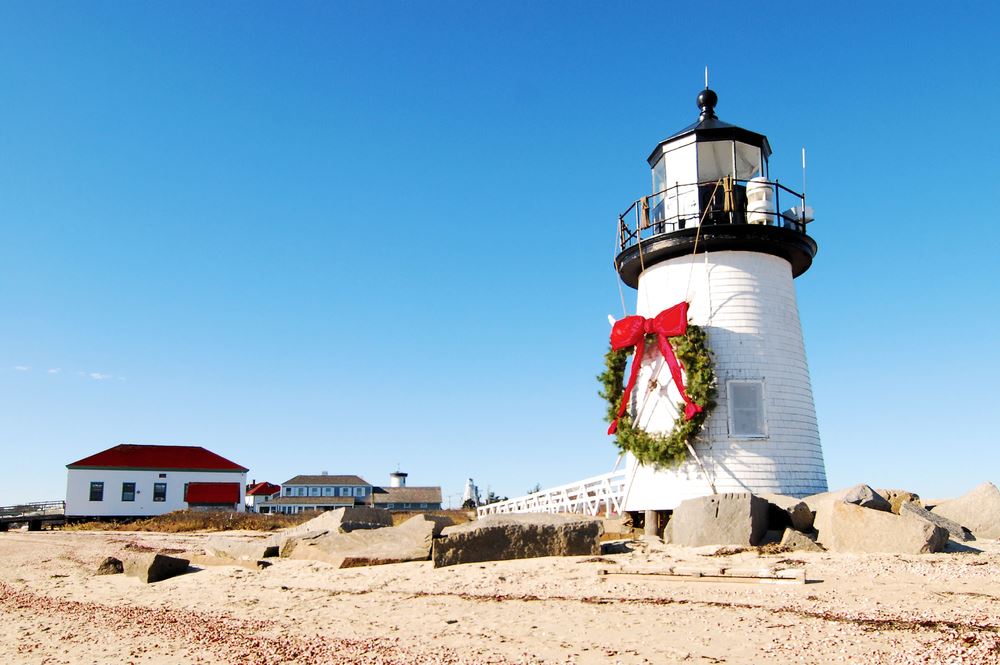 Photo: Shutterstock
A quintessential New England experience, the Christmas Stroll feels like stepping into a Charles Dickens novel as carolers wander through the cobblestone streets singing holiday tunes. The Whaling Museum hosts the annual Festival of Trees, which features 80 brilliantly decorated trees designed by local artists. Santa even arrives via the Coast Guard.
Every block of Nantucket's historic downtown is lined with extravagant shop windows and twinkling lights. Created 45 years ago to lure shoppers from the mainland before shuttering the shops for the season, this annual event takes place Dec. 6-8.
4. Colonial Williamsburg, Virginia

Photo: StacieStauffSmith Photos/Shutterstock.com
Experience holiday traditions from the days of yore in Colonial Williamsburg. There's a re-creation of the firing of the Christmas guns, carriage rides through the Historic Area, and caroling at the Courthouse. A traditional 18th-century seasonal celebration features the illumination of the colonial taverns and the surrounding buildings with candles and cressets. The spectacle is accompanied by a narrative, the firing of muskets, and music performed by the Colonial Williamsburg Fifes and Drums.
5. Asheville, North Carolina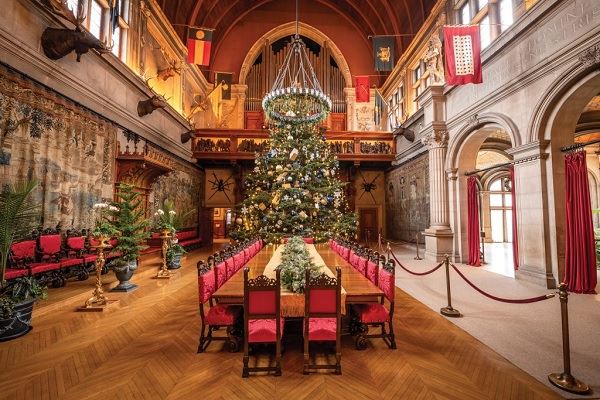 Photo: The Biltmore Company
The Biltmore House is even more magical when adorned for the holidays, complete with 55 elaborately decorated trees, including a 35-foot Fraser fir in the Banquet Hall, a thousand poinsettias, miles of garland, and live music. At night, take a Candlelight Tour of the grand estate, complete with choirs and live musicians, as the front lawn glows with a 55-foot Norway spruce with 45,000 lights and hundreds of luminaries (little lanterns). Explore the estate's Antler Hill Village for more lights, a winery, shopping, and more.
Asheville also puts together a National Gingerbread House Competition & Display at The Omni Grove Park Inn, and an after-dark wonderland at Winter Lights at the North Carolina Arboretum.
6. Natchitoches, Louisiana

Photo: Louisiana Holiday Trail of Lights
Louisiana's oldest city will host its 93rd annual Natchitoches Christmas Festival this year. The beloved event is filled with music, entertainment, arts and crafts, food vendors, and a fireworks show choreographed to holiday music. The parade features marching bands, dancing groups, themed floats, and costumed characters, as well as Natchitoches royalty: the Christmas Belles, Miss City of Lights, the Christmas Angels, Miss Natchitoches Teen, and Miss Merry Christmas (who serves as queen of the season). At night, over 300,000 lights and 100-plus set pieces illuminate downtown Natchitoches and Cane River Lake.
7. Bernville, Pennsylvania

Photo: Helen89/Shutterstock.com
Back in 1948, William Koziar began decorating his home in Bernville for the enjoyment of his wife and their four children. While it originally centered on the house and barn, seven decades later, Koziar's Christmas Village has become more elaborate and now incorporates the lake, walkways, trees, and fences. The massive and extraordinary seasonal attraction draws out-of-state visitors and locals alike, becoming one of Pennsylvania's top attractions.
8. Woodstock, Vermont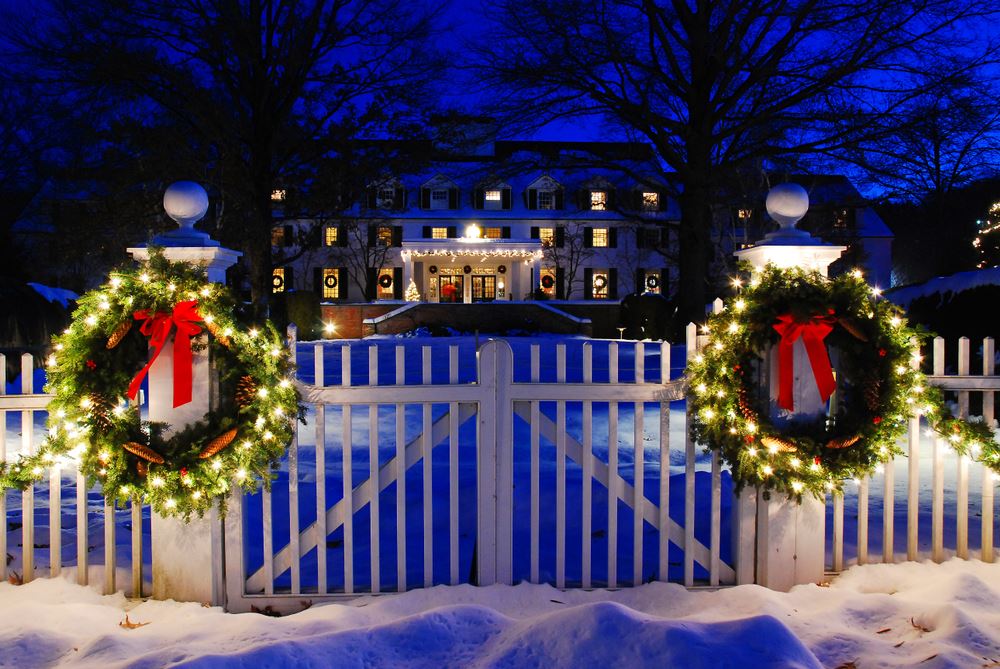 Photo: James Kirkikis/Shutterstock.com
Woodstock becomes a storybook holiday wonderland, with sleigh bells on horse and buggies, and holiday decorations at Billings Farm that harken back to the historic 19th century. During Woodstock Wassail Weekend, carolers sing as everyone gathers for the lighting of the tree and Yule log. It's filled with small-town charm.
9. Branson, Missouri

Photo: Branson Convention and Visitors Bureau
What better way to see the snowy Ozark Mountains than taking a ride on The Branson Scenic Railway's Polar Express Train Ride? Based on "The Polar Express" film, hot chocolate and cookies are given out to each passenger, and Santa is there reading from parts of the book during the train ride.
Branson also boasts over 700 colorful, unique, and creative trees; drive-through light displays; and an annual Adoration Parade. At Silver Dollar City, the amusement park's "Old Time Christmas" festival features over 6.5 million lights, one thousand decorated trees, and two musical productions.
10. New York, New York

Photo: Vivvi Smak/Shutterstock.com
It's hard to have a holiday list without including New York City, thanks to its timeless traditions. From seeing the elaborate window displays at department stores, to the famed 75-foot-tall Christmas tree in Rockefeller Center, to the Rockettes at Radio City Music Hall, there's no shortage of holiday magic. Shopping villages pop up all over the city, like in Bryant Park, where there's also a 17,000-square-foot ice-skating rink.