How do you determine the best hotels in the world? If thousands of travelers pick the same places, it's safe to say that those properties are at the top of the game.
TripAdvisor recently released its Best of Hotels for 2019, revealing the picks of "millions of reviews" made by its users. Here are the top 10 hotels around the world, as named by the popular travel website.
1. Tulemar Resort & Beach, Costa Rica
The number one hotel on the list is the Tulemar Resort & Beach in Costa Rica. The sprawling 33-acre resort has a collection of over 50 accommodations, ranging from rustic bungalows to luxurious private villas, and it is surrounded by jungle and wildlife. Guests can expect to see monkeys, sloths and exotic birds throughout the property and on the hiking trails.
2. Hotel Belvedere, Italy
Located in the beach town of Riccione, Italy, which is known for its vibrant party scene, Hotel Belvedere offers a respite with its luxurious suites and relaxing spa. At the heart of the property is a lagoon-like swimming pool lined with marble mosaics in shades of light blue and turquoise, with a wooden bridge across and different Jacuzzi areas.

Hotel Belvedere.
3. Viroth's Hotel, Cambodia
Blending into the leafy street of Siem Reap in Cambodia, the hotel's façade is covered by lush vines and vertical gardens. Inside, mid-century décor can be found in the 35 spacious rooms and suites, as well as the lobby. The expansive 20-meter pool sits at the center of a palm-lined courtyard, with day beds, and a restaurant serving a selection of local Khmer cuisine and continental dishes.

Viroth's Hotel. Photo: Viroth's Hotel.
4. Kenting Amanda Hotel, Taiwan
The Moroccan-themed Kenting Amanda Hotel features spacious rooms with rich textiles and intricate carvings. The restaurant is named after Essaouira, a well-known travel spot in western Morocco.
5. Hotel Alpin Spa Tuxerhof, Austria
After a long day on the slopes, spa treatments like snow crystal peeling on the hot stone, a melissa-lemon bath, and an anti-stress massage make this Alpine retreat a favorite among skiers. At the Hotel Alpin Spa Tuxerhof in Austria, there are six themed saunas, a fresh air grotto with rock shower, meditation rooms, gemstone steam bath, and a relaxation whirlpool.
6. French Quarter Inn, South Carolina
Luxury and southern hospitality meet at this historic inn in Charleston, South Carolina, where plush sofas, a roaring fireplace, and a 24/7 selection of flavored ice teas and treats make this cozy hotel seem like guests are staying at a friend's house. Unexpected amenities, from a turndown service with warm cookies and milk to a pillow menu, keep guests coming back for more.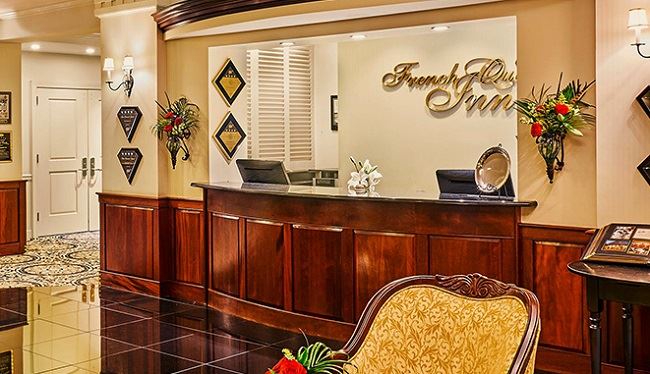 The lobby at the French Quarter Inn in South Carolina. Photo: French Quarter Inn.
7. The Resort at Pedregal, Mexico
Each of the 115 guestrooms and suites at this Cabo San Lucas resort boasts a private plunge pool with stunning ocean views, a personal assistant and a fireplace. During a special tasting experience, guests enter via Mexico's only privately-owned tunnel before sipping on agave tequila.
8. Belmond Palacio Nazarenas, Peru
Built on Inca foundations, this Cusco retreat has preserved and displays original Inca stonework, colonial frescos and gold-framed paintings. It has a spa, the city's first outdoor pool, and restaurants serving cutting-edge local cuisine.

Belmond Palacio Nazarenas. Photo: Belmond.
9. Kayakapi Premium Caves, Cappadocia, Turkey
Guests stay in one of 29 rooms carved into the soft stone cliffs of the Kayakapi neighborhood, in Göreme National Park. It won't completely transport them to the prehistoric cave dwellings, because all rooms have underfloor heating, WiFi, high-definition and LED TV screens. Visitors can upgrade to a suite with a Turkish bath, fireplace, and indoor pool.
10. Hanoi La Siesta Hotel & Spa, Vietnam
Embodying the hidden charm of Hanoi's old quarter, this 50-room property is in easy reach of Hanoi's evocative Hoan Kiem Lake and major attractions. Foodies can get a taste of Vietnam's authentic cuisine right downstairs on the ground floor at the Red Bean Restaurant.

Hanoi La Siesta Hotel & Spa. Photo: Hanoi La Siesta.