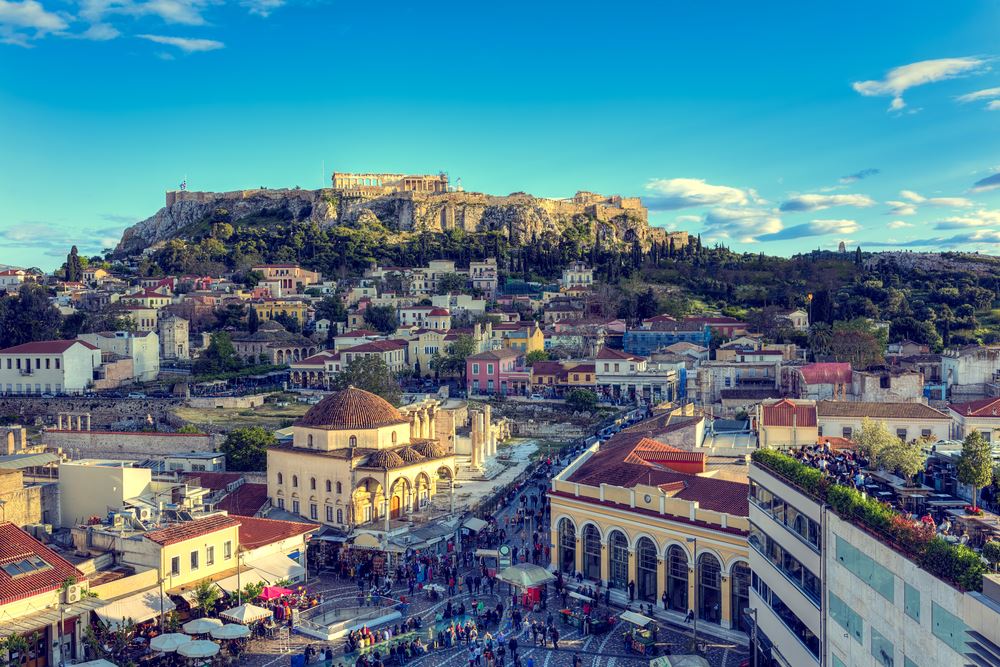 Greece has enjoyed record runs of tourism for eight years and tourism professionals expect the country will welcome just as many, if not more, visitors this year.
Despite the wildfires that recently raged east of Athens in Mati and spread to other areas such as Penteli, Viotza, Rafina, and Agios Andreas, the country is on a course for another record-busting year, with 2017 bringing in 10.3 percent of the country's Gross Domestic Product (GDP) of €194.6 billion, which is $20.22 billion.
According to the Greek National Tourist Organization's communications executive, Faye George, the critical moments surrounding the tragic fires have passed. "Business is booming, travelers are still flocking to Greece, and it is the destination of the summer," she said.
George reported few calls during the wildfires, and assumes agents are checking the U.S. State Department site and online sources for any alerts.
Travelers today are resilient
"In the world we live today, travelers really have become quite resilient and that is a great thing to see, as travel this year is bigger than ever," said Jon Grutzner, president of Insight Vacations and Luxury Gold.
New York-based Camille Sperrazza, who owns The World Awaits Travel, said not only has she not received cancellations, but travel to Greece has remained steady. "The summer always attracts honeymooners to Greece by land and sea – cruises are strong," she added.
Sara Rodrigues, at Strong Travel in Dallas, reported similarly: no cancellations, a steady stream of interest, even a resurgence in interest in travel to Greece, although Italy remains the most popular European destination this summer.
According to U.K.-based Peter Sommer Travels' Greece-based local agents, they reaffirmed news reports that indicated the areas most damaged by the fires are popular among Athenians for summer houses, summer camps for children and some permanent residents, and few, if any, American travelers visit those districts.
Sommer reported that none of his company's programs were affected. "However, some travelers expressed concerns in the aftermath, but that was mostly due to the proximity to the airport and the port at Rafina," said Peter Sommer. He added that, "Greece remains one of our most popular destinations for this year and next."
Bookings are up
Insight's Grutzner further noted that, "Bookings are up, and with our enhanced, new island itineraries, we have seen a significant increase in travel to Greece." In the 'Treasures of Greece and the Islands' itinerary, for instance, participants join a local chef for a cooking demonstration followed by dinner afterwards.
Tauck's single cruise itinerary, "Treasures of the Aegean," is entirely sold out for the rest of this year, and the 2019 departures are about two-thirds sold out as well, "so Greece is indeed very popular!" said Tom Armstrong, corporate communications manager at Tauck World Discovery.
Aegean Mediterranean Cruises and Tours' sales rep, Kimberley Johnson, said, "The areas that were ravaged by the fires are domestic resort and beach areas that American travelers would not have visited, so we have not seen any change in traffic to Greece this summer."
Long before the fires raged, Trafalgar waived the single supplement fees on the Aug. 20 and Oct. 8, 2018 departures of its eight-day "Best of Greece" itinerary, which includes dinner with a Greek family.
Christian program specialist Marantha Tours' reported that its Athens-based department declared that Athens was safe for the company's tours to proceed as planned. Marantha operates six tours to Greece (as well as Israel, Egypt, Jordan, Turkey and Italy) with Biblical itineraries. The Reilly family founded Marantha 45 years ago; the third generation is responsible for introducing "Cooking Through the Bible," "On the Road Eats" and "Traveling Through the Bible Show."
Wildfire effects, season extended
While island hopping is a particularly popular way to travel around Greece, one report mentioned that a fire burned on the southern island of Crete, while another burned in northern Greece near Soufli, and three smaller fires reportedly broke out in the area of Corinth in southern Greece. All of these outbreaks are under control at the moment with few reports of damage.
However, at 211 miles, and 113 miles from Athens respectively, the favored and romantic islands of Santorini and Mykonos are far from the fray.
Travel trends indicate that clients are booking late, and that luxury properties in Greece are at a premium, although many are coming online while the vacation season has begun earlier and, in some cases, is extending into October.
A case in point is the Iconic Santorini, a boutique property perched some 1,000 feet above the sea, which has just announced it will extend its season this year through October. Aegean Mediterranean Cruises and Tours is offering a "Mamma Mia" special to the island of Skopelos (173 miles from Athens) with a trip to Athens in September.
Not unlike the wildfires of California, Greece is prone to forest fires during the dry summer months, and like California, the fires are unpredictable in the face of shifting winds.
At the same time, the European Environment Agency said that climate change projections suggest, "substantial warming and increases in the number of droughts, heat waves and dry spells across most of the Mediterranean area, and more generally in southern Europe."
Behind the scenes, Greece is mired in lawsuits from fire victims' families claiming that the government was negligent on multiple levels.
Just 10 days after the wildfires ravaged coastal towns claiming 93 lives, according to one report, the Greek government ordered the demolition of 3,185 unlawful buildings in the areas around Athens.
Mati, however, was an established, up-market resort about 25 miles from Athens that has experienced a building boom in recent years. Presumably, making safety a priority and enforcing stringent building codes will portend well for both locals and visitors alike.