The Most Instagram-Worthy Places in Central Europe
Sponsored by Discover Central Europe

by Denise Caiazzo /

With its charming Old-World squares, castles, and churches, as well as its natural wonders from forests to seas and lakes, Central Europe boasts many of the most Instagram-worthy spots on the planet. For any traveler planning to visit this part of the world, here are some places where you'll want to be sure to have your cell phone poised to capture the moment, the rich history, and your globe-trotting experiences.
In Poland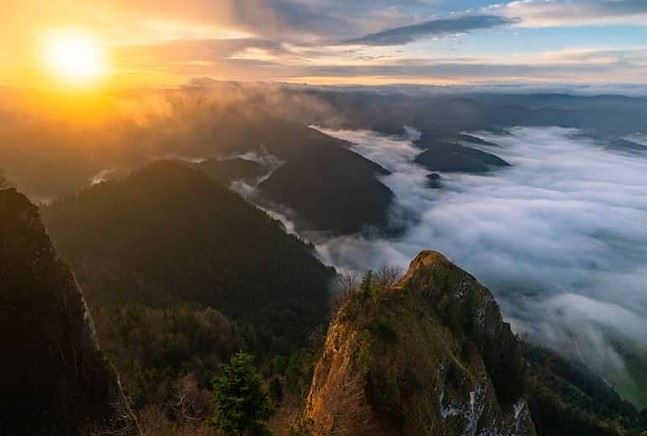 Photo: Polish Tourism Organization/Instagram

Picturesque is the perfect word to describe Old Town in Warsaw. Surrounded by beautiful, historic buildings, the quaint streets lead to the Market Square, where artists display their works and visitors can enjoy local treats or coffee in the many cafes and gardens, or take a classic buggy ride. The richly adorned churches and museums are worth a visit, as are the art galleries and antique shops.
Another not-to-be-missed place is the Main Square in Krakow's Old Town. Its medieval urban layout has not changed for centuries. This is Europe's largest medieval market square, with its Cloth Hall, the Church of the Holy Mary with its Gothic pentaptych altarpiece carved from limewood, Wawel Hill and its royal castle, the Barbican, St. Florian's Gate, and more.
Another iconic spot, Czocha Castle was designed as a fortress in the 13th century. Today, it stands refurbished as one of the most interesting landmarks in Lower Silesia. The castle grounds have been used as a set for many feature films and documentaries - and visitors can easily fantasize that they are playing a leading role as a king, a knight, or a princess in a magical period piece.
In the Czech Republic

Photo: Czech Tourism/Instagram

The famous 14th-century Charles Bridge connects east-Vltava Prague with west-Vltava Prague. The essence of romance, this place has inspired untold artists, photographers and poets. There are Gothic towers at both of its ends, a gallery of Baroque statues, and Prague Castle in the background. This is undoubtedly once of the most splendid spots in Europe.
Those who love books and the wisdom housed therein simply must take in the Klementinum Library. Visitors are surrounded by exquisite fresco murals, rare globes, and floor-to-ceiling book collections in this, one of the most beautiful libraries in the world. Across the street in the Prague Municipal Library, there's a book tunnel.
For tastes running more towards modern architecture, The Dancing House is a must. Located on the banks of the Vltava River, the pair of buildings has been nicknamed Fred and Ginger because they resemble a couple dancing. Architects Frank Gehry and Vlado Milunic are responsible for its whimsical nature. The seventh floor hosts a restaurant, to visit after working up an appetite snapping photos.
In Slovakia

Photo: Slovakia Tourism/Instagram

Slovakia's superpower is its castles. The country hosts more than 100 castles and double that number of manor houses, all built in different, historically significant eras. Let's start with the Spiš Castle, dating back to the 12th century, and towering above the eastern horizon of Spišské Podhradie. A museum documents its history, and the scenic landscape around the village can be traversed on foot.
We would be remiss if we didn't mention Orava Castle, poised at the Orava River near the village Oravský Podzámok, below impressive cliffs. The Castle is a remarkable compound of buildings of the lower, central, and upper castles with palaces, fortifications, and towers. Visitors are routinely intrigued by its three entrance gates communicated by a tunnel, under which there is a dungeon.
For spectacular views and the grandeur of nature, there are the Tatra Mountains in Northern Slovakia. The mountain chain forms a natural border between Slovakia and Poland. Visitors come for the winter and summer sports, as well as the wildlife. Take the cable car to Lomnicky Stit peak for a magnificent photo opp.
In Hungary

Photo: WOW Hungary/Instagram

First stop in our search for the most iconic spot: Fisherman's Bastion in Budapest. The majestic symmetry and Gothic architecture of the Parliament Building can be photographed from the viewing terraces of Fisherman's Bastion on the Buda side of the river. There are magical walkways, turrets and arches, all delivering perfect frames for selfies. Another way to capture stunning views of the Parliament Building is by river cruise.
Buda Castle also provides sweeping vistas of the city and perfect backdrops. And, it is walking distance from Fisherman's Bastion. Be sure to take pictures of your traveling companions at the Chain Bridge.
Let's not forget Hungary's castles. Andrássy Castle Tiszadob, built between 1880-1885, is the ultimate fairy princess castle, complete with an Instagram dream: A garden maze in the form of a giant squid.
To capture nature and history in one fell swoop, there's the Bokod Floating Village, in the neighboring towns of Bokod and Oroszlány, about 50 miles west of Budapest - now a pilgrimage site for Instagrammers. The fishermen's cabins on stilts are linked by wooden walkways over an artificial lake created by a thermal power company. This was merely a undiscovered local feature until a compelling image of the floating village generated global notoriety.
These extraordinary spots are but a sampling of the charming and visually noteworthy cities and natural wonders located throughout Central Europe. For repeat travelers to the region, or those first-time visitors seeking something more off the beaten path, travel advisors can elicit a wow-factor reaction, and some new bookings, from their clients by sharing photos of and stories about these aesthetically intriguing places.
FROM THE SPONSOR: Discover Central Europe is a joint marketing initiative run by the national tourism head offices of The Czech Republic, Hungary, Poland, and Slovakia. They have joined together to promote tourism to the four Central European sovereign states, to overseas visitors. The program is an expression of the effort to develop the region of Central Europe within the wider framework of Europe-wide integration. All four countries share both historical roots and cultural traditions. At the same time, however, each of the member countries has its own unique identity, be this in the field of architecture, art, religion, folklore and traditions, or landscape. It is because of these unique characteristics that visitors to the region are surprised to find new and intriguing surprises at every step of their journey. The region offers several unique UNESCO monuments, world-famous spas, authentically preserved historical towns, and places of stunning natural beauty. Discover Central Europe has much to offer travel advisors looking to book an off-the-beaten-path cultural experience in one of the most storied parts of the world. For more information, and contacts on-the-ground in each country, go to https://centraleuropespecialist.com/.