Tourism Cares Recognizes Travel Industry Players for Positive Social Impact
by Kerry Tice /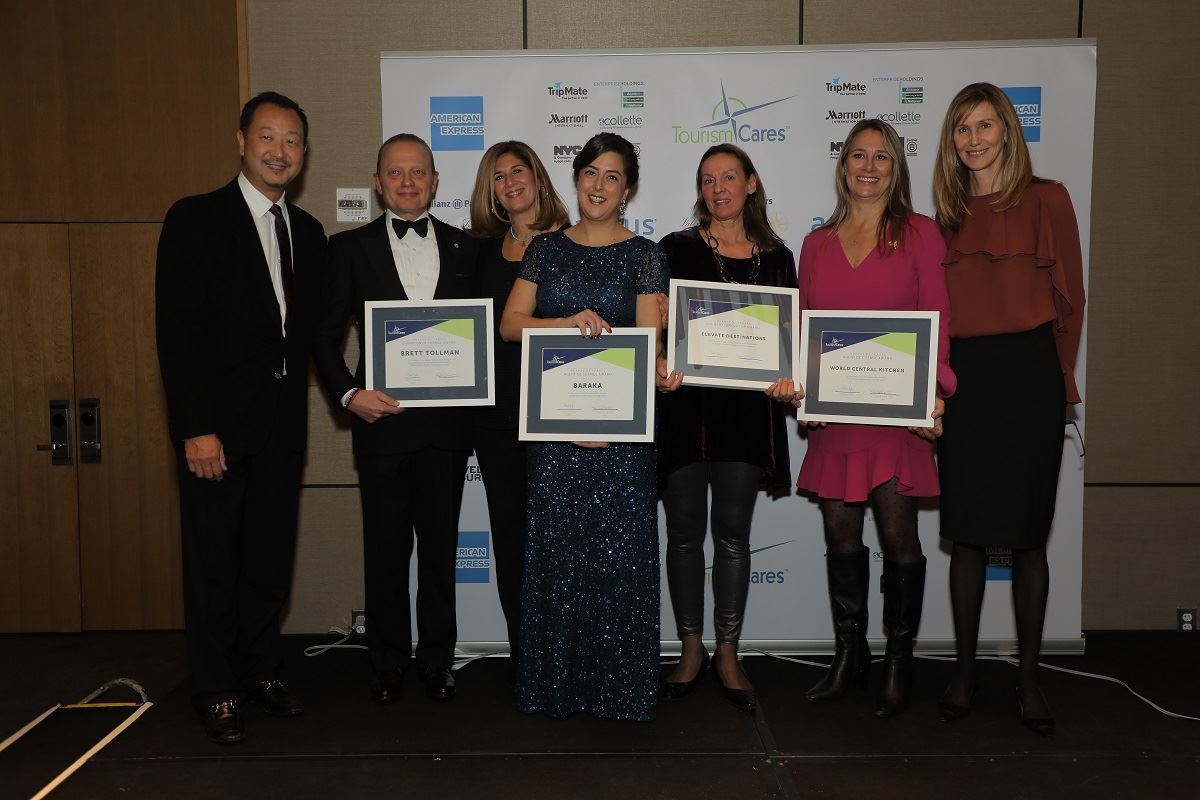 The travel industry turned out in force last week to honor the recipients of the Tourism Cares 2018 Hearts of Travel Awards.
The event, which was held at the Conrad Hotel in New York City, recognizes those industry innovators who are "champions of change" through their work to advance the travel industry's social impact by helping people and places to thrive. Tourism Cares is a nonprofit made up of leading travel associations and companies whose mission is to advance the social impact of the industry.
"We believe that change agents and champions of change agents should be recognized and celebrated," said Tourism Cares CEO Paula Vlamings as she addressed the crowd and introduced this year's winners.
The following awards were presented to both companies and individuals:
Champion of Change – Brett Tollman, executive director of The Travel Corporation (TTC).
Tollman and TTC, which includes 30 brands, were honored for multiple sustainability initiatives, including work done through their non-profit partner, The TreadRight Foundation, which recently celebrated its tenth year in operation. TTC has undertaken over 40 sustainable development initiatives in the last decade around the world under three pillars: people, wildlife and the planet.
Agent of Change Award – BARAKA Consulting, a social enterprise based in Amman, Jordan.
BARAKA partners with clients to design, build, and implement tourism strategies that leave minimal impacts on the environment and maximum benefits for local communities. Most recently, they partnered with the Jordan Tourism Board and Tourism Cares to create and develop The Meaningful Travel Map of Jordan.
Agent of Change Award highlighting José Andrés as a Champion of Change – World Central Kitchen
World Central Kitchen (WCK) is tackling poverty and hunger by using food as an agent of change. Chef José Andrés founded WCK after the devastating earthquake in Haiti in 2010. Their work continued in Puerto Rico after Hurricane Maria, specifically through long-term recovery and resiliency programs such as supporting farms that grow food for local communities.
Industry Innovator Award – Elevate Destinations
Elevate Destinations designs custom travel experiences that foster connections between "changemaking" travelers and local communities, with a high emphasis on conservation and sustainability. Every trip organized through the company allows a group of local children to visit tourist sites in their own country.
The awards ceremony was led by Tourism Cares and co-sponsored by American Express, Amadeus, Collette, Allianz Partners, Enterprise Holdings, Inc., Macher, Marriott International, NYC & Company, Travel & Leisure, Trip Mate, and Valerie Wilson Travel, Inc.