Unemployed Cuba Tour Directors Say Americans Can Still Travel to Cuba
by David Cogswell /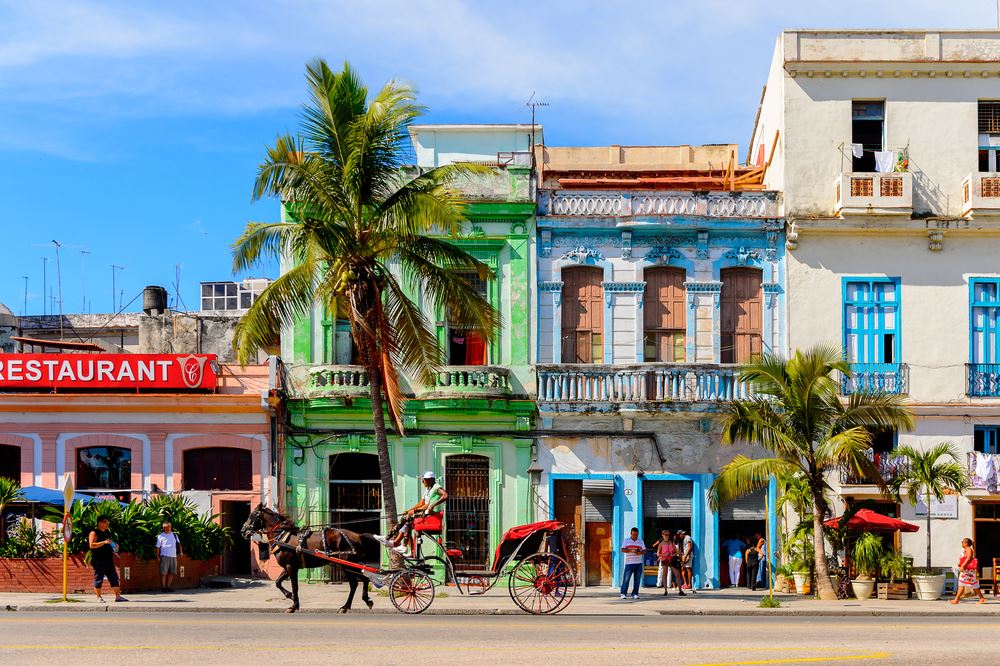 Ridlon and Carin Kiphart, who market themselves as The Adventure Couple, are professional tour directors and expedition leaders who have traveled to 110 countries and guided tours on all seven continents over the last 20 years for such companies as Tauck, Windstar, and Abercrombie & Kent (A&K). In 2013, they began directing tours to Cuba for A&K, and have since led many tours to the island. Between the two of them, they have visited Cuba more than 75 times and became experts in the island nation. Since the Trump administration's recent outlawing of people-to-people travel to Cuba, they are out of work.
Adventure travel is the consuming passion of the Kipharts, and travel to Cuba specifically had become one of the central driving forces of their lives. Carin Kiphart recently became the first person on record to walk the entire length of the island of Cuba, end to end, a journey of more than 900 miles. It took her more than 50 trips to complete the entire length, segment by segment. She kept copious journals of her experiences and is now in the process of completing a book about the journey.
Anyone in the business of taking Americans to Cuba is accustomed to the constant changes that disrupt the market, as politicians battle back and forth about the legality of travel to Cuba. That's a fact of life in the Cuban travel market, and the Kipharts always knew that the rug could be pulled out from under them at any time. It's a risk you have to accept if you participate in that market. Now, until a new administration comes into power, or some other shift occurs in the political landscape, the market is closed to them.
But, although the abolition of people-to-people travel puts an end to their jobs, they still believe in the importance of cultural and personal interaction between the people of Cuba and the USA. For the Kipharts, and many others who are willing to accept the risks and deal with the many ups and downs of travel to Cuba, it is more than just a business. It's a cause they believe in.
Even though they are, for now, personally disqualified from participating in the market, they still want to promote travel to Cuba for Americans.
"You can still travel to Cuba," Ridlon Kiphart told Travel Market Report. "We want to get information to travel agents about how you can do that."
It's not something that the government is going to bend over backwards to let you know, but it is hidden in the dense, legalistic terms of the regulations: Americans can still travel to Cuba.
Sorting through the complications
"As with everything to do with travel to Cuba," said Kiphart, "es complicato. There used to be 12 legal ways for Americans to travel to Cuba. Now there are 11. The 12th way was people-to-people, which we colloquially call P2P. Technically, that was educational travel not pursuant to a degree program."
In order to qualify, P2P travel required a full-time schedule of activities, meaningful meetings between Americans and Cubans. It could be meetings with business owners, doctors, artists, restaurant owners, etc. It was a broad spectrum of possibilities, but what it was not, was going to Cuba to hang out on the beach. No matter that Cuba has numerous beautiful, unspoiled beaches. For Americans, that was not part of the legal range of activities. It was not leisure tourism; it was educational travel, cultural exchange.
Originally P2P travel had to be group travel, operated by a company with a license from the U.S. Department of the Treasury's Office of Foreign Assets Control (OFAC). Under President Obama, it was broadened to allow individual travel under the auspices of P2P travel with a "general license." Technically, individuals were required to maintain a full schedule of people-to-people activities and to keep a record for five years in case OFAC asked to see it. That could be accomplished by taking photographs along the way.
The expansion of P2P to include individual travel under the Obama administration, along with the institution of commercial flights and cruises, fueled a boom in travel to Cuba.
"Within a year or so, travel to Cuba increased by probably 60 to 70 percent," said Ridlon. "But that whole thing, P2P travel, is what just got nixed. The other thing that got nixed was cruise travel. That was awful. [The government] didn't even give the cruise lines any lead time. It was just, 'You guys have 48 hours.' The cruise industry losses are already into the tens of millions or higher, with port services already paid for at so many stops."
With P2P and cruise travel now outlawed, what remains for Americans who want to travel to Cuba is another of the 11 remaining waiver categories: Support for the Cuban People.
Silver lining
"The hope for travel and tourism now rests with Support for the Cuban People," said Kiphart. "It is still legal for U.S. citizens under a general license. You don't have to apply for personal or specific license. It means that, when you buy your airline ticket, you have to check the box for Support for the Cuban People."
Under that category, organized group travel is no longer allowed. You can still go with a group of friends or family, just not a commercially organized trip.
"But you still need to maintain a full schedule of activities that qualify as 'support for the Cuban people,'" said Kiphart. "Those are almost exactly the same kinds of activities as for P2P, except for activities that deal with a government-owned entity. You can go talk to somebody about their private business. You can go to a concert that is private. But talking to a government official about how the Cuban business system works would not qualify, nor would a concert in which the government is paying the band."
The OFAC restrictions apply to what you spend money on. If you don't buy a ticket to the government-sponsored concert, if it's a free concert, you are in the clear.
To qualify under Support for the Cuban People, you need to go to private restaurants and stay in private residences, not government-owned hotels. That means avoiding virtually all of the commercial properties, because under the Cuban system, the hotels are public-private partnerships with the government holding 51 percent.
"It's better to stay in private homes," said Kiphart, "and eat at paladars, privately owned restaurants. Then you are fulfilling the letter of the law and doing what you're there to do, putting money in the pockets of private citizens, not the government. It's actually great in a way, because when you stay in private homes, you get to meet the people, hang out and talk, have breakfast with them."
As with P2P travel, while the restrictions can be annoying, to be told by the government how you have to travel, they ironically end up producing meaningful travel experiences.
"After my first trip ever to island, I said, 'These P2P programs are the coolest things ever,'" said Kiphart. "They are forcing us to be immersive with the Cubans and their culture. Without the restrictions, I might be one of those sitting on the beach drinking mojitos. Don't get me wrong, I love mojitos … But I might be missing the real close contact with the Cuban people."
No transactions with government-owned entities on U.S. Dept. of Commerce restricted list
New restrictions include a great many government-owned hotels that are on the U.S. Department of Commerce restricted list, which can be accessed here, such as Ernest Hemingway's favorite bar in Havana, Floridita; and most of the stores, restaurants and hotels of Old Havana. It's a strict tightening of the options for American travelers in Cuba and includes mo
But it does not restrict business with individual Cubans who run their own restaurants and rooming houses.
American operators of tours to Cuba, ever agile, have already adapted their businesses to the new restrictions. Many of them — including Alexander & Roberts, Intrepid Travel, and insightCuba — have already begun marketing their services in facilitating individual travel to Cuba under the category of Support for the Cuban People.
So, the story of American travel to Cuba continues along its rocky, winding road.