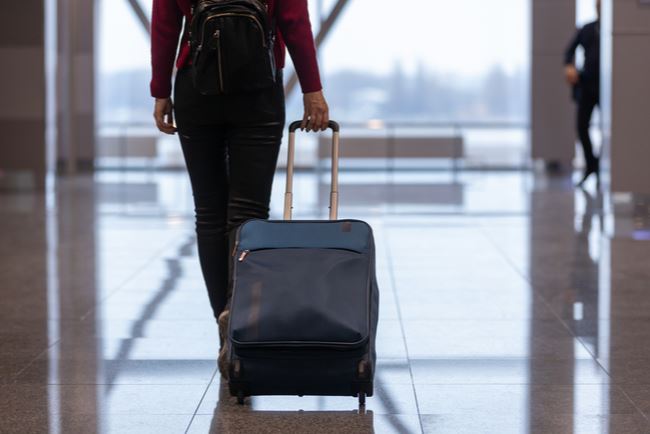 As travel begins to reopen and some states and countries are beginning to ease restrictions, airports and airlines have implemented a variety of new policies and health standards in preparation. However, with so many new changes to the air travel experience, what will flying be like in the time of COVID-19, and what can travelers expect the next time they take to the skies?
This week, a panel of airline executives joined media to talk about what the short-term and long-term future holds for the airline industry.
A new standard of clean
One of the first things people will notice when they arrive at the airport, is a new emphasis on cleanliness.
"Our very first step when all of this started was to listen to the experts," said Maria Walter, managing director of product and brand strategy for United Airlines. "We've been able to put a lot of measures in place to ensure that our airports and aircrafts are clean and ready to go."
"Aircrafts have never been this clean, and every single turn of the aircrafts, we hit them with full electrostatic spray to kill all germs on contact, then we have a team to walk through and wipe down all surfaces in high touch areas."
Airports worldwide have implemented enhanced cleaning measures including rolling out touchless kiosks in airport lobbies, more regular sanitization of high touch areas, using sneeze guards at check-in counters, allowing passengers to self-scan their boarding passes, changing the food and beverage options served on-board to reduce the chance of contamination, and requiring all employees and passengers onboard to wear a mask or face covering.
Major U.S. airlines have even taken the step of requiring passengers complete a health self-assessment during their check-in process, to ensure they aren't traveling while exhibiting COVID-19 symptoms.
Return to capacity
Some U.S. airlines, including American, United and Spirit Airlines, have begun booking flights at full capacity again (others, including Delta, Southwest, and JetBlue have decided to keep open seats).
Airlines that have opted to no longer block off some middle seats are instead relying on their enhanced cleaning measures and health protocols to ensure guests safety and comfort.
"These measures we've taken are really a great starting point and as folks are starting to return to fly, we're also giving them an opportunity to be aware if they'll be on a fuller flight within 24 hours of departure, as well as the opportunity to rebook if they're uncomfortable with that," said Walter. "There's a lot of flexibility right now, because we know people are just beginning to venture back out. You can change to any other flight within five days without any problem at all."
Walter explained that trying to maintain the social distancing rules while onboard a plane is impractical, but with all the other safeguards currently in place, passengers should still feel comfortable flying.
"We want people to know that this is the current situation, but an aircraft is not a socially distant friendly environment, so we want people to understand this is not the kind of place where they can maintain the six foot perimeter, essentially one passenger every three rows, which is simply not practical."
As carriers do start to fill planes, some health experts, including Dr. Anthony Fauci and CDC director Robert Redfield, criticized the practice. Redfield this week told the Senate Health, Education, Labor, and Pensions Committee that "we don't think it's the right message."
New restrictions
For Jacques Malon, vice president of airport customer service and managing director of Terminal 1 at JFK Airport, one of the most difficult aspects of operating during the COVID-19 crisis is the constantly changing regulations and uncertainty regarding travel restrictions at different destinations.
"Everyone has their own method of checking… the problem that we have is the [airlines], no matter what country they come from, have to respect whatever new rules were put forth, so we have to comply in order to send them back to their countries," said Malon.
One of the key contributing factors of this uncertainty is a lack of uniform standards across the industry at large.
"We haven't seen [mandates] from the federal government regarding health checks, so you're seeing measures from the airlines and airports saying to wear masks. We're trying to enforce the rules, and we're not quite sure what the repercussions are."
He emphasized the importance of setting a global standard for health checks and safety measures across the global airline industry to ensure the safety of destinations and travelers.
"We need global coordination of how to process this, so [passengers] aren't shocked that the process is different everywhere they go."
Security checks and health screening
Another issue airports have to consider is the health screening process for travelers and employees. Kristen Clonan, founder and president of Airfluence, an aviation consultancy company, said that while airports and individual airlines are already screening their employees to ensure they don't have the virus, it would be difficult to enact the same level of screening on a customer level, at least not yet.
"Countries that have started opening back up have requirements like that, and airlines are dealing with it on a one-on-one basis," said Clonan. "Canada is already regulating that, as is China, Korea, and Singapore. So airlines are already starting to do temperature checks, but that's not something within the United States that's going to be practical in the near term."
Douglas Kreulen, president and CEO of the Metropolitan Nashville Airport, said that getting passengers accustom to the new screening processes are vital to safely stimulating the industry.
"We need to get the same level of comfort we have now with security, with health," said Kreulen. "If you practice good hygiene and you don't travel when you're sick, that's 90% of the battle. And if you're wearing a mask when you can't maintain social distancing, you should be okay, but we need to get that comfort level back to where passengers feel comfortable walking through the airport, going through security, going on their airplane and arriving at their destination."