With New COVID-19 Study, Air Canada Pushes for Reopening Borders
by Jessica Montevago /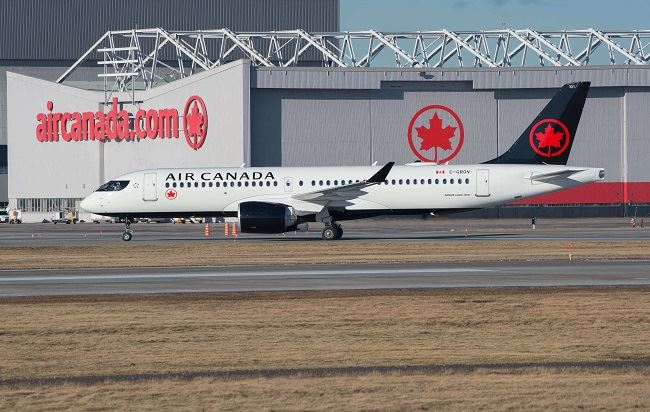 Air Canada is studying incoming international travel to Toronto's Pearson Airport in a push for the government to lift travel restrictions such as its 14-day quarantine, Reuters has reported.
In the voluntary study, which launched on Thursday, passengers will provide samples to be analyzed for COVID-19 using polymerase chain reaction (PCR) tests upon arrival and in two follow-ups to establish how many travelers arrive infected.
Canada's largest carrier said the month-long research project will be conducted with McMaster HealthLabs and the Greater Toronto Airports Authority.
"Our study will provide data to help determine if an airport-based COVID-19 surveillance program is feasible, whether self-collection of COVID-19 testing is effective, and to explore options regarding the 14-day quarantine for international travel," Air Canada told the outlet.
Canada's borders are now closed to all noncitizens except for essential workers, and Canadians who enter the country from abroad must self-isolate for two weeks.
The airline industry argues that closed borders, travel restrictions and quarantines continue to annihilate travel demand. Instead, they support replacing government-imposed quarantines with a layered approach that includes testing, temperature checks, cleaning and mask-wearing can replace quarantines.
The International Air Transport Association (IATA) has also called on governments around the world to reopen borders and continue with relief measures in order to sustain airlines during the COVID-19 crisis.
Airlines continue to lose billions of dollars, facing an industry loss of $84.3 billion this year, and are facing difficult decisions to resize their operations and workforce for the future, IATA said.
"We see governments replacing border closures with quarantine for air travelers. Neither will restore travel or jobs. Worse, governments are changing the entry requirements with little notice to travelers or coordination with their trading partners. This uncertainty destroys demand," said Alexandre de Juniac, IATA's Director General and CEO.
"It's time for governments to work together to implement measures that will enable economic and social life to resume, while controlling the spread of the virus."