With New Regulations, U.S. Ending Cruise Travel to Cuba
by Daniel McCarthy /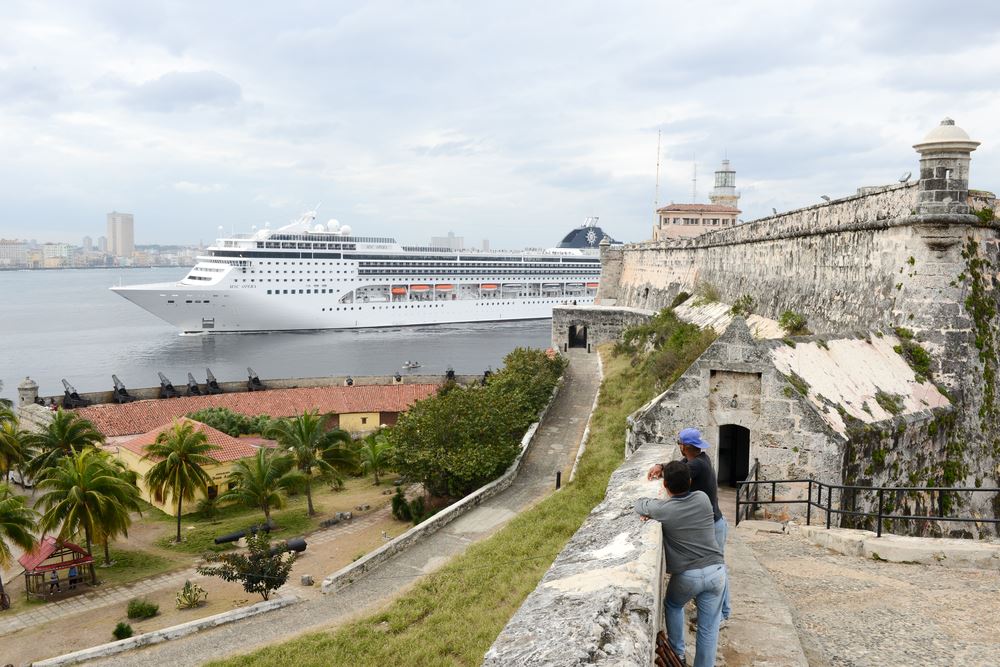 Updated June 5, 10:00 a.m.

The announcement by the U.S. Department of Treasury's Office of Foreign Assets Control on Tuesday that it would be ending people-to-people travel to Cuba is also the end to travel that has flourished since restrictions on Cuban travel began to thaw in 2014—cruise travel.
In a published statement to the U.S. Department of State website, a spokesperson wrote that along with the elimination of people-to-people trips "United States will no longer permit visits to Cuba via passenger and recreational vessels, including cruise ships and yachts, and private and corporate aircraft."
That means that progress made by major cruise companies, including Royal Caribbean, Norwegian Cruise Line, Carnival Corp., and more, will be halted starting on June 5, 2019.
OFAC is including a grandfathering provision in the rules, which will allow certain people-to-people travel groups to continue as long as the traveler had completed one travel-related transaction—purchasing a flight or reserving accommodation—before June 5.
But, according to the Cruise Lines International Association (CLIA) and cruise lines talking to TMR, that's not the case for the industry and starting on June 5, it's effectively illegal for any line to call on a Cuban port during a sailing from the U.S. and cruise lines are being forced to alter current itineraries.
"Without warning, CLIA cruise line members are forced to eliminate all Cuba destinations from all itineraries effective immediately. This affects nearly 800,000 passenger bookings that are scheduled or already underway. All these bookings had been made under a general license previously issued by the United States Government that authorized 'people to people' travel to Cuba," a CLIA spokesperson said in a statement.
"The new rules effectively make it illegal to cruise to Cuba from the United States. While this situation is completely beyond our control, we are genuinely sorry for all cruise line guests who were looking forward to their previously booked itineraries to Cuba."
Carnival Cruise Line, on its website, announced that it has learned that "effective immediately, cruise ship travel is no longer allowed and we are required to cancel our visit to Havana."
Carnival is replacing Havana on Sensation's June 3 sailing and will be calling on Cozumel instead. It is offering all guests the option to remain on the sailing on receive $100 onboard credit, or move to another itinerary and receive $50 onboard credit. Those who want to cancel can do so and receive a full refund. Travel advisor commissions will be protected on any paid in full booking that cancels.
"We are working as quickly as possible to secure alternative itineraries for the remainder of our Cuba voyages and expect to have information for sailings further out in the next 2-3 days," Carnival's website reads.
Royal Caribbean is currently "analyzing the details to understand the impact on our itineraries." In the meantime, a spokesperson said, it is making changes to its June 5 and June 6 sailings, neither of which will stop in Cuba.
MSC Cruises said that it is also changing sailings because of the news, writing in a statement that starting June 5, "cruise ships are no longer allowed to call Cuba after departing a U.S. port. As a result of these substantial changes in U.S. law and regulation, Miami-based MSC Armonia is no longer authorized to call Havana, Cuba.
"We will share MSC Armonia's updated Caribbean itineraries with our guests and business partners by close of business tomorrow June 6."
Norwegian Cruise Line said in a statement that it was "closely monitoring these recent developments and any resulting impact to cruise travel to Cuba" and would be communicating to its "guests and travel partners as additional information becomes available"
Virgin Voyages, had planned for its entry into the cruise market to include Cuba calls during its inaugural season homeporting its first ship, Scarlet Lady, in Miami.
"We are disappointed to hear of the Administration's decision to halt travel to Cuba," a spokesperson told TMR. "We are currently working with CLIA and the regulatory authorities to assess how this new change will impact our itineraries that stop in Cuba."
Virgin added that "the beauty of sea travel is that we have the flexibility to adjust our itineraries. We will be updating our Sailors and First Mates as soon as we have more information to share."
In an update on its website, Viking Ocean Cruises said it "has one remaining call in late December 2019 and is currently reviewing our options for it and early 2020 sailings. Once confirmed, guests and travel partners will be notified directly."
This article will be updated as more information becomes available.