With Venice Again in the News, What Other European Cities Can Compare?
by Daniel McCarthy /

Two months after some of the most severe floods Venice has ever seen, the city is now suffering from low tides that have left it almost dry. According to the BBC, boats have been seen almost beached on canals that now look "more like mud trenches" as people struggle to travel around the city.
While the low tide isn't as once-in-a-lifetime as the floods were late last year, the floods did leave marks on a city struggling for a long-delayed barrier system, called the Mose project, which the city says would help combat against a rising tide.
Venice has always been an iconic destination. Its uniqueness, history, and culture has made it a mainstay on lists of top travel cities from consumer publications for years and years. (Just this year, even with the floods, Venice was the 10th best place to visit in Europe, according to U.S. News & World Report).
For many, it will be irreplaceable as a dream destination or bucket-list item, as it should be, along with other European cities like Amsterdam that are going through similar crowding pains. But efforts are being made to combat that crowding, including a push from the major of Venice to get the city on the UNESCO world heritage blacklist and a hike in Amsterdam's tourist tax later this year.
So what other European cities would travel advisors recommend if clients wanted the history and culture that Venice offers, but they didn't want to deal with potential floods or dry canals? Or clients who want to visit cities like Amsterdam but don't want to contribute to an increasingly problematic overcrowding issue?
When Venice was flooding earlier this year, Travel Market Report asked travel advisors where they would send clients wanting to avoid big crowds in popular tourism cities. Here's what they said.

Strasbourg's Old Town, an island surrounded by canals. Photo: Shutterstock.com.
Bruges, Annecy, and more
Lisa Phillips, of Bella Europa Travel, said that, aside from Venice, clients looking for a European city with canals and a romantic atmosphere can consider places like Bruges and Stockholm. She also mentioned lesser-known cities like Annecy, France, which "boasts plenty of charm for water lovers, from canals to lakefront beaches, gardens, and even a medieval chateau to explore" and is only an hour from Stockholm.
There's also Strasbourg, France. "The half-timbered houses along the canals make for fairy tale photo ops! Strasbourg's old town is actually an island and is surrounded by canals," she said.
She also recommended Chioggia, a seaside Italian town south of Venice that is quiet and relatively unspoiled. "This old-time fishing village was built the same way as Venice was with numerous canals and bridges, but it is a homeport for two river cruise lines: Uniworld and CrosiEurope. So, although it is less crowded than Venice and it is a gorgeous alternative, there will still be some crowds and tourists."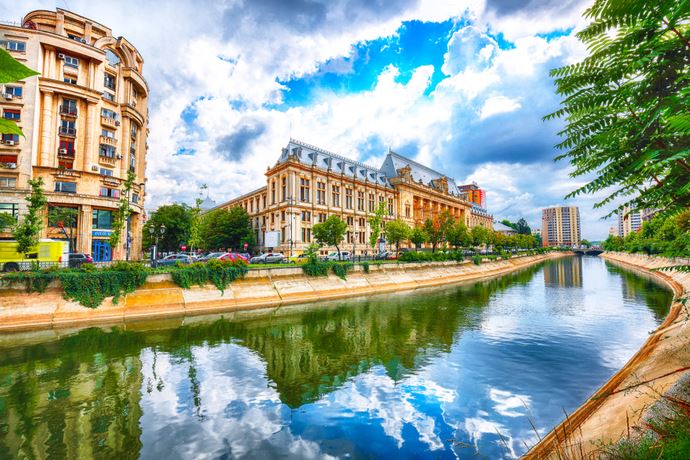 Old Town Bucharest. Photo: Shutterstock.com.
Bucharest and Lisbon
Karen Krugliak, the owner and manager of Brit Olom Tours, Inc., told Travel Market Report that she would recommend Bucharest, Romania, and the Carpathian Mountains to Transylvania.
"Bucharest is still a good buy with a lovely European charm in the Old Town, interesting history. And the allure of the nature and Dracula in Transylvania. Both the ornate Peles Castle and Bran (Dracula) Castle," she said. "And the mountains are must-sees and can be done in a one-day excursion from Bucharest."
On top of that, Krugliak suggests that clients look at Lisbon and Porto in Portugal, including Sintra, a city just a day trip from Lisbon. "Lots of history, old European charm, markets, Belem pastries (yum!); and in Porto, the Douro River to cruise and all the port wine and history," she said.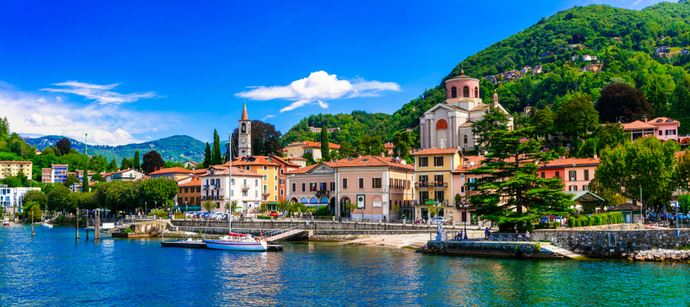 Lake Maggiore might be an alternative for clients who want to go somewhere lesser-known than Lake Cuomo. Photo: Shutterstock.com.
Lake Maggiore, Positano
For Donna Greenspan of Travel Quest Travel, most of the clients who want to discuss alternate options to sites that have become overcrowded are receptive to new ideas and, "there are quite a few places that you can jump off from the typical."
One idea, Greenspan told Travel Market Report, is to suggest Lake Maggiore instead of Lake Como in Italy. "The options for sightseeing are so much greater with so many different places to stay along the lake. Stresa for one. Easy to access the Borromean Islands in the middle. Easy access by car to Lake Orta, or even Lake Lugarno."
There are also cities in Abruzzo and Puglia that are "rustic, countryside, coastal beach towns," less crowded than their peers. "Like Vasto and Francavilla al Mare, where you can dine in a Trobocca along the water. An actual fishing platform. Or stay in a Masseria in Puglia visiting an Alberobella village. This area is only a 3 ½-hour drive over to Amalfi," she said.
Even clients who want to experience France outside of Paris have great options, Greenspan added. "There are so many other areas to visit other than Paris or St. Tropez. Juan les Pin off of Antibes. Ferries over to St. Margherita Island, a location of Dumas where he wrote 'Man in the Iron Mask.' Even into Normandy, as an option for a few nights after or before Paris. Towns of Honfleur and Rouen, and even Bayeux, offer off-the-beaten-path experiences full of history, beyond D-Day."