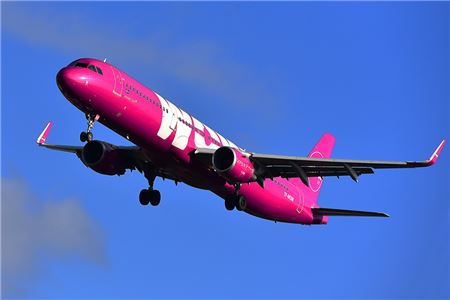 Struggling Wow Air, an Icelandic budget line that made waves with $99 transatlantic fares, has been thrown a lifeline by a U.S. private equity firm that controls Frontier Airlines.
Wow's future had been in doubt in recent weeks, as a planned merger with Icelandair started to unravel. The carrier had already taken steps to cut costs, ceasing service to several U.S. cities, including Cincinnati, Cleveland and Miami; and recently the line said it would drop St. Louis, as well. That would whittle its U.S. destinations down to four: Baltimore, Boston, Chicago and Newark.
Wow had also previously said it would cut one-fifth of its 20-plane fleet, returning the jets to their lessors.
Whether a smaller Wow can thrive in an increasingly competitive market is unclear, however. Indigo Partners, with its stakes in Frontier, Spirt and other airlines, has had some successes. It has also invested in low-cost airlines in Europe and Latin America, including Mexico's Volaris and Hungary's Wizz Air.
In its announcement of the Wow deal, Indigo's Managing Partner Bill Franke said that it had an agreement in principle to take a stake in the carrier, but did not give further details on terms. "We have a strategic vision for the airline, and look forward to working with its employees and agents to deliver that vision," Franke said in a statement.
Just what that vision is might be another question. In expanding rapidly after its 2012 debut, Wow fell into the usual pitfalls that plague many budget startups, with growing pains that showed up in the form of frequent delays and rising customer complaints.
Icelandair, after calling off the merger, offered a message of, "Best wishes to the owners and staff" of Wow. But its decision to split implied another message: Wow's problems were too daunting to take on.