Phillipe Etchegaray, marketing manager for Chile Tourism in North America, attended the U.S. Tour Operators Association conference last month, as part of Chile's renewed marketing push in the North American market.
Chile Tourism rejoined USTOA after an absence of several years. The country wants to re-establish itself in the minds of American travelers. Meeting with the top American tour operators at the USTOA conference was a good place to start.
Etchegaray is still new to the post, having been appointed last summer. He's still in the early stages of mounting his campaign for North America, putting things in place.
Etchegaray told Travel Market Report, "We realized we had left USTOA and ATTA [Adventure Travel Trade Association] and some organizations that were valuable, so we re-entered USTOA. We came to make contact again, get familiar with the industry, find out what's happening. It's been very interesting."
Chile chose USTOA because it puts the destination in a position to network with the top tour operators in North America. It's a more strategic use of marketing resources than the nearly insurmountable task of trying to target millions of American consumers directly.
Rather than a direct marketing campaign that would cost millions with no guarantee of results, Chile's destination marketing organization can target USTOA's 152 member brands, who are connected to a network of thousands of travel agents, who in turn connect to millions of American consumers.
The USTOA's member tour operators move nearly 10 million travelers a year and generate nearly $20 billion in revenue. The association works closely with travel advisors. For information, see USTOA Travel Advisor Resources.
Adventure and culture
The other travel trade association Chile Tourism participates in is ATTA. "Because our destination is very much associated with adventure travel and outdoor activities, it makes sense to be with ATTA," said Etchegaray.
Chile is streamlining its marketing message by focusing on the niche markets where it believes it is strongest.
"In the U.S., we are pushing ourselves as outdoor and adventure, followed by gastronomy and wines," said Etchegaray. "They combine well together. If you go for adventure travel, whether it's extreme adventure like Class 5 kayaking or just some trekking around Torres Del Paine, it's always welcome to have some wine and some good food afterward."

'La Portada' Natural Monument at sunset, Antofagasta. Photo: Shutterstock.com
What Chile offers
Geographically, Chile is unique. The country covers 42% of South America's Pacific coastline, which it shares with Colombia, Ecuador and Peru. But it only occupies the narrow strip from the coast to the Andes Mountains. Its dimensions tell the story.
Chile is the longest and narrowest country in the world. At 2,700 miles from north to south, the country is as long as the continental U.S. is wide. Laid crosswise, Chile would stretch from New York City to Los Angeles. Yet, it's narrower than Florida.
East to west, Chile is an average of 110 miles wide, with a maximum of 217 miles at the latitude of Antofagasta and a minimum of 9.6 miles near Puerto Natales. With a total land area roughly the same as that of Texas, it offers an extremely wide range of geographical diversity.
It sprawls down the coast of South America like a snake, bordering on Peru in the north, Bolivia and Argentina to the east, and to the south it is at the edge of the Antarctic. In Patagonia in the extreme south, you can see calving glaciers that are as spectacular as those in Alaska or Antarctica.
Going to extremes
While Patagonia is said to be the one of the wettest places on earth, Atacama Desert in the extreme north claims the title of the driest non-polar region on earth. Because of its extreme dryness, it is known as one of the best places in the world for stargazing. Since the mid-20th century, Atacama has become the home to many observatories, some of which welcome tourists.
Chile also includes Easter Island, the home of the mysterious stone heads that crop up out of the ground near the coastline and are some of the most intriguing archaeological treasures on Earth.
In between the northern and southern extremes of Chile is Santiago, a great modern city, and the international air hub of the country. From Santiago, all of the main tourist attractions from north to south are accessible with domestic flights within three hours long.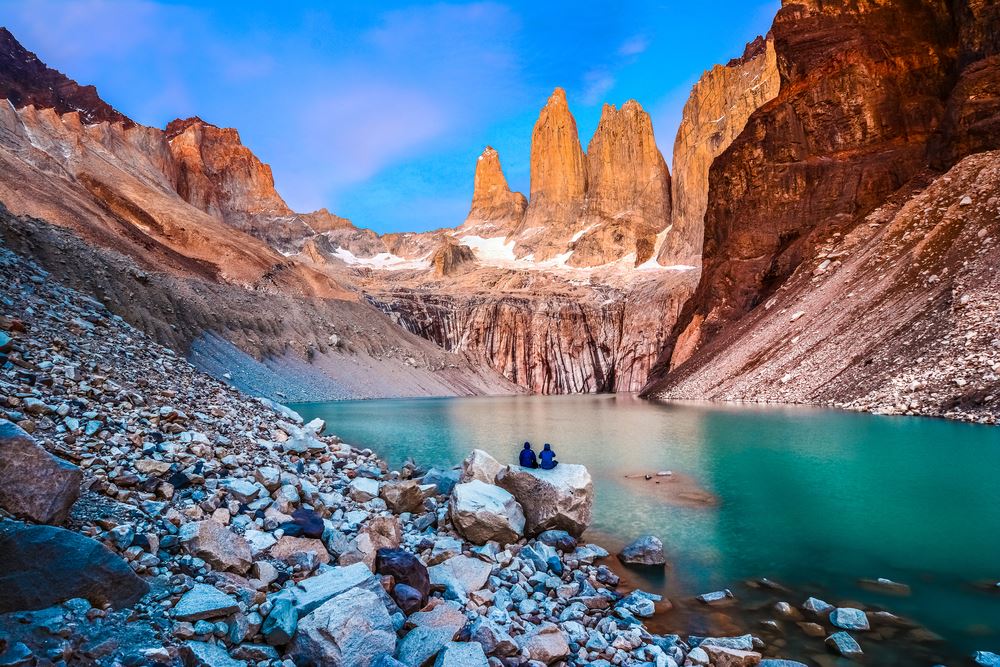 Torres del Paine, National Park, in Patagonia. Photo: Shutterstock.com
Recommended itineraries
Chile offers a tremendous variety of experiences within one country, providing a head-spinning number of choices when designing an itinerary.
"Americans go to Torres Del Paine in Patagonia, or to Atacama Desert," said Etchegaray. "Those are very big contrasting places, and also Easter Island. Then they follow it with Santiago and Valparaiso."
Valparaiso is a colonial port city, about 70 miles northwest of Santiago, an hour and a half's drive away. Established in 1536, the city is a rich cultural center, a center of bohemian culture, with beaches, a variety of boutiques and restaurants, excellent seafood and lively nightlife.
Santiago is the capital and largest city, built in the Andes Mountains, with a population of 5.6 million. It's the home of the largest concentration of cultural attractions.
It has all the attractions of major international cities, but with its own Chilean flavor, from its glittering high-rise buildings dwarfed by the surrounding mountain peaks, to museums, historic buildings, great restaurants and shops, great walking routes, and spectacular city views from elevated points such as Santa Lucia Hill (a hilltop park near the city center) or San Cristobal Hill. They call them hills, which they are in comparison with the towering Andes, but when you are on them looking down over the city, they feel like mountains.
"Santiago is the main touching-down point," said Etchegaray. "All airlines go there. From Santiago, you can spend a couple nights in Santiago itself; maybe drive 70 miles to Valparaiso and visit some vineyards; then connect on a domestic flight to Patagonia, Atacama or Easter Island. It's all within a two- or three-hours' flight from Santiago. That covers a lot of territory. Those are the highlights that everyone wants to see when you're down there."
Preventing overtourism
Though Chile has not yet encountered any serious problems of overtourism and overcrowding, the country is taking steps to manage tourist flows and anticipate possible problems in the future. The strategy includes taking steps to spread tourists around the seasons and the geographic areas.
"We are trying to push some new destinations that would make you spend less time flying," said Etchegaray, "such as flying into Patagonia then going to Northern Patagonia along the Park Route to the Lake District, and then fly to Torres Del Paine."
For those exploring the north, there are also attractive options that go beyond the main tourist paths. "If you decide to go to Atacama, you can stop over in the Elqui Valley, halfway there," he said. "Elqui is where Pisco is done, as well as some nice white wines, and it's a place that has developed a lot of astro-tourism and stargazing."
On Easter Island, the most highly touristed part of Chile, the country has instituted some regulations to limit the number of tourists there at any given time and prevent the development of overtourism.
Cultivating trade relationships
Chile Tourism is currently in the process of building educational programs for travel agents. "We are aiming at the trade, at building strong relationships," said Etchegaray. "We just signed to build a program for certifying travel agents, to give them resources for selling Chile. We're targeting the trade that is most relevant to us, above and beyond tour operators."