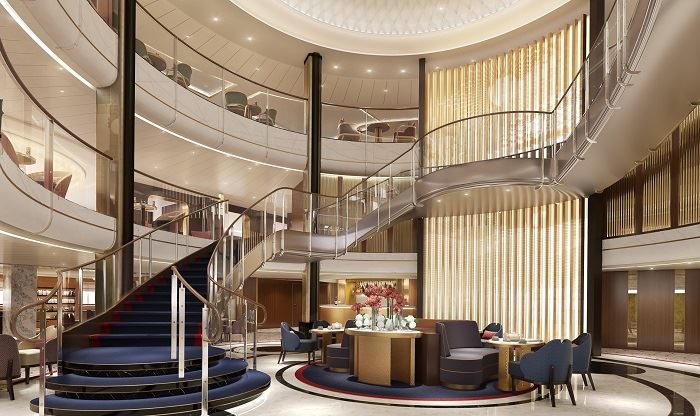 Cunard's new luxury ship will feature all-new livery, a new-to-Cunard wellness concept, 15 restaurants, and the line's signature Queens, Princess, and Britannia stateroom categories. In a first for the cruise line, Queen Anne will be captained by a woman, Captain Inger Klein Thorhauge.
A team of four, led by Cunard creative director Adam D. Tihany tapped into Cunard's past, as well as modern land-based design trends to create an interior design that is meant to be an "enchanting bridge from Cunard's storied history to the future."
"Just the way a world-renowned orchestra delivers a feeling, or takes you to a moment or an era, Queen Anne's aesthetic would do the same in harkening Cunard's gilded age, but through the bold, onward lens of modernity," Tihany said.
"We worked very closely with the Cunard ship building team during the design process to gather as much knowledge as possible and also referred back to our extensive hospitality experience, where longevity and practicality are as important as the look and feel," said Lewis Taylor, design director at David Collins Studio, one of the design firms that worked on the ship. "We have added layers of architectural details and design codes that refer back to Cunard's history and that add a touch of whimsy and British eccentricity to the experiences. These architectural design elements along with the exquisite level of service onboard will make the new vessel truly unique."
New Livery
Queen Anne will sport the line's famous red funnel but will debut an updated livery with a finessed design of the iconic crest and the introduction of an elegant new font inspired by the grand ocean liners of the past.
Public Spaces
At the heart of the ship, the light-filled Grand Lobby will serve as a focal point for guests. Representing the transition from past to present, the centerpiece of the space is a metal mural sculpture that changes throughout the day via a lighting effect built into the piece.
The two-deck, 825-seat Royal Court Theatre features comfortable seating adorned in rich velvet. All seats provide obstruction-free views of the stage.
Among the 15 restaurants onboard will be the grand Britannia Restaurant, the Princess and Queen Grill restaurants, and a "newly refined" Golden Lion Pub.
Queen Anne will be the first ship in the Cunard fleet to feature a new wellness and beauty concept that offers up a wide selection of fitness, beauty, thermal, and spa suite facilities.
Suites
Queens Grill Grand Suites: These suites are essentially private residences onboard Queen Anne. Designed by David Collins Studio, they feature a dedicated dining room and adjacent butler's pantry, walk-in wardrobes, marble-finished bathrooms with views out to sea, a spacious bedroom, and the largest balconies onboard.
Princess Grill Suites: Designed by Sybille de Margerie, Queen Anne's Princess-category suites were designed to be warm and inviting. The interior design focuses on soft, delicate materials and textures and each cabin features a bespoke dressing table and bar area with a patterned-wall panel inspired by the flowing lines of Cunard's past liners.
Britannia Balcony: These smaller cabins provide a cozy sofa seating area looking out to sea and bathrooms with glass walk-in showers.
Queen Anne sets sail in early 2024. Itineraries will be announced in May 2022 with bookings opening the same month.