Headquarter Happenings: Nexion Focuses on Building Connections and Expanding Education Services
by Daine Taylor /

No matter how the industry grows or evolves, at the center of any travel business, people are what matters, and being able to create and foster meaningful and lasting relationships between clients, suppliers and even other advisors, can be the best way to help your agency thrive.
"Engage, Exchange, Excel." That was the theme of the Nexion Travel Group's CoNexion conference 2019, and specifically, to build personal and professional connections in order to succeed in the industry.
The conference brought together hundreds of new and seasoned travel professionals to Orlando, Florida, last week, to exchange information about new services and offerings, share news of agency growth, and offer meaningful advice for others to help increase sales.
"It's been a challenging year for the industry," said Ron Jacobs, president of FunJet Vacations.
He recalled recent events, including the propagation of sargassum (toxic seaweed) throughout the coasts of Mexico, the 737 MAX 8 recalls, and the aftermath of Hurricane Dorian. But he remains optimistic for the future of his company, and the travel industry in general.
"You all know we're in the relationship business, it's all about people," said Jacobs. "You have used three words at this conference. I'd like to have you think about three more: change, growth, and opportunity. You can use any of them interchangeably, because one will always lead to the others."
Speakers throughout the conference emphasized the importance of networking with other professionals, to share their business achievements and pitfalls in order to help others succeed.
"You are all surrounded by a wealth of knowledge," said Alicia Steuart, senior director of sales for Carnival Cruise Line. "Take advantage while you're here, take advantage of visiting with all of the suppliers that are here, take advantage of the Nexion team. But most importantly, take advantage of the knowledge that your colleagues have.
"You are fabulous about sharing success stories that help you all achieve your dreams. But don't let it end there. When you go home, keep that [level of] engagement, keep that exchange going. Reach out, because that's what we're here for. All of us want you to succeed, and so, don't hesitate. We all have support teams that are there to make you successful, and we'll all do everything we can to make sure that happens."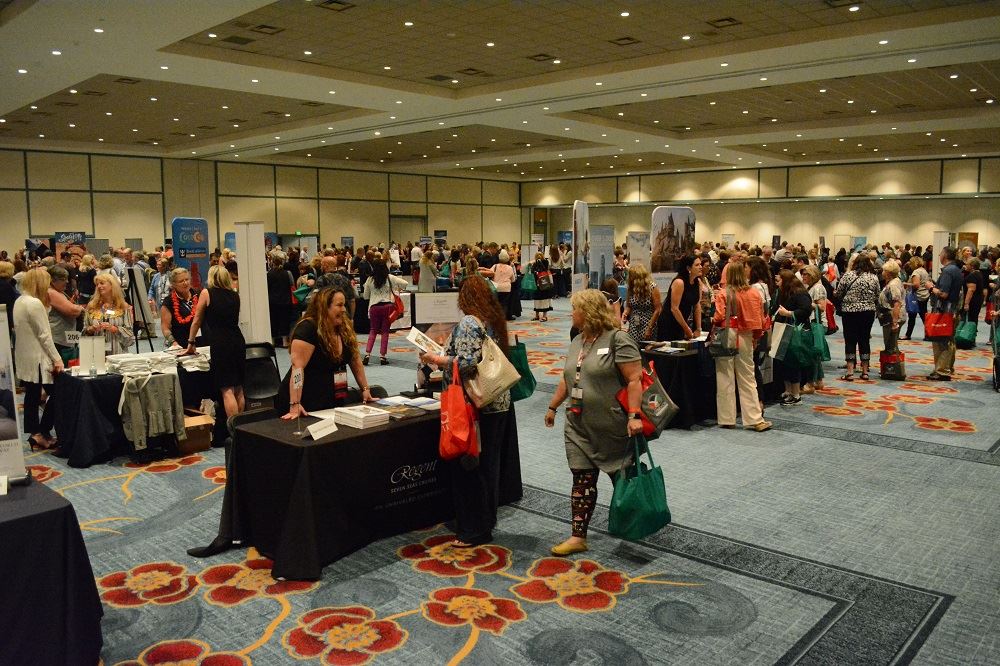 Hundreds of Travel advisors came out to the CoNexion Conference's Trade Show. Photo: Daine Taylor/TMR
Educational opportunities
The conference also served as an opportunity to announce Nexion's expanding catalogue of educational and training services available to its members.
"We want to make sure we provide you with the absolute best you need to run your businesses. So, I'd like to personally thank all of my colleagues who expand what we do, to give you the absolute best so you can be as successful as possible," said Jackie Friedman, CTC, CTIE, president of Nexion Travel Group.

Nexion revealed its slate of educational offerings for new and experienced travel advisors in 2020. Through its comprehensive Fundamentals track, members will learn important information they need to know to be a success and to work well with Nexion Travel Group.

Beginning in 2020, Nexion will start offering a Boot Camp course, to be held in February and July in Irving, Texas. The program will take a deep dive into the tools, software, and support Nexion offers. The Boot Camp is appropriate for travel advisors who are new to Nexion Travel Group, no matter what their level of experience is in the industry.

The Essentials course, which will be offered in March, June, October, and December 2020, is a five-day course for new entrants to the travel industry. In addition to recapping some of the important Boot Camp topics, it will cover skills on how to run a successful travel agency, including operations, marketing, selling skills and more.
The Regionals course will offer eight different opportunities for members to meet with executives and supplier partners in their own areas. Travel advisor members in Anaheim, Atlanta, Boston, Chicago, Dallas, Newark, Orlando, and Washington, D.C., are invited for a day of learning and networking.
Nexion will also be introducing a new training track: NEXstart Cruise. Designed for travel advisors who plan to center their business on cruise sales, NEXstart Cruise is an online program that offers destination and selling information exclusive to cruising.
"Over the years, we have noticed an increased interest in travel advisors selling cruise travel," said Friedman. "NEXstart Cruise is the result of our members wanting education that is highly tailored to this specific topic. It is designed to narrow down focus while, at the same time, giving users a broad range of skills and knowledge to build their cruise business."
The NEXstart Cruise program is made up of 11 lessons, all of which are designed to be taken online, with a series of virtual guest lectures to complement the lessons. The modules focus on popular cruise destinations, international travel regulations and requirements, sales skills, and travel insurance.
All NEXstart Cruise participants are eligible to take part in a monthly group coaching session for one year following completion of the program, and will have access to exclusive webinars from Nexion Travel Group's cruise partners, as well as industry experts. In support of the program, the Cruise Lines International Association (CLIA) will give NEXstart Cruise participants four CLIA classes.
"We are excited to offer this customized training track," said Friedman. "Cruising's wide variety of ships and destinations make it perfect for specialization. It is an incredibly exciting area of travel, and we are looking forward to helping Nexion Travel Group members who wish to specialize in this lucrative and growing travel segment."
NEXstart Cruise will officially launch at Cruise World in November 2019.
Specialty courses
Nexion also announced it will be bringing back its highly regarded and awarded specialty courses. All members who attend a specialty course are eligible to receive ongoing coaching from one of the host agency's business coaches.
Next year, there will be five distinct specialty course topics that will benefit advisors and travel professionals of all different backgrounds.
The Group Sales Summit is a specialty summit bringing together supplier partners and experts in group travel to teach members how to expand their businesses with more group sales, whether they are cruise, land, tour or air. The Group Sales Summit will be held in April 2020 at a location to be determined.
Corporate CoNexions is a perennially popular event that will return in June in San Francisco. Focused on corporate travel advisors, the classes and activities will be tailored exclusively for travel professionals in this niche.
The Marketing Symposium, now in its third year, will give attendees access to a wide variety of subject matter and experts from numerous marketing disciplines. By the end of the seminar, attendees will have developed their own business marketing plan. This event will be held in July 2020 in Minneapolis.
The Luxury Sales Summit, which is exclusively available for luxury travel specialists, delves into how to effectively increase luxury sales and improve leads. The Luxury Sales Summit will take place in New Orleans in November 2020.
And the Leap into Luxury course gives the newer or new-to-luxury travel advisor the skills to confidently begin to sell luxury travel. It will be held in November 2020 in Chicago.
"We are looking forward to an exceptional year helping our members improve their skills through education," said Friedman. "The array of programs we offer means that there truly is something for everyone, and we encourage all our members to make an effort to expand their horizons and deepen their travel knowledge with a Nexion Travel Group educational event in 2020."