Legionnaire's Disease Cases Connected to American Cruise Lines
by Dori Saltzman /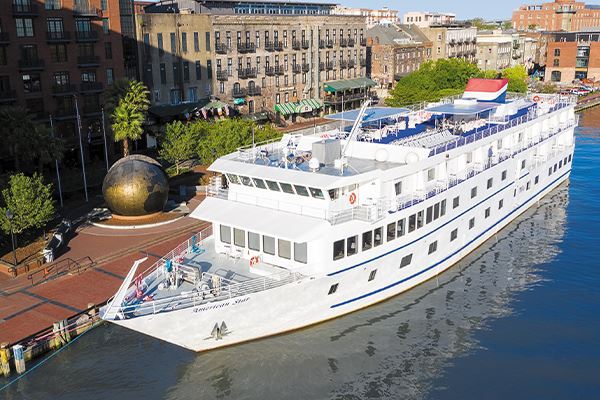 Three past cases of Legionnaire's disease have been linked to American Cruise Lines' vessels American Heritage and American Star. Though the cases occurred in 2021, according to the FDA the cruise line has not adequately addressed the situation.
The three original cases occurred with three passengers who traveled on American Heritage and American Star April, September and October 2021. Investigators from the U.S. Food and Drug Administration (FDA) subsequently inspected the ships in December 2021, then again between April 30, 2022 and June 17, 2022, and again from June 15, 2022 to August 15, 2022 and found Legionella, the bacteria that causes Legionnaires' disease, in the potable water systems, including on passenger cabin showerheads, galley prep sinks and potable water holding tanks.
People are most commonly infected with Legionnaire's by breathing in contaminated droplets of water produced by showerheads, water faucets and hot tubs. It is most dangerous to people older than 50.
In a letter to American Cruise Lines, the FDA also said, "FDA inspectors also observed insanitary conditions related to the potable waters systems onboard the vessels."
"A total of three cases of Legionella were reported in 2021 that resulted in the onboard detection of the bacteria which causes the illness," American Cruise Lines said in a statement. "American Cruise Lines has taken extensive corrective action to eradicate the bacteria and has modified its water treatment and monitoring plans to prevent it in the future. All potentially affected guests were notified by American Cruise Lines promptly. American Cruise Lines appreciates the guidance of the FDA and will continue to work in concert with the agency and water quality contractors to maintain the water management plan aboard its ships."
However, despite the cruise line's response and changes, in late January 2023 the FDA sent another letter advising of "continued concerns." The FDA then went on to detail ways in which the cruise line did not adequately address the problem.
The letter concluded "We note that you have other vessels in your fleet. Although we are not aware of a case of Legionnaire's disease being associated with any of those vessels, based on your practices on the American Star and American Heritage, we have concerns about the potable water on your other vessels… It would not be appropriate to wait until there is a confirmed case of Legionnaires' disease to address the water practices onboard those other vessels… This letter notifies you of our concerns and provides you an opportunity to address them."
The cruise line had 15 working days to respond with specific steps it had taken to address any violations.
"American Cruise Lines responded to the FDA's follow-up letter well within the timeframe requested," said Alexa Paolella, public relations manager for ACL. "More importantly, American Cruise Lines took the matter very seriously in 2021, responded immediately, and has implemented new water management policies and equipment on its ships. We have had no further cases since 2021, nor any others in our company's history."