Silversea Officially Welcomes Silver Endeavour to Fleet
by Dori Saltzman /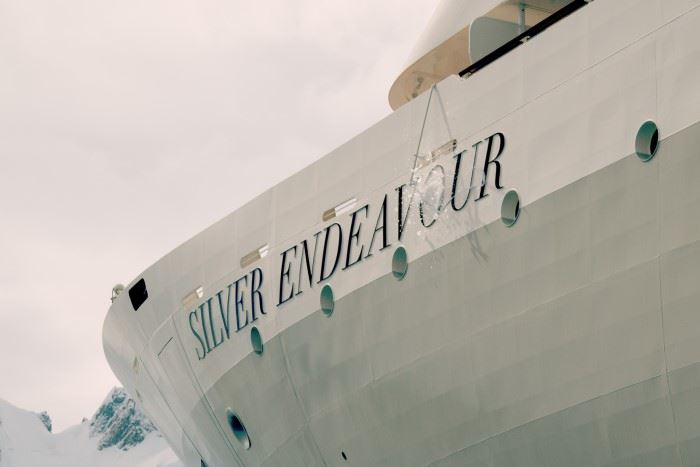 Silversea Cruises officially welcomed Silver Endeavour to its fleet at a naming ceremony in Antarctica. The expedition ship is the third new ship to enter the Silversea fleet in nine months.
The unique naming took place inside the Lemaire Channel in Antarctica, the first ship to be christened inside the channel, and included the smashing of an ice-sculpted Champagne magnum against the ship's hull. Guests, including executives from Silversea Cruises and members of the media, watched from Zodiacs.
"We are excited to officially welcome Silver Endeavour to the Royal Caribbean Group fleet, bringing our global fleet to 64 ships," said Jason Liberty, president and CEO of Royal Caribbean Group who was not able to make the trip to Antarctica for the naming.
"Being among the first to sail aboard Silver Endeavour, naming the ship in the company of such esteemed guests, and assuming the role of godmother makes me incredibly proud," said godmother Felicity Aston MBE. "She shares her name with the ship on which Captain Cook set forth for the ends of the earth, but exploration has of course evolved in the centuries since Cook departed. Today, exploration is not only about geographical discovery; it is also about finding new ideas, new inspiration and new perspectives. Silver Endeavour will allow more people to become explorers and return home with new outlooks. She will be a source of self-enrichment, as people connect with the planet and each other. Fair winds and following seas to all those who sail on her."
Built to PC6 polar class specifications, Silver Endeavour was purposely built for polar exploration. It carries a fleet of Zodiacs and kayaks, along with cutting-edge navigation and exploration technology, including a remote gimbal camera system, which can capture high-quality images from 5 kilometers away.