Silversea Unveils New Suite Categories for Silver Nova
by Dori Saltzman /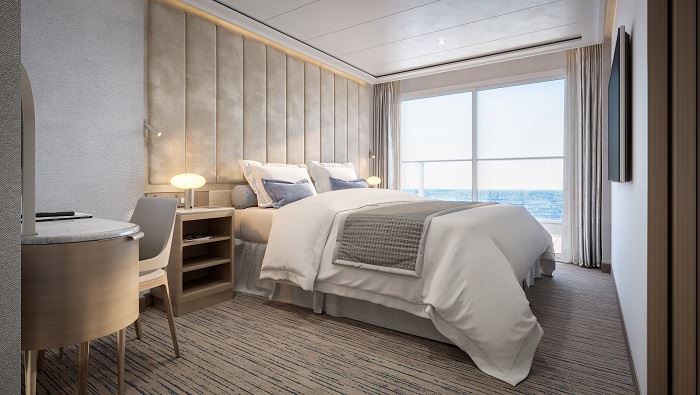 When Silver Nova begins sailing in the summer of 2023, it will feature 364 suites across 13 categories, including seven all-new categories. Among the new options will include premium aft suites, a first for Silversea.
"Marking a new era in ultra-luxury cruise travel, the Silver Nova suite experience represents an evolution of Silversea's industry-leading offering," said Barbara Muckermann, Chief Commercial Officer for the line. "With her asymmetrical configuration and horizontal layout, Silver Nova will offer guests a new generation of spacious suites that are unseen in Silversea's fleet."
Silver Nova will be the first ship in the fleet to feature suites running the entire length of the ship on four decks. Suites will range in size from 357 to 1,324 square feet. All will have a balcony.
Silversea tweaked the overall design of all the suites on Silversea, with particular emphasis on the bathrooms and walk-in closets. The bathroom has been refined to include an oversized mirror, a large vanity with two faucets, a spacious walk-in shower, and a bathtub or whirlpool. The walk-in closet has been redesigned to provide more openness, particularly in the Veranda Suites, and includes new dedicated compartments for personal jewelry.
Highlights of the new suite categories include:
Otium Suite (1,324 square feet, 431-square-foot-balcony)
The two largest suites onboard, the Otium Suites are located in corner aft positions and feature floor-to-ceiling windows in all living areas. The balconies, the largest onboard, have a private whirlpool. Amenities include custom-made mattresses, two large flat-screen TVs, a sound system with Bluetooth connectivity, and an espresso machine.
Signature Suite (700 square feet, 172-square-foot balcony)
Guests staying in one of Silver Nova's four Signature Suites will have an immersive experience with sweeping views from all interior spaces. The suite features dining, living and sleeping areas, as well as an oversized bathroom. Amenities are the same as those found in the Otium Suites.
Master Suite (721 to 826 square feet, 233 to 330-square-foot balcony)
A smaller version of the Otium Suite, the Master Suites are also located in premium aft corner positions. They have wraparound balconies and floor-to-ceiling windows surrounding the living room and bedroom.
The 728-passenger Silver Nova, the first in Silversea Cruises' Nova Class of ship, will be powered by hybrid technology that can use shoreside power when docked, making it totally emission-free in port. It will have eight restaurants.