Antigua's Tamarind Hills Is Gearing Up to Become a 'Full Resort'
by Daniel McCarthy /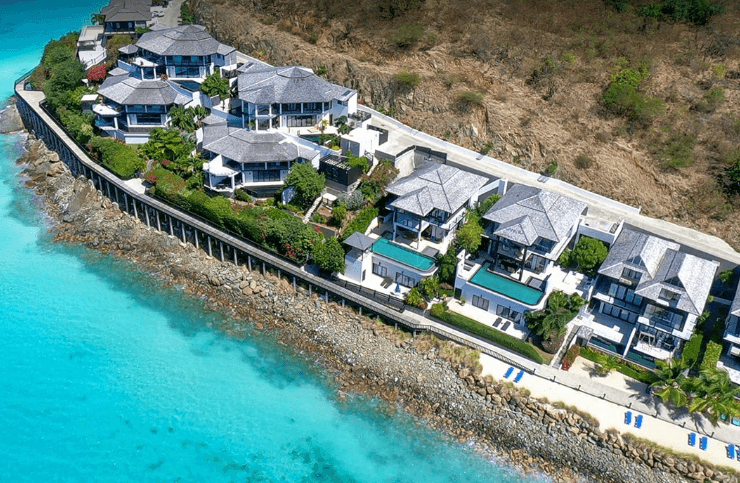 Tamarind Hills is an independently-owned hotel on the southwest coast of the island located between Ffryes Beach and Darkwood Beach, two of Antigua's most well-known, and loved ocean fronts.
The property, which has been operating for 12 years, has been a staple for many U.S. and Canadian travelers, especially those in the northeast, which currently accounts for 70% of its business, according to Keith Martel, the general manager of the property who spoke to TMR this week.
The hotel has made a name for itself by offering incredibly unique views of the surrounding area, whether it be oceanfront or hillside, while providing villas that serve luxury clients craving a certain level of space and service in the Caribbean.
It has combined that unique positioning with equally unique accommodations—three or four-bedroom configurations on the beachfront, two-bedroom sunset vista ocean-view suites, its signature Tamarind Suite, and more. Still, there is even more to come.

One of the hotel's two-bedroom villas overlooking the Caribbean Sea. Photo: Tamarind Hills.
The hotel continues to expand, with additions this summer expected to include another 43 new one-bedroom suites, two bars, and two on-site dining restaurants (one full service, and one quick-service offering lite bites).
Martel told TMR that the property, with these additions, "is becoming more of a full resort" while not "becoming overly big."
"We're changing, definitely for the better, but that doesn't detract from anything that was here before," he said, adding that he expects the new villas, which he said are perfectly sized for couples looking to stay in the Caribbean, to be finished "within the next few short weeks."
In terms of market, Martel said that "we pitch more to the high-end market," with a range of types in that segment including multi-generational groups, couples, girlfriend getaway groups, and more all calling the property home recently.

The hotel's one-bedroom suite. Photo: Tamarind Hills
The location also offers more than two world-class beaches—Martel said that it's just a five-minute drive to Jilly Harbor Marina, with boat charters and a picturesque golf course available there, and a "wide choice of restaurants within the marina" available for hotel guests. It's also just 20 minutes from St. John's and a little further to Nelson's Dockyard, a UNESCO world heritage site.
Martel said the hotel expects "a very positive high season," which kicks off in October and generally runs through April of the next year. There is "little space" available for some of the more popular weeks, including Christmas and New Year, but there is some availability for other weeks.