Sandals Resorts Continues Its Expansion Across the Caribbean
by Charmaine Joseph /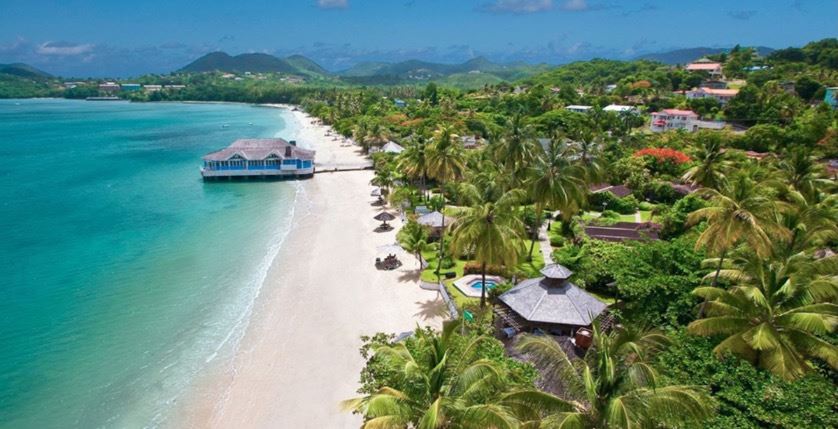 As part of the commemoration of its 40th Anniversary, Sandals Resorts International (SRI) is undertaking a multi-destination expansion plan that will cost a projected $196 million and will add an estimated 3000 jobs to the Caribbean region according to the award-winning brand.
To mark this milestone, the luxury all-inclusive brand spoke to its commitment and drive to reaffirm and build on its legacy of innovation and luxury by planning to double its resort portfolio in the next decade. "It is this drive that allows us to dream big, not only of what's possible, but what has always been deemed impossible for others. This is the spirit we're bringing to the next forty years and particularly the next decade when we intend to double our resort portfolio. We truly believe the sky is the limit," says Adam Stewart, Executive Chairman of SRI.
In the summer of 2021, the company kicked off its series of development announcements with the news that SRI is set to premiere three new resorts in Ocho Rios, Jamaica in 2022 and 2023; Sandals Royal Dunn's River, Beaches Runaway Bay Resort, and Sandals Dunn's River. With a multi-million dollar investment, these three new additions will further build on the brand's 18 current resorts currently found on the island.
In January 2022, the brand relaunched the Sandals Royal Bahamian Resort, a $55 million renovation of the 404 room property on Nassau's Cable Beach, and most recently, SRI has announced plans to develop its properties on the island of St. Lucia. The brand, which is celebrating 30 years of existence on the island, highlighted an ambitious investment strategy in a recent news release.

Photo: Sandals
Sandals Resorts owns and operates three of its luxury all-inclusive resorts in St. Lucia including Sandals Halcyon Beach, Sandals Regency La Toc, and Sandals Grande St. Lucian, as well as the Greg Norman-designed Sandals St. Lucia Golf & Country Club at Cap Estate.
Sandals Halcyon will see the addition of 25 new rooms including the construction of 20 beachfront, two-story villa rooms and five Rondoval™ suites, a signature Sandals category featuring soaring conical ceilings, expansive bathrooms, and private water features.
With the desire to exceed expectations, an even larger expansion project is planned for Sandals Regency La Toc. The beach-front property has been earmarked for phased renovations with the first phase inclusive of a new resort village comprising 20 Rondoval™ suites with seven of them offering open-air rooftop decks. In addition, guests can expect to receive luxury amenities inclusive of Sandal's world-renowned butler service and their award-winning dining and entertainment options. An exclusive experience SRI describes as a 'resort with a resort'.
With the first phase of work for both properties expected to be completed in 2023, subsequent phases will include a build of new spa facilities, even more suite categories, and a reimagination of the current golf course offerings.
"Since opening our first property, Sandals Regency La Toc, nearly three decades ago, our commitment to working alongside the government to make real the promise of tourism in St. Lucia has been unwavering. My father loved St. Lucia and, like so many, was originally captivated by its beauty. But he quickly came to understand that the real treasure of St. Lucia is its people - friendly, hardworking, and industrious. People are the inspiration and the source that make investment possible, and the reason Sandals Resorts will continue to grow here," said Stewart.
Finally, opening in June 2022, Sandals Royal Curaçao, a 351-room property in the company's newest destination, wraps up Sandals Resorts planned developments and openings for this year so far.

Photo: Sandals.