Hurricane Lee Update: Storm Expected to Pass West of Bermuda in Next Few Days
by Daniel McCarthy /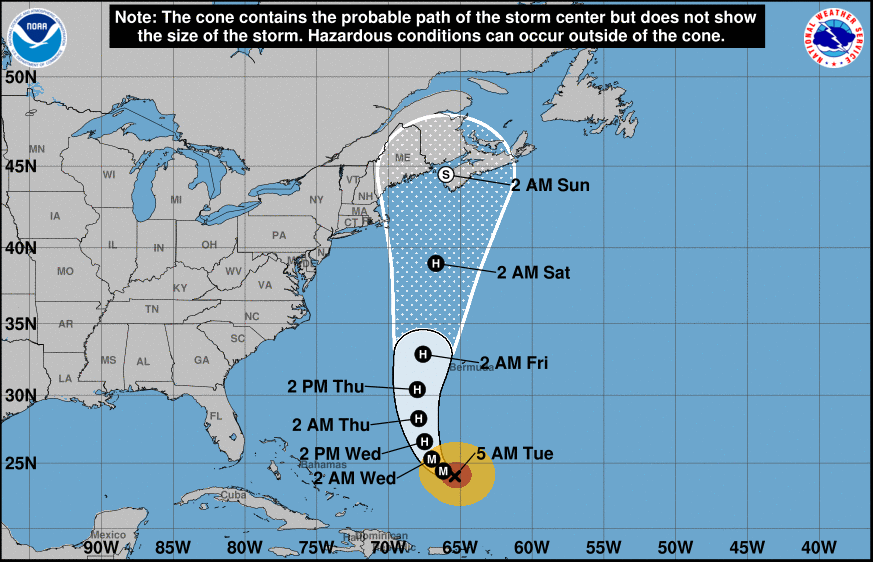 Hurricane Lee continues to move west towards the Caribbean but is expected to take a hard turn north by midweek, possibly impacting Bermuda, the Northeast U.S., and Atlantic Canada over the next week or so.
At the moment, the National Hurricane Center (NHC) is warning those in some Caribbean Islands, including the Leeward Islands, the Virgin Islands, Puerto Rico, Turks and Caicos, and the Bahamas about dangerous surf and life-threatening rip currents. Bermuda, another area of concern, could see a bigger impact.
The latest forecast has Lee passing near, but to the west, of Bermuda over the next few days. The storm is still strong—the Air Force Reserve Hurricane Hunters has clocked maximum sustained winds at nearly 115 mph with higher guests, making the storm currently a Category Hurricane—so those in Bermuda could still be impacted.
"There is an increasing risk of strong winds, rainfall, and high surf impacts to Bermuda later this week, and tropical storm watches could be required for the island later today," the NHC said.
After that, uncertainty about its impact on the Northeastern U.S. coast and Atlantic Canada remains. Lee should continue moving toward those areas late this week and into the weekend and, at the very least, those areas could see some heavy rain and wind.
"Since wind and rainfall hazards will extend well away from the center as Lee grows in size, users should continue to monitor updates to Lee's forecast during the next several days," the NHC said on Tuesday.
Cruise lines continue to make changes
A number of cruise itineraries already sailing have made changes to avoid Hurricane Lee.
A spokesperson for Oceania Cruises told TMR on Monday evening that this week's sailing on Oceania Insignia will now sail to the Bahamas in lieu of Bermuda and is expected "to remain well clear of the storm."
Carnival Cruise Line's brand ambassador John Heald announced changes for two of its ships this weekend—Carnival Venezia and Carnival Magic. Venezia, which left New York last Friday, is skipping Puerto Rico, St. Thomas, and Grand Turk, and instead spending time at Half Moon Cay, Nassau, and Freeport, before returning to New York.
Royal Caribbean has changed schedules for four ships—Adventure of the Seas, Harmony of the Season, Vision of the Seas, and Wonder of the Seas.
Adventure's current sailing, which departed Ft. Lauderdale on Sept. 9, will now visit Roatan and Cozumel.
Harmony of the Seas, which left from Miami on Sept. 9, is moving to a Western Caribbean itinerary, with calls at Roatan, Cozumel, and CocoCay.
Wonder of the Seas, which was scheduled to visit CocoCay, St. Thomas, and St. Marten this week, is changing to a Western Caribbean itinerary with calls at Cozumel and Roatan.
Vision of the Seas, which left from Baltimore on its current sailing, is skipping a call at Bermuda and instead going to CocoCay and Nassau this week.
Disney Cruise Line's Fantasy's Sept. 9 sailing has been switched from a Bermuda itinerary to a Western Caribbean itinerary due to Hurricane Lee. In a message to guests this week, Disney said that it had been closely monitoring" the storm and has decided to make the change ahead of its arrival.
The ship sailing out of Port Canaveral is bypassing Bermuda but adding Cozumel and George Town along with a second visit to Castaway Cay.