Norwegian Prima: First Impressions & What to Know
by Dori Saltzman /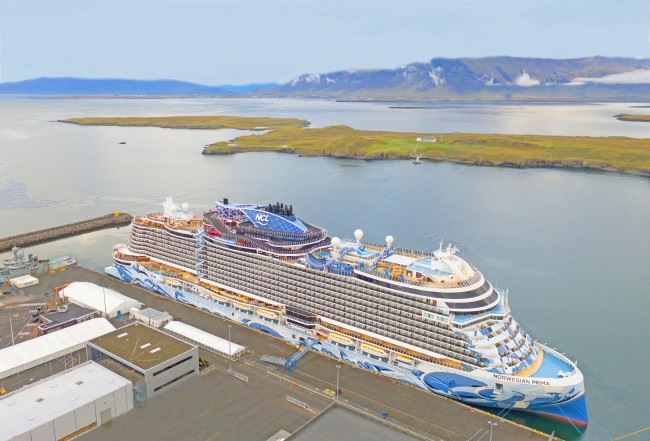 After years of anticipation, Norwegian Prima, the first in an all-new class of ship for Norwegian Cruise Line is finally sailing. But does it live up to all the hype?
Travel Market Report is onboard the first-ever sailing of Norwegian Prima, exploring every inch of the ship and trying out as much as we can. Here are our first impressions and what travel advisors should know about the ship.
Evolution Not Revolution
Though Prima is an all-new class of ship for NCL and different in many ways, it's not so different from the line's newer ships that a past cruiser wouldn't recognize anything. Particularly among the restaurants, there are a number of returning favorites: Le Bistro, Cagney's, Food Republic, Hasuki (on other ships Teppanyaki), Los Lobos, The Local and Surfside Café (on other ships the Garden Café).
There's also a Waterfront, which on Prima is the Ocean Boulevard. Compared to other ships, it's significantly larger with lots more outdoor relaxation areas, a funky sculpture garden, and an infinity pool. You'll still find outdoor seating for some of the restaurants, but it's more an area for relaxation than dining.
And, of course, you can't have a NCL newbuild without a The Haven, which on Prima is one of the largest in the NCL fleet and features a private sundeck, restaurant and more.
The vibe onboard Norwegian Prima is very much NCL with the casual, country club feel the line's been aiming for over the past several years. Shops are upscale and bars are akin to those you'd find in a high-end city hotel. Onboard fun is aimed at kid-at-heart adults, though actual kids will enjoy it too. A three-level Go-Kart track, high-end mini-golf, and VR arcade (all of which appear in some form or another on some of the line's other recent ships) are all perfect for adults looking to have fun – and post a brag-worthy picture to Instagram. (As with any NCL ship, many of these activities cost extra, something advisors should always prepare their clients for.)
Urban Hotel at Sea
That's generally where the similarities end. NCL has gone all-in on the not-a-ship trend tearing through the premium cruise industry right now. Prima feels much more like a high-end city hotel than a cruise ship. Which is exactly what the line was going for when they began first designing the entire class of ship said president and CEO Harry Sommer during a press briefing onboard.
It's a trend that's become firmly entrenched with Celebrity's Edge-class ships and Virgin Voyages' ships also more hotel-like than cruise ship.
The three-level atrium on Prima wouldn't feel out of place in a Manhattan hotel. Neither would the Metropolitan Bar, or the Belvedere Bar at a South Beach hotel.
Altogether, it lends the ship a sophisticated feel. Prima is a city unto itself, but not a cruise city. It's all uptown urban with a touch of the Hamptons thrown in. There's a cozy comedy club for late night laughs, an exclusive poolside retreat for anyone who doesn't want to rub elbows with the masses, and a Studio 54 nightclub (the ship's main theater during the day) for late-night dancing.
There's also Indulge Food Hall, which feels like it would fit right in at an upscale shopping mall and there are two Starbucks onboard. How urban is that!
Aesthetics Over Functionality
In some cases, the drive toward a more hotel-like atmosphere means some functionality gets left behind. Aside from the main theater there are no large gathering spaces onboard. Everything is smaller, from the Observation Deck, which is dramatically smaller, to The Local Bar, which is located along a hallway. (Try having trivia in a hallway with limited seating. It doesn't work.)
In fact, all of Prima has a minimalist feel. Art is thoughtfully placed, not filling every empty wall or hallway on the ship. Each venue is its own boutique location, with seating spread out so nothing ever feels cramped. (NCL claims Prima has the highest space-to-guest ratio in the contemporary cruise segment, and we believe it.)
Unfortunately, the minimalist feel of the ship carries into the staterooms, where storage is at, well, a minimum. Some of the prettiest cabins we've ever seen at sea, they're not particularly functional. A standard balcony cabin has two small drawers. The closets have three shelves (one of which is a pull-down, meaning you can no longer hang long dresses there) and four metal baskets that are perfect for socks and shoes, but not much else.
And as one travel agency director pointed out to me, the oversized sinks in the bathroom (which we loved – less splashing), does mean there's less counter space than some cruisers might be used to.
Outdoor Space Aplenty
Where Norwegian Prima's spaciousness really shines is in its outdoor spaces. The Ocean Boulevard is a wonderful area to sit and watch the world sail by. We love the pool beds inset in tiny wading pools! It's also a great spot for an evening stroll, wrapping entirely around Deck 8. (On other ships, the Waterfront lines the port and starboard sides but doesn't wrap around.)
And, of course, there's the line's signature extra-fee Vibe Beach Club, the spacious pool deck, and a slew of outdoor activities from heart-stopping plunge slides to the three-level Go-Kart track and high-tech mini-golf and darts to a funky play space with cylindrical ping pong and seated soccer, not to mention beer pong (beer not included), foosball and regular ping pong.
The only downside to so much outdoor space? When it's cold or raining, all that space goes to waste.
Spoiled for Dining Choices
Having plenty of options to choose from is baked into NCL's DNA. It's what "Freestyle" cruising is all about, and when it comes to specialty dining, the line still does it best. With Prima, it's even better with eight specialty restaurants to choose from.
And that's not including the Indulge Food Hall, with its seven distinct venues to choose from for lunch and dinner – all complimentary!
And, of course, there's two main dining rooms, The Local restaurant, and the Surfside Café buffet.
Anyone for whom food is an essential part of a vacation experience will love the variety on Norwegian Prima.
With that said, NCL's biggest misstep with Prima – and soon to be the entire fleet – is in the main dining room where the line has opted to switch to one menu that never changes, which, by the way, is exactly like a land-based hotel.
The line says the extensive offerings at Indulge Food Hall, the Local and the buffet make up for the smaller variety in the main dining room. (Plus, the vast majority of cruisers get "Free At Sea," which includes two specialty restaurant dinners.)
Having dined at the two main dining rooms several times already (the specialty restaurants are not available to the press on this sailing), there is some truth to the line's claim. The main dining room menu is large and, as mentioned above, Indulge has seven distinct venues to try out (each with four to seven or more menu items).
It really only becomes a problem if you have a client with any type of dietary restriction. Meals at Indulge Food Hall are not customizable. You can't ask for Pad Thai without shrimp or a gluten-free version of tagliatelle, for example.
With that said, one travel advisor we spoke with was reassured by the complimentary nature of Indulge, which she said she believes will make her clients less upset by the one-menu system in the dining rooms. But she also added, past cruisers need to have their expectations set before they get onboard.
Donna Summer Shines
We can't talk about things to know about Norwegian Prima without mentioning "Donna Summer: the Musical." As with many of NCL's entertainment, the line partnered with Broadway producers to bring the show to sea.
On Prima, the cast is led by American Idol alumna Kimberley Locke. Her voice is perfect for the role, as is the actress who plays 20-something Donna Summer. While the biopic pieces of the show drag at times, the music is fantastic and everyone is up and dancing during the last act ("Last Dance," of course.) It's worth seeing at least once, if not twice!